Sergio Perez 'stole' pole position from his dominant Red Bull teammate Max Verstappen, after Charles Leclerc crashed his Ferrari in the final run of qualifying Q3 for the Miami Grand Prix, Round 5 of the 2023 Formula 1 World Champion.
It was never a case of who would claim pole position for Sunday's second Miami Grand Prix, but rather by how much Verstappen would do it by. But it was not to be, in a cruel twist of fate, with the dust settled Perez, who was never close to Max all weekend, started the race from pole, the World Champ only good for ninth as he was denied a last lap shot when Leclerc spun out and brought out the red flags with a minute to go, scuppering the final runs for everyone.
Last year's pole-winning time by Ferrari's Charles Leclerc was 1.28.796s, 1.2 seconds slower than Verstappen's 1:27.535 18 effort in FP3 earlier in the day – almost half a second up on his closest rival – hinting at what was to come in qualifying from the double F1 World Champion, perhaps stung by his Red Bull teammate Sergio Perez's stubborn victory in Baku last Sunday.
And again the bee struck, the sting perhaps sharper as the #11 Red Bull in front is going to be hard to catch (remember Jeddah and Baku?) with Verstappen having to come through a hectic midfield to do the business.
But the afternoon, unexpectedly belonged to Perez who had been trailing Verstappen's outright pace during the session and in practice, but luck favoured those who did a good job with their first runs in Q3, and punished those who had saved their 'best' for last only for last not to happen, and thus we have a grid headed by two F1 veterans!
Perez: It's been my worst weekend up to qualifying
Bienvenido a Miami 🎉#MiamiGP #F1 pic.twitter.com/gZCGZr8C90

— Formula 1 (@F1) May 6, 2023
In Parc Ferme, immediately after Qualifying Perez admitted: "I couldn't figure out how to put those tenths all the time that I was missing to Max and the Ferraris. I was just resetting everything we did, we made a small change into qualifying that really everything became more alive. We put in the lap when it mattered.
"It wasn't coming together. I was struggling for balance and confidence. I'm enjoying (the battle with Max). I'm just thinking race by race. [Sunday] is a new opportunity starting from pole, we are the ones that have something to lose," added the Mexican ahead of his third top spot start, his first outside of Jeddah!
Also benefitting from the early stoppage was Fernando Alonso who put the Aston Martin on the front row for the race, another stellar showing by the Spanish veteran who humbled his younger teammate Lance Stroll who did not make it out of Q1!
A beaming Alonso said afterwards: "It was a good qualifying, I think FP3 was a bit messy for us, we tried different set-ups and it didn't work. But the team put the car on a more known place after the first four races and the car came alive in qualifying, extremely happy with P2, first row of the grid let's see what we can do."
"I think I've always been motivated, I've been always working hard, but I didn't have probably the team believing in my performance, in my ability to set up the car as well to move forward. Also, I never had as fast a car as I have now, so I think that's the reason, I didn't change anything but Aston Martin changed everything on me."
Magnussen fourth, Hamilton out in Q2!
A head-spinning twist at the climax of qualifying 🤯#MiamiGP #F1 pic.twitter.com/bC4jZy1qOe

— Formula 1 (@F1) May 6, 2023
Carlos Sainz was third in the other Ferrari, but the Spaniard has not a good weekend, trailing Leclerc on sheer speed, nevertheless, a second-row start from P3 was better than the Spaniard expected: "It was a very tricky quali for all.
"I think it's very difficult to find the right feeling with the tyres around this tarmac, and it was a fight the whole way through and very easy to make mistakes. It was getting windier and windier…but in general, it was a decent outcome for [the race], but today I think we could have been even better," insisted the Ferrari driver.
Next up, pulling a bunny out of the hat, Haas driver Kevin Magnussen who found himself in fourth, followed by Pierre Gasly in fifth, and teammate Esteban Ocon eighth making it a much-needed good day for Alpine in Miami after the Baku debacle.
Sixth was George Russell in the Mercedes, a strong showing on a weekend that is again exposing the severe shortcomings of the W14, exacerbated by an agonising qualy for Lewis Hamilton, the sport's record-setting F1 pole winner, who was only good for 13th and a now show in Q3 as the Mercedes continues to perplex him and his team.
Russell reported in the media pen: "Of course, I'll take the result, it's a very flattering result for the performance that we showed. I did a really decent lap in Q2 to just scrap through, just to get into Q3 and that's not where we should be. Everybody is working so, so hard to bring more performance to the car, it's definitely not for a lack of effort and it's just not coming to us at the moment."
Bittersweet afternoon for a well-beaten Mercedes team
Dad on hand for first hugs with K-Mag 🤗#MiamiGP @HaasF1Team pic.twitter.com/unWIVJTx2v

— Formula 1 (@F1) May 6, 2023
Russell continued: "It's a theme of us that we generally have a better Sunday than Saturday. Obviously got the Alpine and Haas around us, hopefully, we can get past them, Ferrari tend to struggle a bit more on Sunday. We'll focus on [Sunday], but we need to think about the bigger picture and how we're gonna bring that fight to the guys at the top," insisted the Englishman
In the sister car, seven-time F1 World Champ Hamilton is not in a good space right now, blaming the team over the radio for his plight: "Left that way too late guys."
Later Hamilton added: "It was a difficult session. We're not that quick so we really needed perfect laps but it was difficult to get into a rhythm, at the start I had that issue with the car going slow in the last corner. We knew it was very hard and there was a 50:50 chance we could get into Q3 so we need to be better with our timing. It's done, I'll try and get my head down and see what I can do – 13th to God knows where."
His former teammate, Valtteri Bottas was tenth in the Alfa Romeo and will share the fifth row with Verstappen's Red Bull, who lines up in P9.
Horner: Delighted with the pole for Checo just frustrated not to have both the cars up there
Career pole #3 for @SChecoPerez 👏👏👏#MiamiGP #F1 pic.twitter.com/J5QGpYnPk6

— Formula 1 (@F1) May 6, 2023
Double F1 World Champion and 2023 points leader, Verstappen summed up his qualy: "I was trying to put it on the limit and then I made a mistake and had to abort the lap. Then you rely on a bit of luck that there is not going to be a red flag, but that can happen on a street circuit. I'm just a bit upset with myself. It's going to be difficult. I made it difficult for myself, so I have to accept that."
Final word to Red Bull boss Christian Horner on another unexpected turn up for the books in this increasingly fascinating PER v VER 'civil war' in the bullpen: "Had it been stopped immediately you could have possibly got round (for another lap). That's the difficulty of not getting your first lap in. Checo did that and it was a great first lap.
"Delighted with the pole for Checo just frustrated not to have both the cars up there with Max having a lot to do. It's amazing. It was a great first lap for Checo and I think he had the potential to go quicker as well. They were all struggling with the wind getting up and whether that's what caught Max and Charles out, I don't know. It was getting tricky but Checo got the pole which was well deserved," added Horner.
Perez trails Verstappen by six points in the 2023 F1 drivers' championship standings, and could well lead the title for the first time in his career, come to the end of the race on Sunday on the occasion of his 244th Grand Prix start.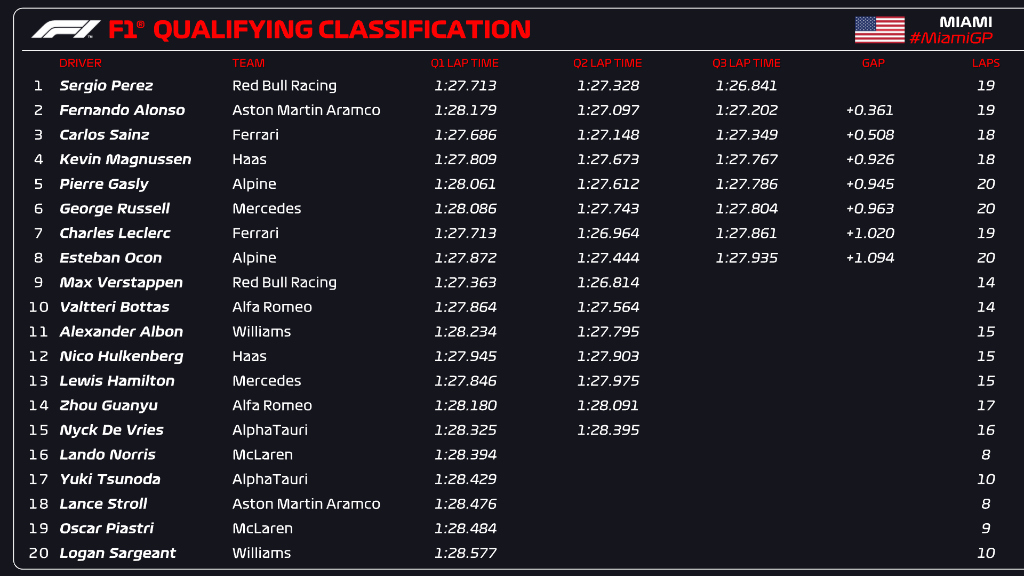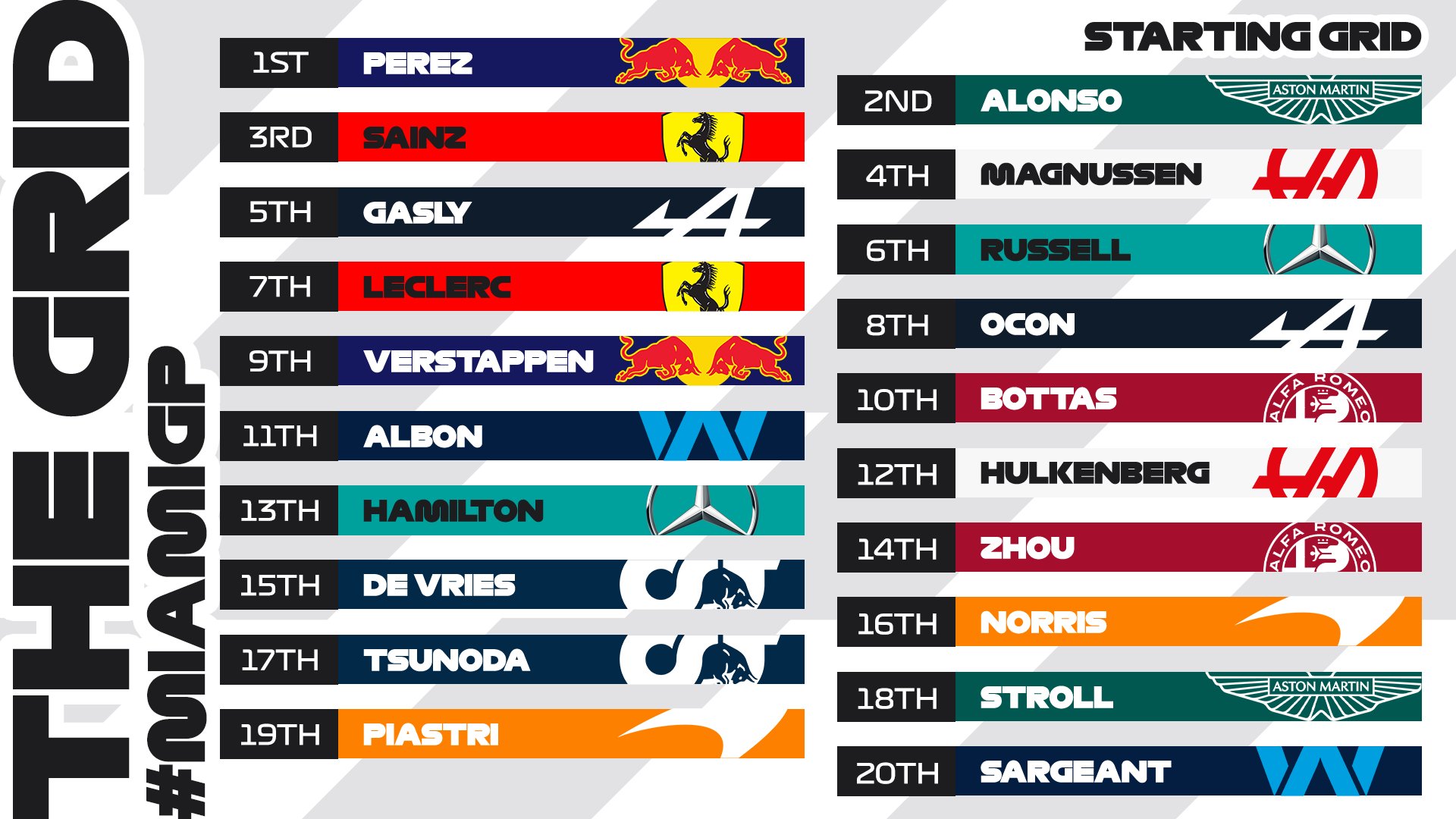 This is how Qualifying Q1 and Q2 unfolded at the 2023 Miami Grand Prix on Saturday:
Miami Q1: Verstappen fastest, Stroll biggest scalp to fall, McLaren nowhere
Fittingly Logan Sargeant was first out on track in the Williams, the American rookie making his F1 debut on home soil, or rather a rapidly and constantly evolving, traffic-packed, race track that got quicker with every lap by the 20 cars setting times and laying down rubber.
Quicker than his best effort in FP3 with his first effort, Verstappen was three-tenths up on Perez with Leclerc half a second adrift after their first runs. It was nerve a wrecking final fling with Lance Stroll tripping up in the Aston Martin not making it into Q2, ditto huge disappointment for McLaren duo Lando Norris 16th and Oscar Piastri 19th.
Sargeant was slowest for his home race three tenths down on Albon in 14th; AlphaTauri's Tsunoda was 17th while teammate De Vries bought himself some valuable brownie points by making it into 15th and progressing to Q2. The top 15 were separated by a second!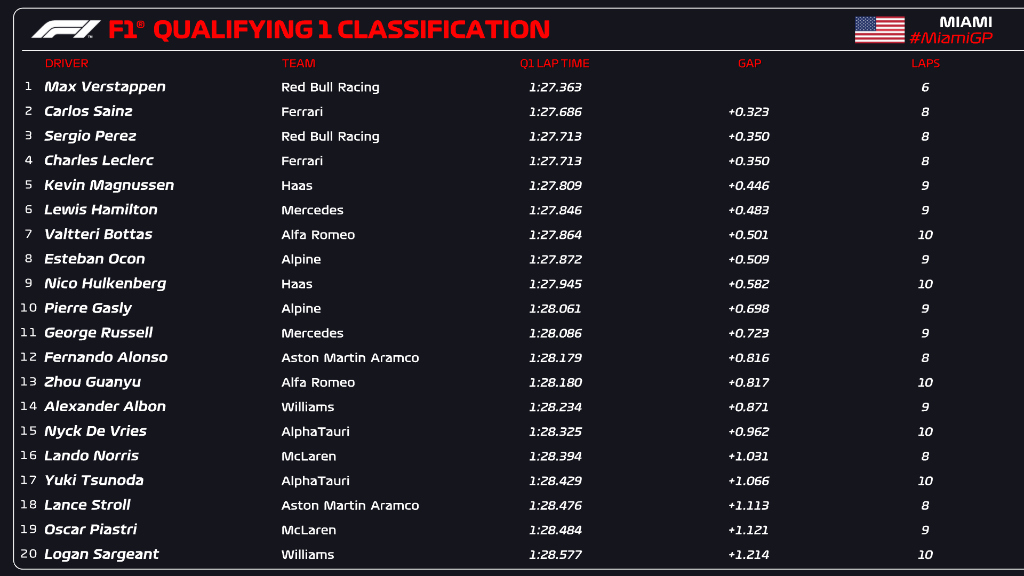 Miami Q2: Verstappen fastest, Hamilton out
The lads were pushing, as Perez testified when he slapped the wall hard in Turn 4, notable the Mexican was two-tenths shy of Verstappen, the closest it has been between the pair all weekend, Sainz splitting them after the first runs with Alonso fourth and Leclerc fifth with Bottas surprising in sixth.
Leclerc was first to break into the 86 seconds zone, but Verstappen went a tenth and a bit better to end the session faster than the Ferrari, with Alonso plinking the Aston Martin third fastest, from SAI-PER-OCO-BOT-GAS-MAG-RUS making up the top ten.
No Hamilton in Q3, he will line up 13th after his best effort was over a second down on Verstappen's benchmark and a couple of tenths shy of Mercedes teammate Russell.
Notably, after their Baku debacle last Sunday, both Alpines were through to Q3, as were Bottas and Magnussen against expectations, with Russell squeezing into the top ten, with Albon a few hundredths down on a mate he has known since karting; one in a 'mighty' Mercedes, the other in a minnow Williams.