Charles Leclerc took a sensational pole position for Sunday's 2023 Azerbaijan Grand Prix, beating pole favourite Max Verstappen following an electric last flying lap.
The first round of laps in Q3 saw the competition between Charles Leclerc and Max Verstappen getting as close as one could imagine, as their they registered identical laps times (1:40.445) on their first runs, but Verstappen ahead since he set his time first.
But another run final run in the dying moments of Q3 saw the #16 Ferrari surging towards an fantastic pole, after a lap that was on the ragged edge by Leclerc kissing the Baku walls ever so slightly, to take his 19th Formula 1 career pole position.
From the start of qualifying, it was clear that last year's rivals were challenging one another for pole, but it seemed that Verstappen needed to work harder to get more speed out of his RB19, while Leclerc seemed to be easing his way with his SF-23.
In the end, Leclerc clocked took pole by 0.188s from Verstappen who in second, while Sergio Perez was third fastest 0.292s off the pace.
An elated Leclerc said over the team radio: "COME ON! Yes, ARRGGGH – feels good.
"Amazing job Xavi [his race engineer] all of the qualifying, management incredible. Thanks for everything guys, the car was really good. It's good to be back on top."
Leclerc: Pole was a surprise
Later in Parc Ferme, Leclerc admitted he was surprised to be on pole; he commented: "For sure, I'm surprised – we came into the weekend thinking that it would be a great weekend if we were in front of Aston Martin and Mercedes in qualifying.
"And at the end, we are on pole, so it's a good surprise. We must not forget that our car is probably behind the Red Bull, so it's going to be difficult to keep the lead. But that's the target [winning the Grand Prix] .
"Really happy with the lap – I mean it's a really challenging weekend for us drivers because there's very little time to practice – one FP1 and then we need to be straight on it.
"The feeling was good since the start so really happy. It's going to be challenging because we haven't run the medium [tyres] yet and during sprint qualifying will be the first time.
"We have to be careful because we only have one set, so no room for mistakes, but the pace seems strong, so hopefully we can learn from Q1 and Q3 and push in Q3," he concluded.
Second-placed Verstappen added: "It's always tough around here to put the whole lap together. On the second run we tried something different on the out lap which perhaps wasn't ideal for the lap time at the end.
"In Q3 you're on the limit and trying to make everything perfect is not the easiest. But we are P2, we know we have a very good race car so all in all it's not bad.
"You want to start ahead but we'll have to pass one car," the double F1 Champion concluded.
Sergio Perez flirted with the top positions a few time but had to settle for third; he said: "It was really tricky in Q1 with the amount of red flags we had there and then sticking to the same set.
"You don't want to waste any sets in Q1 and then just to get through without much practice was really challenging. I am a bit disappointed to be P3 because I felt I had more in it but my lap wasn't clean.
"We knew (Ferrari) were going to be very strong and we knew coming here the Ferrari was going to be the biggest threat to us.
"I think Charles has done a tremendous lap as well," the Mexican concluded.
Q3: Verstappen and Leclerc slug it out
After registering identical lap time on their first Q3 runs, Verstappen at an advantage for setting his time first, Leclerc went out and found two tenths of a second to set his pole lap time of 1:40.203.
Verstappen however could not match the Ferrari driver, and in the end, 1:40.391 was the best he could achieve to end up second, 0.188s off Leclerc's pace, which sets the scene for an exciting Grand Prix on Sunday.
Sergio Perez was third fastest with a 1:40.495, one tenth slower than his teammate, his prowess around the streets of Baku not enough to propel him any higher this time around.
Carlos Sainz struggled throughout qualifying, spinning a few times, and ended up fourth fastest in the #55 Ferrari, a whopping 0.813s off the pace of his teammate.
Lewis Hamilton dropped his teammate George Russell out of qualifying in Q2 by the slightest of margins, and went on to set the fifth fastest time of Q3, a 1:41.177, almost one second away from pole.
Fernando Alonso must be disappointed with his qualifying, his best effort, a 1:41.253, only good for sixth, and over a second away from Leclerc.
McLaren had a decent qualifying, both cars making it into Q3, with Lando Norris the faster than Oscar Piastri. Norris was seventh fastest, 0.028s behind Alonso, and 0.3s ahead of Yuki Tsunoda who was eighth fastest after a decent performance.
Lance Stroll struggled with DRS problems and end up ninth fastest in the #18 AMR23, 0.358s slower than his teammate and was followed by Piastri in the McLaren, the Australian clocking the same time as the Canadian, the latter doing it first.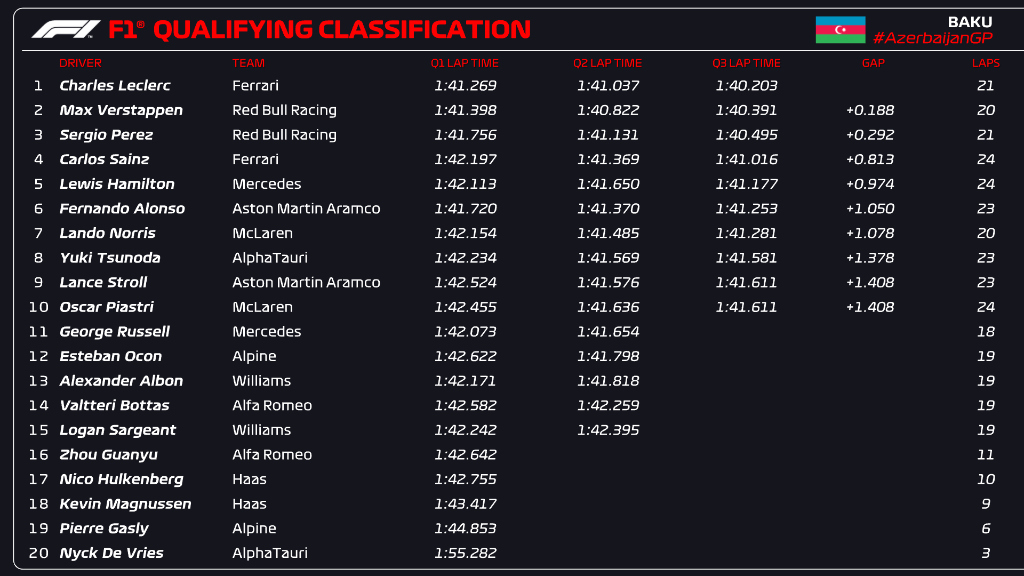 Q2: No drama, just clean driving
Q2 did not feature any Red Flags as the remaining 15 drivers that took part in it kept it clean with the session going on uninterrupted.
Max Verstappen hit back in Q2, going fastest of all with a 1:40.822, 0.215s ahead of Charles Leclerc in second, with Sergio Perez third fastest in the sister Red Bull, 0.309s behind his teammate.
The first driver to miss out on a top ten shootout was Mercedes' George Russell, 11th fastest and losing out to Lewis Hamilton by a negligible 0.004s.
Nooooo. George is out of qualifying.

Lewis goes through to Q3. pic.twitter.com/mFe5bSPsd5

— Mercedes-AMG PETRONAS F1 Team (@MercedesAMGF1) April 28, 2023
Esteban Ocon was 12th fastest in the Alpine, 0.144s behind Russell and ahead of Alex Albon who was 13th in the Williams.
Valtteri Bottas was 14th fastest in the Alfa Romeo with a 1:42.259, and 0.137s ahead of Logan Sargeant in the other Williams car.
McLaren made it into Q3 with both Lando Norris and Oscar Piastri, the updated MCL60 seemingly performing well around the streets of Baku.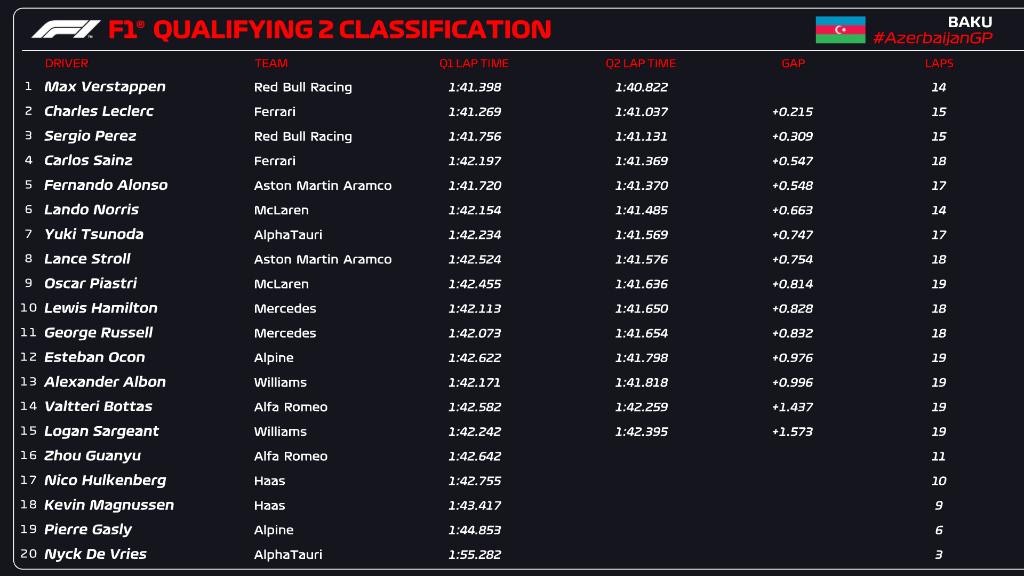 Q1: Crashes and Red Flags aplenty
Clear conditions continued from FP1 into Qualifying, but Q1 started under slightly cooler conditions, with track temperatures recording 38 degrees, while the ambient temperature 20 degrees. All drivers made their way onto the track on Soft tyres.
Pierre Gasly who retired from FP1 his car in flames, was able to take part in qualifying as his mechanics raced against the clock to get the #10 A523 ready for Q1.
Mega effort by the team to repair Pierre's car for Qualifying 💪

All to play for. #Alpine #AzerbaijanGP pic.twitter.com/alpg64tP5J

— BWT Alpine F1 Team (@AlpineF1Team) April 28, 2023
Alfa Romeo's Zhou Guanyu brought out the first Yellow Flag in the session with a moment at Turn 1, spinning into the run-off area but surviving it to continue his Qualifying.
Eight minutes into Q1, Nyck de Vries' good work with the promising pace he showed in FP1 was undone as he binned his AT04 in the wall at Turn 3. Later a team radio from AlphaTauri revealed there was a problem in the brake-by-wire system on his car.
🚩 RED FLAG 🚩

De Vries into the barriers #AzerbaijanGP #F1 pic.twitter.com/yHvO9wDIQ9

— Formula 1 (@F1) April 28, 2023
One driver who somehow benefitted from the Red Flag was Haas' Kevin Magnussen who suffered from power unit issues in FP1, which seemed to persist in the first part of Qualifying.
The Dane reported: "Engine problem again, they need to fix this." But his team responded: "OK, we don't think it's serious a problem as it was this morning and we think we can fix it."
As the session remained Red flagged, the Stewards revealed that Max Verstappen, who earlier complained about his headrest, was under investigation for being released under "Unsafe Conditions", but soon added that no further investigation was required.
That was related to Verstappen's headrest that was seen flapping, but investigation showed it was fixed properly by got broken later on, hence the "no further action".
With ten minutes remaining from Q1, the cars returned to the track for a final shot at a Q2 promotion.
Just three minutes after the session resumed following De Vries' crash, Pierre Gasly crashed the car his mechanics worked so hard to get ready on time, and caused the second Red Flag of the day.
"I'm sorry, I locked the front," Gasly radioed. "I couldn't stop the car."
Frustration for Gasly and Alpine 😖

When we restart they'll be just seven-and-a-half minutes remaining in Q1 #AzerbaijanGP #F1 pic.twitter.com/GLvWxDPy9r

— Formula 1 (@F1) April 28, 2023
Carlos Sainz also had a spin almost at the same time Gasly crashed, but the Spaniard lived to fight another day.
Magnussen's problem turned out to be bigger than the team earlier thought, and asked their driver to return to the pits while on a flying lap worried about the risk of further damage to the VF-23.
In the end, Charles Leclerc lead the pack into Q2, with a 1:41.269, followed by Max Verstappen in second, 0.129s off the pace, with Fernando Alonso third fastest, 0.322s further down the road.
The first driver not to make it into Q2 was Zhou Guanyu who was 16th fastest and missed out by tiny 0.020s, with Nico Hulkenberg in 17th, 0.113s slower than the Chinese driver.
Kevin Magnussen was 18th fastest, 0.662s behind his teammate, while Gasly and De Vries were 19th and 20th based on their time registered before both their crashes.