Max Verstappen took his first Formula 1 career pole down under for the 2023 Australian Grand Prix setting himself up nicely for his maiden win around Albert Park.
The qualifying for the third race of the 2023 F1 season was contested under continued threat of rain, but the skies did not open up, despite a threat of downpour in the final minutes of Q3, prompting all teams to send their drivers out for their second runs fairly quickly.
With Aston Martin and probably Ferrari the most likely teams to push the Bull on the day, it was Mercedes with George Russell and Lewis Hamilton that rose to the occasion taking second and third fastest behind the reigning F1 Champion.
Our top three qualifiers in Melbourne 👏#AusGP #F1 pic.twitter.com/3aGRGqMEr2

— Formula 1 (@F1) April 1, 2023
Verstappen said after qualifying: "I think the last run was very good. The whole weekend has been very tough to get the tyres ready to push straightaway but it worked out in Q3 and I am very happy with the lap and to be on pole position.
"I think we always try to fine-tune and we will continue to do that," he said when asked if the downshifts he complained about are posing a reliability threat.
"I think we will have a good race car but it is tricky to keep the tyres alive so it will be an interesting race for sure. I have been on the podium once here but I want to be on a different step," the Red Bull ace concluded.
A first pole Down Under for @Max33Verstappen 🙃#AusGP #F1 pic.twitter.com/5Uq78LZAx2

— Formula 1 (@F1) April 1, 2023
An elated Russell added: "We weren't expecting that – that's for sure. A lot of hard work going on at the factory, here in Melbourne and wow, what a session for us.
"The car felt alive, the lap at the end was right on the limit and to be honest I'm a little bit disappointed that we didn't get pole position.
"It's one of those things where your expectations change so quickly in this sport. We would have been happy with a top four, top five yesterday. The car felt awesome and we've definitely got potential still to come.
"It must be the jet lag programme we're doing – something's got to be right," he added when asked what the reason behind Mercedes' surprising form was.
"We've got to understand when you've had good days and bad days. We'll take it – it's going to be exciting tomorrow, tough against Max and I'm very happy to finish P2," Russell concluded.
And P3 for @LewisHamilton in #AusGP Quali! Strong starting spots for tomorrow's race. 💪 pic.twitter.com/m7pWmmbtm5

— Mercedes-AMG PETRONAS F1 Team (@MercedesAMGF1) April 1, 2023
Third-placed Hamilton echoed his teammate's feelings; he said: "This is a totally unexpected. Really proud of the team.
"George did an amazing job there today so for us to be up on the front two rows in honestly a dream for us," he added. "We are all working as hard as we can to get right back up to the front so to be this close to Red Bull is incredible.
"Hopefully tomorrow we can give them a run for their money and we hope the weather is good. I am super grateful for this position and I am just going to work as hard as I can tomorrow.
"(My goal) is to get to first," he responded when asked about his race target. "I am going to try and see and I will be hoping like my first day here 2007, Turn One.
"I don't know if anybody remembers but hopefully we can do that," the seven-time F1 Champion concluded.
Q3 – Verstappen has Mercedes breathing down his neck
So Max Verstappen put in a lap time of 1:16.732 to take his first pole in Australia and will be chasing his first win as well at the venue that saw him retire back in 2022 with car trouble.
George Russell beat Lewis Hamilton once again in qualifying, taking the fight to Verstappen and finishing second fastest behind him by 0.236s.
Lewis Hamilton will line up third fastest on the grid for Sunday's Grand Prix with a 1:17.104, 0.372s off pole and over tenth slower than his teammate.
Fernando Alonso's chances of accomplishing Mission 33 took a big hit as he was only good for fourth fastest, after being the top contender for a front row start alongside Verstappen throughout Q1 and Q2.
In the end he was only good for fourth and 0.407s off the pace of Verstappen.
Ferrari where nowhere close to contending at the front, and Carlos Sainz was the fastest of their drivers, qualifying fifth fastest behind his compatriot over half a second away from the benchmark set by Verstappen.
Lance Stroll was sixth fastest in the other Aston Martin, with a 1:17.308, 0.169s slower than his teammate, but was ahead of Ferrari's Charles Leclerc, seventh fastest and 0.061s further down the road.
Alex Albon, speedy throughout qualifying qualified a superb eighth for Williams albeit being over eight tenths off the pace.
Pierre Gasly made it into Q3, ninth fastest, despite Esteban Ocon being the one who looked better placed for a top ten result between the pair. Gasly was almost one second away from pole.
Nico Hulkenberg delivered a strong performance for Haas, but could not go any higher than tenth with a 1:17.735 his best effort in Q3.
2023 Australian Grand Prix – Qualifying Lap Times

Q2 – Hulkenberg shines, McLaren flop, bittersweet for Alpine
The dry conditions continued for the start of Q2 as the remaining 15 drivers took to the track with slick Red-walled tyres for the first runs.
Lando Norris fancied a run into the gravel traps at Turn 3 while on his flying lap, and promptly returned to the McLaren pits to assess the damage.
Once again, Max Verstappen lead the field, fastest by 0.227s from Fernando Alonso in second, while Nico Hulkenberg showed his qualifying prowess to take third fastest.
The first driver to miss out on Q3 was Esteban Ocon, 11th fastest and beaten by Williams' Alex Albon by a negligible 0.007s into tenth. Pierre Gasly was
Yuki Tsunoda was 12th fastest in the AlphaTauri, as both of Faenza's cars made it into Q2, Nyck de Vries in 15th though.
Another disappointing qualifying for McLaren with Lando Norris only good for 13th in the MCL60 after a scruffy Q2 from the Briton.
Kevin Magnussen was on the receiving end once again from teammate Hulkenberg the former lining up 14th on the grid of Sunday's race down under.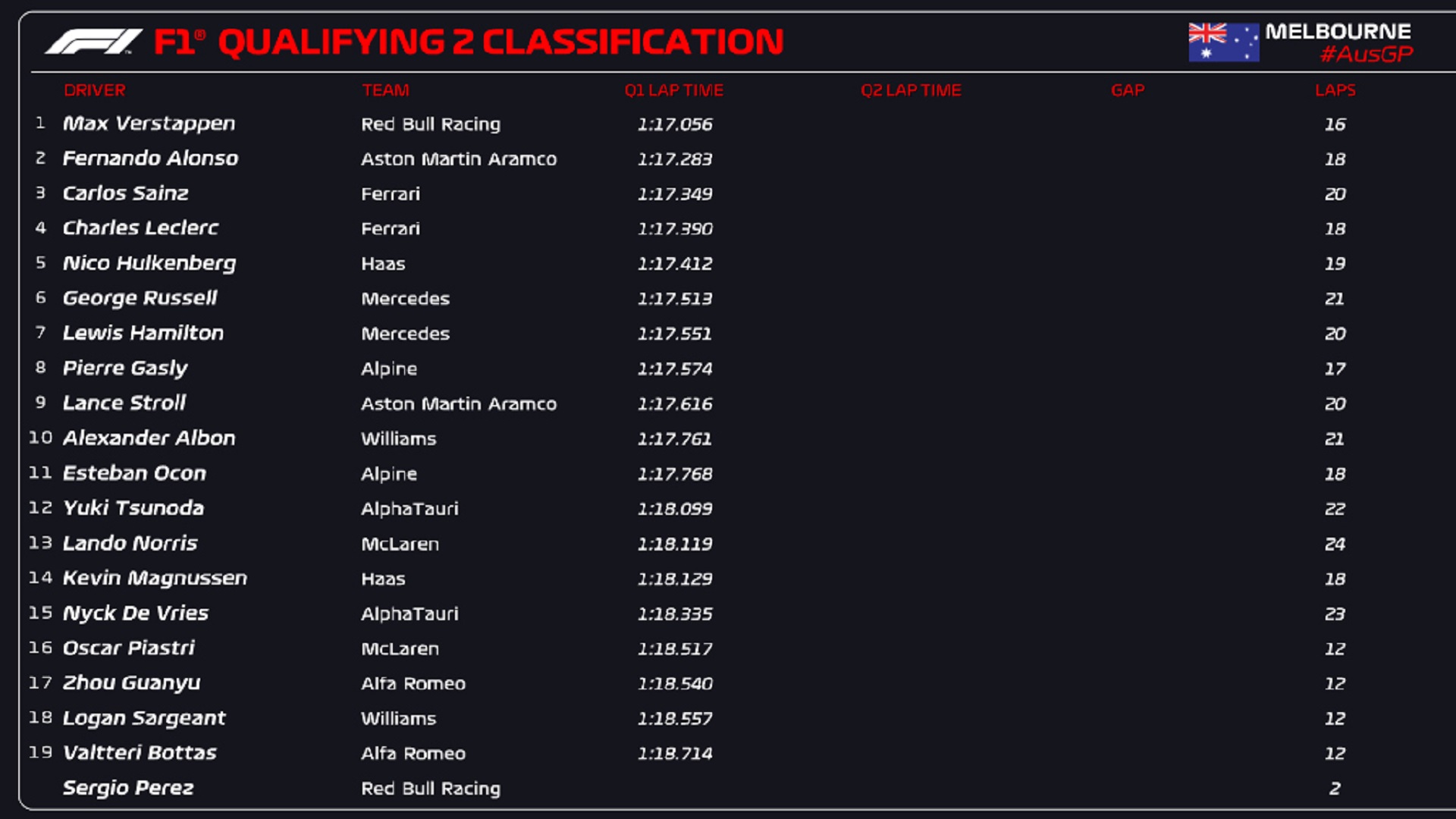 Q1 – Perez bins it, Piastri out
Qualifying started in Melbourne under dry conditions, but cool and windy nevertheless, the teams and drivers wasting no time in getting out on track before the rain comes back, a possibility on Saturday.
Logan Sargeant brought out a brief Yellow flag, spinning at the final corner, but survived it to return to the pits in one piece.
With almost 12 minutes remaining from Q1, Sergio Perez locked his front-right tyre going into Turn 3, beaching his RB19 and brining out a Red flag, which ruined the first flying lap for teammate Max Verstappen.
Perez has been struggling since FP3 with his car, and was clearly upset over the team radio reporting it was the same issue he was suffering from in the final practice.
"It was the same ***** issue again," the Mexican reported over the team radio, who will not have a chance to repeat his Saudi Arabia heroics this weekend, keeping in mind he wasn't in top form since Friday.
The Australian Grand Prix marshals did a good job to clear the #11 Red Bull from the track and Q1 was soon underway again with over 11 minutes on the clock.
The track kept evolving as the drivers kept banging in flying laps, with drivers like Alex Albon flirting with the top three several times as his slippery Williams was rapid in the second sector.
Verstappen led the field into Q2, with a 1:17.384. 0.305s ahead of Lewis Hamilton in second while Esteban Ocon was an impressive third, 0.081s behind the Briton.
Fernando Alonso was fourth, while Carlos Sainz and Charles Leclerc were seventh and 11th respectively, the latter having a scruffy session.
First of the casualties was home hero Oscar Piastri, 16th fastest, and missing out by a painful 0.046s, and was followed by Alfa Romeo's Zhou Guanyu who was 17th fastest.
Logan Sargeant was 18th fastest for Williams with a 1:18.557 as Valtteri Bottas capped off a disappointing session for Alfa Romeo who missed out on Q2 by both cars. The Fin was 19th fastest.
Perez will start dead last after spinning out earlier in Q1.