Agnes Carlier had a sit-down interview with Pirelli Formula 1 boss Mario Isola ahead of his company's 13th season as a sole tyre supplier to the pinnacle of the sport.
Pirelli supplies some 1800 tyres per Grand Prix weekend amounting to close on 40,000 tyres as each F1 team has twenty sets of tyres for three one-hour practice sessions, qualifying and race.
Add testing tyres to that figure and one gets an idea of the massive task it is to supply the circus with an element without which the sport would not exist.
Ahead of the season-opening Bahrain Grand Prix, Isola talked Pirelli history, legacy, memories, blowouts, tyre-blankets, Ecclestone, predictions and much more with our correspondent, the conversation was prompted by Agnes' opening:
Q: Pirelli begins its 13th consecutive season, doesn't make us younger…
Mario Isola: That's a long period. It seems like yesterday we started honestly, but a lot changed.
Q: So what is your best souvenir?
MI: 13 Seasons more or less… I believe 250 races is difficult to adjust to find one good memory. I have a lot of good, good memories. A lot of friends here, and I believe that Pirelli has a strong relationship with everybody. So for me, the best memory is that I have a very good relationship with the people that are here.
So when I come back to the paddock after the winter break, it is like going back to a family. You always find the people that you see during the season, and probably more than friends and family at home, because we spend together 200 days per year. You know this better than me [laughs]!
Q: I think it's absolutely right. Did you see Bernie [Ecclestone]? I know he's here [Bahrain]…
MI: I saw Bernie last night at dinner. He is in wonderful shape.
Q: So is there one day where you thought during this long period that Pirelli would withdraw? Was there a bad moment ever?
MI: Bad moments? We had bad moments every time, for example, we have a tyre failure. That's a bad moment for us; what is important is that we react immediately to this, we understand what happened, and we find the solution. When you're working in this kind of environment where technology is at the highest level in the world.
It could happen. You can break an engine, you can break anything on the car, and sometimes unfortunately, you can have a tyre failure. But it shouldn't happen. And we are here to avoid this. When it happens, and if it happens, we need to react quickly.
Then bad moments are not strictly related to tyres. We had, I remember unfortunately the accident of Jules Bianchi. We were all together in Japan, and it was a strange feeling because it was such a long time since we had no fatal accidents in Formula 1 that you think it doesn't happen.
And then when you realize that it happened with a younger guy, a friend we had a lot of time with, dinner together and so on; it's a shock. So it's difficult to tell you what I felt on that occasion, and at the beginning, nobody knew what was happening. So I was surprised with nobody really understood what happened.
Q: This year with the rain. Do you have the same anticipation?
MI: In Suzuka? Yeah, visibility is an issue. We know that. There is very little we can do with the tyres, but I know that the FIA with the teams are working, I also get this. Motorsport is dangerous. We know that…
Q: How did you feel in 2021, in Azerbaijan when Max Verstappen's tyre failed?
MI: It's one of the occasions like in Silverstone 2013. It is one of the occasions where you have an issue and you have to understand it first because, you know what, it's very easy that when you have an issue, you try to give an explanation immediately; and sometimes this explanation is not the right one.
So you need to stay calm, take all the information, analyze what is left from the tyre, and try to understand and analyze the data from the car; everything that can give you the right explanation. It is not always possible, but luckily, the majority of times, or more or less, every time we found an explanation. Baku 2019 is not an exception to that.
Q: So on a positive note, what did you say to Max Verstappen when you gave him the first Pirelli Pole Position Award of the 2023 season?
MI: I asked him how many of these tyres [pole position trophy] he has in his home [Laughs]. He was quite happy to get another one. Then he was asking me to sign the tyre. I said you should sign the tyre because you took the pole position. Then we signed together.
Q: Pirelli helped 2022 Formula 3 Champion Victor Martins. He received €300,000. Is helping young drivers something dear to Pirelli?
MI: We do that in part of our programs. We said last year that we have three pillars in motorsport. One of these is to help young drivers, and we do that in many of our programs. Also, at a lower level with ASM. You mentioned the prize that we give to the F3 Champion. But in national championships, we have other prizes to support young drivers.
Q: How much is the minimum needed to do a season in Formula 2?
MI: I don't know exactly what is the budget for Formula 2, because I believe there is also a different cost depending on the team. That's a question that you should ask the teams, but I believe that €300,000 is good support. Sometimes we give the champion tyres free of charge if he is going to progress to a higher level. Sometimes we give money, sometimes we help them find a team in a higher championship to progress.
Motorsport unfortunately is very expensive. We are not going to change this. It is expensive, and it is expensive for anybody who wants to progress. It's not achievable for a lot of good drivers that unfortunately don't have the economical ability to progress.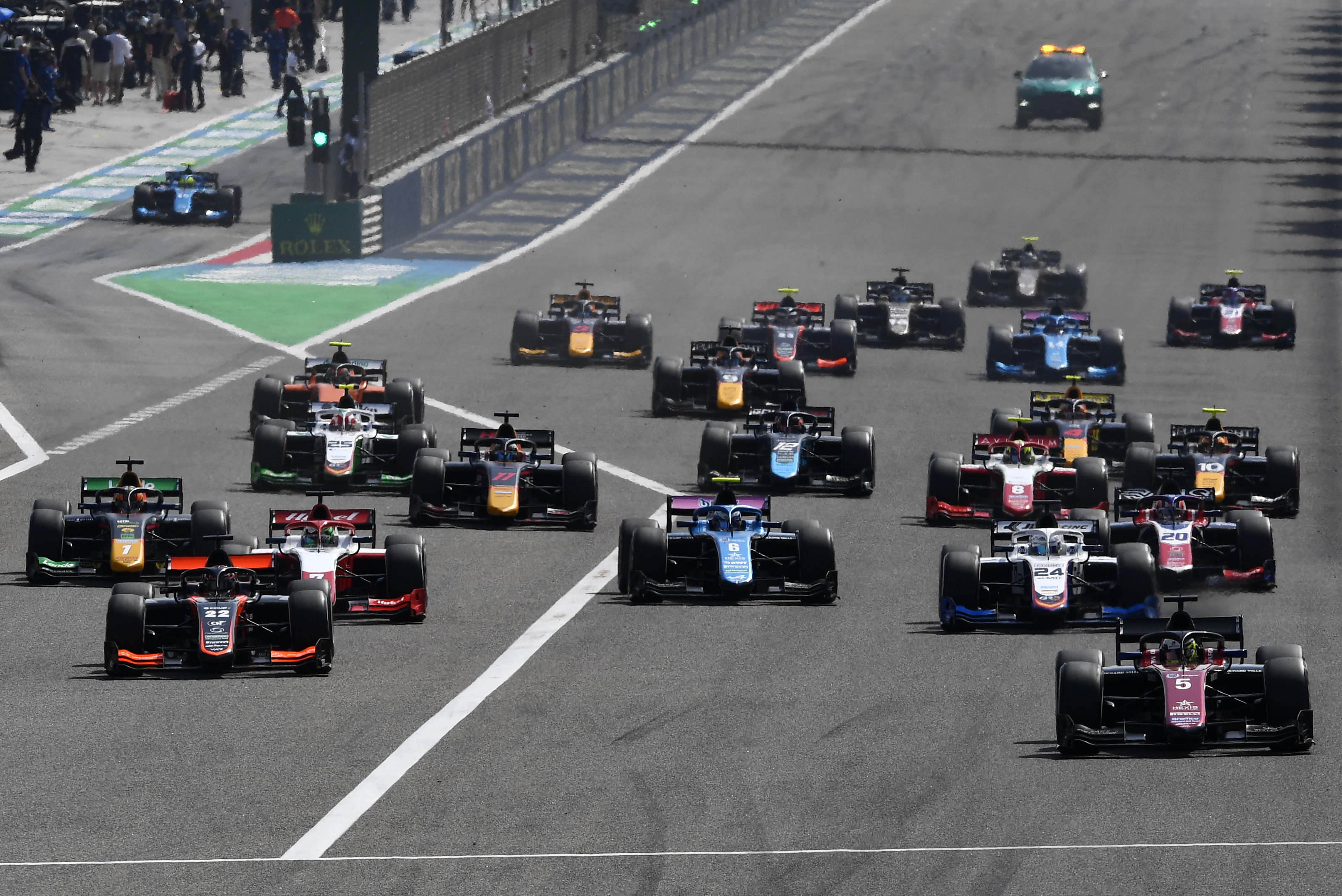 Q: F2 and F3 are so to say laboratories for Pirelli. What do you learn from the lower formulae?
MI: We learn a lot. Formula 2 is the closest formula to Formula 1 and they usually anticipate the changes in Formula 1. They decided to introduce the 18″ tyres two years before Formula 1, and also in the past we had other examples where they anticipated changes.
Now there is a difference; in Formula 2 and Formula 3, with quite a high level of degradation. That is a request from Bruno [Michel] the promoter. That is important to teach young drivers how to use the tyres, how to manage the tyres and develop the feeling with the tyres.
But we have very good cooperation with them. We test with them. In the past, we also tested new ideas on compounds, on construction. For sure F2 and F3 are good "gyms" for us to develop tyres.
Q: What are you most proud of at Pirelli?
MI: I'm very proud that in 20 years, I believe that now we are the benchmark in motorsport. When I joined Pirelli motorsport at the end of 2000, we were very small, a very small team of passionate people.
Now we supply tyres for F1, we supply WRC, we supply F2 and F3, Formula regional; a lot of Formula 4. All the GT racing organized by Stephane Ratel the SRO [Motorsport Group]. So we have more, we supply more than 230 championships around the world.
And I'm proud of this; and I am proud that we have been able to show the company that motorsport is important for the company, for the technology transfer, that we can learn a lot of stuff in motorsport, and transfer technology to consumer tyres, and to promote the branding because I believe that thanks to Formula 1, the image of Pirelli in the world has changed.
Q: As a short-term resolution, what would you like to do?
MI: To continue in Formula 1, because our contract is going to expire in 2024; and probably the FIA is going to release the tender soon. Usually, the tender is launched one year in advance. So this is the year where when they have to launch the tender, so we want to continue with Formula 1.
We want to continue with SRO. And probably also with rallying, we are evaluating other opportunities for the future, we are investing in factories to grow and to have more capacity. To keep motorsport healthy is my goal.
Q: So you want more than 230 championships?
MI: We can keep 230 with a better selection.
Q: We read that, in a decision, from the World Motorsport Council, the tender is announced…
MI: They should, I don't know exactly when they're going to release it, at the moment is still not released.
Q: It's for the 2025, 2026 and 2027 seasons with an option for 2028?
MI: Yeah, that makes sense. Usually, it was three years or four years in the past, we had one contract for four years, the normal period of time,
Q: There was a rumour Pirelli wanted to leave in 2025?
MI: No. I didn't hear this rumour. But I can confirm that when the tender will be released, we will apply and the idea is to continue for the period of the tender.
Q: Could you imagine a period where there are two tyre suppliers as we had a long time ago?
MI: I believe it's difficult for the sport to accept this situation because the sole supplier is giving you, let's say two guarantees.
One is that everybody has the same tyre. So basically, you reduce the effect of the tyre across different drivers because we want a championship where drivers are the heroes of the sport, not the result being defined by the tyres. It's wrong.
Q: It can be to your advantage to have another supplier. When Bridgestone left everybody said Pirelli alone cannot cope…
MI: No. It's a different approach. When you are the sole supplier, you must be focused on the product. It has to be reliable. It has to be exactly the same for everybody. So in terms of consistency of the production, quality controls, you have to push a lot on that.
Obviously, performance, absolute performance is not a priority, because you are alone so it doesn't matter if your tyres are half a second per lap slower. It's for everybody. That's why we are not pushing hard on performance, but more on the requests that we had from Formula 1.
For example, one of our duties, is to give them a product that can give the possibility to the teams to have different strategies, mix of pitstops, different choices. So we can do something good for Formula 1 if we supply a product with these characteristics, not to have a tyre that is defining the running order, or the classification.
Also, the cost with a sole supplier is much lower, because if you remember in the past with what they called tyre war, teams were testing every day. And you imagine with a current Formula 1, the cost for testing, it's unbelievable.
Q: There is this big topic going around among journalists, the ban of tyre blankets. Lewis Hamilton is not so happy whereas Pierre Gasly says it doesn't matter…
MI: Big topic at the moment, I agree with you.
Q: So they will vote after Silverstone?
MI: Correct.
Q: So do you feel the tendency that it will pass or do you feel it will stop there?
MI: The plan is to ban the blankets in 2024. We agreed that with all the stakeholders, so we the teams. with the FIA with F1, and obviously, the drivers were informed about this. What we said and what we agreed is that in a responsible way, after Silverstone, because after the race in Silverstone, we have another couple of days of testing.
After Silverstone, we should sit down, analyze the results of the test and decide together if it is worth it to ban blankets in 2024 if we need more time, but what is important is that we don't damage the show. So we have a path, we have a journey to improve on sustainability.
For example, we are going to ban blankets for wet weather tyres from Imola this year, because, during the winter season, we tested new compounds with a very good result without blankets in colder conditions. So we will have a Wet weather tyre, Extreme Wet, with no blankets from Europe, then, as soon as we find a good product able to work with our blankets on the Intermediate tyre, the plan is to introduce it.
And obviously, the last step is the slick [tyre] because it's more complicated. You have a delta pressure from cold to hot that could be up to 10 psi or more. You have a delta temperature that is from 20C to 120C and we need to change all the compounds, to design compounds with a much wider working range, to design a new construction able to cope with this pressure.
So it is a big challenge. It's a big technical challenge. We are working to achieve that. So our plan is to achieve that in 2024, but if there is any doubt we discuss that together. So I spoke to some of the drivers explaining the plan. I believe I spoke also to Lewis [Hamilton] and we agree to that plan.
Q: Where are your factories now?
MI: In Romania, we produce the tyres, and in Turkey where the backup factory is where we can produce the tyres as well.
Q: But not in Latin America or Asia?
MI: We have a factory in Brazil. That factory is producing motorsport tyres and we are also increasing the number of tires we want to produce in Brazil, but not for F1. It's for different motorsport, some for rallying, some for single-seater, but not F1.
Q: So what do you say, when you hear the criticism of the drivers?
MI: I have lot of training in the last 13 years. I mean, as long as the criticism is good to improve, I'm happy to to have these comments.
What I don't like are comments that are not constructive, that are useless. But if a comment and usually the comments from drivers are constructive, I'm happy to get them, to take them on board to pass the message to R&D in Milan and to work to provide a better tyre for drivers.
Q: How long does it take to react, when you need to change something at the factory?
MI: If you ask somebody from the factory, they tell you, a month, but we know that in Formula 1, sometimes you have to react in hours. So in the past, I have to say that our team of people in the factory have been able to react very, very quickly, we explained: 'Guys, we need to do that because we have an issue we need to react'.
And you remember Silverstone 2013, we reacted in one week. That is almost incredible if you consider the factory, the planning, and the mechanism behind it all at the factory, but we gave them the message and they reacted in the best possible way.
This interview was conducted ahead of the 2023 Bahrain Grand Prix and after qualifying, so it was natural to ask Mario Isola about the expected strategies and his predictions for the race.