It's been a while since I've written an Editor's Desk, but unfortunately it was something Fernando Alonso said recently that triggered this one.
Let's make one thing clear first, this Editor's Desk has nothing to do with Alonso's capabilities in the cockpit of a Formula 1 car as this aspect of the Spaniard is above and beyond any discussion.
Alonso has an abundance of natural talent, and immense race craft, while his tenacity is second to none, and now at 41 years of age is still operating at a very high level since he made his debut in F1 in 2001 as he shortly managed to dethrone the great Michael Schumacher in 2005 and 2006.
With that settled, my gripe here is regarding another part of Alonso's persona, and while some might jump to his controversial character and his "unhealthy" antics within a team in the manner he plays the intra-team politics and mind games, that is not the case.
This part of Alonso's character is most probably responsible for the fact that he couldn't achieve more than two F1 Titles – something his talent warrants – based on his behaviour within the team and his questionable decision-making throughout his career.
No matter how unflattering this side of Alonso's character may be, there was one positive thing about it; he was bluntly straightforward, never shy to call things as he saw them. And here comes my problem…
Recently, the driver, who didn't mind calling the woeful Honda power unit from his McLaren days between 2015 and 2018 a GP2 engine, has seemingly become tamer, and not in a good way as it wasn't due to maturity that comes with age, rather an act of sucking up…
It all started in Austin
This dates back to last year's United States Grand Prix, when Lance Stroll, then a rival for Alonso who was still driving for Alpine made a despicable defending move as the latter was attempting to overtake, as Lady Luck and the Racing Gods both intervening to saving the Alpine driver from some serious consequences.
The F1 community was mostly outraged by Stroll's shenanigans, but then Alonso who has just signed a contract to race for Aston Martin labeled the accident a racing incident… Really Fernando?
Ok, we let that pass, as it might have been a smart idea to let things go at the time, especially at an early stage of the Alonso/Aston Martin relationship.
But recently, Alonso in an interview on Aston Martin's official website said of his new teammate: "In Lance, the team has a driver who is super young, super talented and has the possibility to be World Champion."
As I was surfing around checking the F1 media, all the headlines were about how Alonso believes Stroll can be World Champion, and as editor to this site, I thought that was bullshit and ran the story with a different headline.
Let's not hide from the fact that Lance Stroll is not a brilliant driver, and getting a pole position in Turkey in 2020, and three podiums don't mean he will be an F1 World Champion. He couldn't even convincingly beat an over-the-hill Sebastian Vettel over their two seasons at Aston Martin.
Yes, Stroll never had a decent car, but the same applied to pre-Mercedes George Russell and Lando Norris, and look at the performance these two have put in, and that's why they are considered future Champions, of course, circumstances permitting.
Is Fernando sucking up to big boss Lawrence?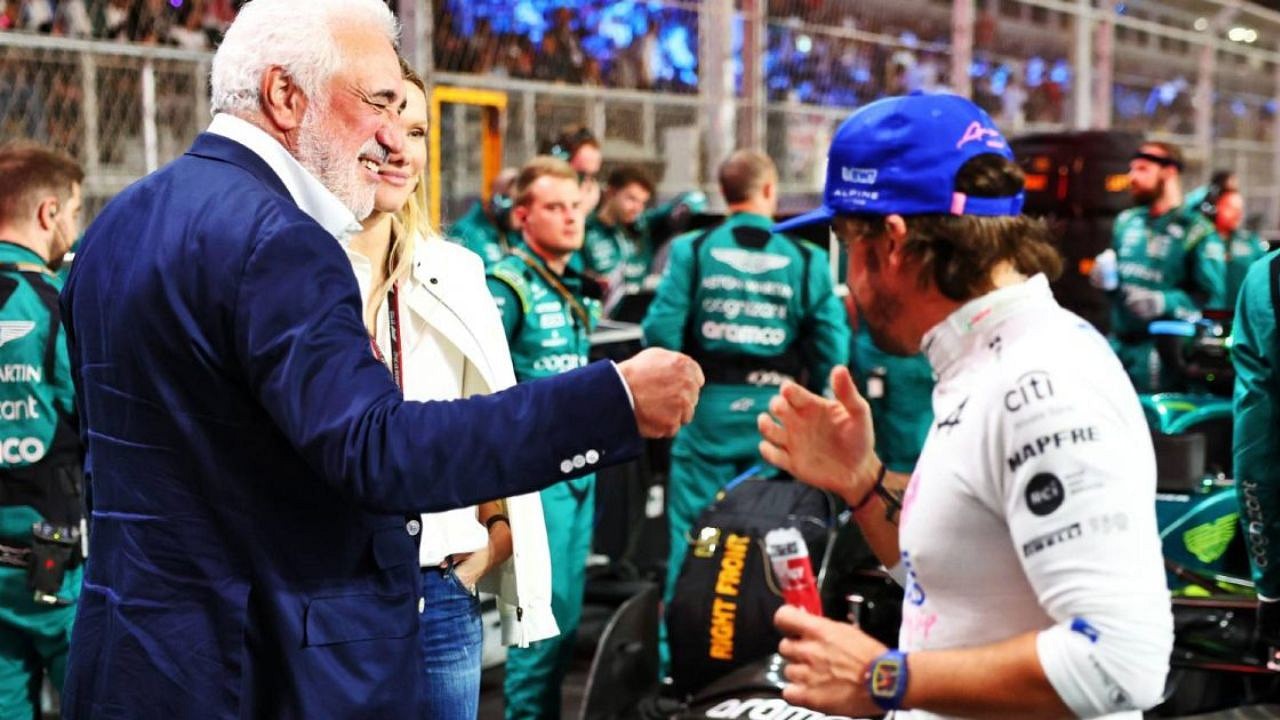 That may not be the case, but Alonso's recent statement about Stroll and his tame reaction to their Austin incident in 2022 inevitably appear to be an act of sucking up to Aston Martin's big boss Lawrence Stroll, Lance's father.
I am not asking Alonso to badmouth Stroll but at least go back to saying things as he sees them, and perhaps as most interpret them in this case and that is: No! Lance Stroll is not a future F1 Champion, and add to that what he did in Austin was not a racing incident and deserved a race ban.
And one more thing, Stroll is only in F1 because of his father's deep pockets… So, in future, will the real Alonso please stand up?
More than 90% of our readers believe Alonso will 'own' Stroll in 2023, now please let us know your thoughts in the latest poll below on the matter: