While just about all and sundry, barring eight of the current Formula 1 teams and their allies, know the sport can do with an extra team or two, Juan Pablo Montoya does not believe an 11th team will happen.
Andretti Global have made a hard-to-ignore bid to enter F1 to the FIA, the sport's governing that decides what will or won't happen on this front. All indications are that the organisation's president Mohammed Ben Sulayem is warm to the concept provided certain boxes are ticked.
With Caddy on board, money available, new premises being built plus that pedigree, there is hardly another box to be found worth ticking, thus the F1 world awaits a decision from Paris.
While Michael Andretti's bid has gained support from outside the F1 paddock, former F1 driver Montoya told RACER he has doubts: "I would like to see them on the grid, but I don't see it happening unless they buy out someone else because I don't think there will be an extra team."
It is well known that the collective greed of the eight F1 teams is the 'elephant in the room' so to speak, as the pie will shrink in the short term and, clearly, long-term is not on the radar. In contrast to the majority, McLaren's Zak Brown supports Andretti as does Alpine who will supply the power units initially.
Montoya: It would be a shame if Andretti failed but it's difficult to get everyone on board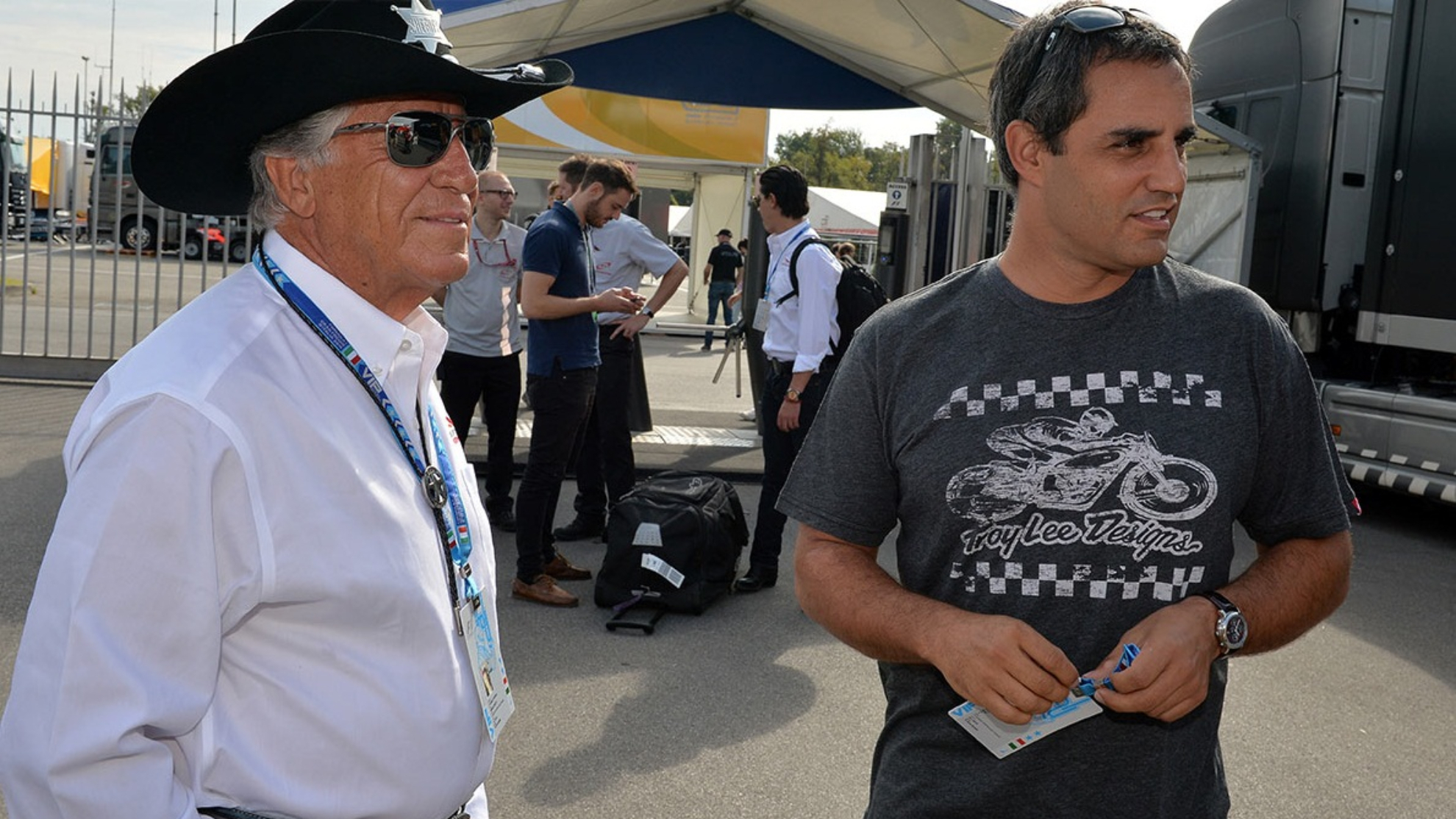 "If they are really committed to getting into F1, they will have to buy out someone like Alpine. If they insist on entering as a new team, I think it is very unlikely that we will see them in F1," explained Montoya.
"They will have to do it in the same way as Audi. If you really want to be active in F1 for a longer period of time, then you have to buy thirty or forty percent of the shares of an existing team, with the option of taking over another twenty, thirty, or forty percent two years later, so that you have a majority interest.
"Then you can do whatever you want with it. Otherwise, I just don't see it happening. You know what the teams are like, you know how the game works," added Montoya, referencing Audi's first foray into F1 in 2026 which has seen them acquire shares in Sauber.
The consensus among F1 fans is that an extra team or two, two or four more drivers is exactly what F1 needs as it booms, globally and particularly in America. The logic of a Team USA in F1 is blatant.
Montoya delivered a reality check about F1 in the modern era and what an extra team would bring to the show: "What does it yield? If you look at a Formula 1 race, half of the cars don't even come into the picture. And say your McLaren, Aston Martin or Alpine.
"The number of minutes that those teams are on television decreases as soon as another team is added, because they are in midfield. Because if you don't win races, you hardly get any attention. And then you would also give the little time you are on TV to someone else?
"It would mean that you can offer your sponsors ten percent less exposure. While you also receive less money from TV revenue at the end of the year. Why would you say yes to that? Why do people actually think it would be good to have more cars at the start?
Montoya: Was F1 better when there were 24 cars on the grid in the past?
On the subject of bigger fields, Montoya rekindled an old debate, allowing F1 teams to run an extra car as was done in the sixties and seventies: "You could have the teams enter a third car in half the races or you're going to do it in a way where you have 22 cars at the start every week.
"Then you have to do some calculations, but you could then force the teams to have a young driver drive a third car in two, three or four races. A team will then have to designate a driver prior to the season to use during those races. In this way, you give young talents the opportunity to learn, gain experience and develop.
The teams already have everything they need. And the extra costs involved in running an extra car in a number of races will be manageable. You could also start after the first five races, as everyone is still busy producing enough parts at the start of the season. You could start with it in Barcelona, ​​for example.
"If you have a good car for a certain track, you can choose to drive there with a third car. This way you could take a few points off the competition. Suppose Ferrari has a fast car for Monza. Then they can decide to use their third car there."
Montoya promotes his idea as a way to give young drivers more track time in F1: "Either they will work with this idea, or they should give more free practice sessions to young drivers. Then make it mandatory that teams give a practice session to a rookie at least eight times per season instead of twice, as is currently the case."