McLaren confirmed today that Mercedes reserve Formula 1 driver Mick Schumacher will also be their reserve should it be required in 2023.
Schumacher lost his seat on the F1 grid after two forgettable years with Haas, he has now reset with faith shown in him by Mercedes boss Toto Wolff by appointing him reserve to Lewis Hamilton and George Russell.
Mercedes-powered McLaren have now confirmed that Mick will be on double duty as they too tweeted a photo of the young German during a seat fitting at Woking as he will sub for Lando Norris and Oscar Piastri should either be unavailable to race, for whatever reason.
McLaren will be able to call on @SchumacherMick as a reserve driver during the 2023 F1 season as part of our arrangement with Mercedes. Welcome to the family, Mick. 👊🧡 pic.twitter.com/DNiJ5s99rQ

— McLaren (@McLarenF1) February 1, 2023
Meanwhile, shortly before, Mercedes made a big deal of their newly recruited 2023 Formula 1 reserve Mick Schumacher, with a seat fitting at Brackley worthy of a story.
The former F1 World Champions tweeted photos of Schumacher at the factory familiarising himself with the Mercedes W14, their 2023 F1 challenger to be launched on 15 February at Silverstone.
The tale of the mismanagement of Schumacher's F1 career is well told, however, Mercedes boss Toto Wolff (when all others were not interested in his services) signed the 23-year-old to sub for Lewis Hamilton and George Russell should the need arises.
Hence the Haas reject keeps a foot firmly in the F1 door, and who knows what the future holds, could Mick step up when Lewis decides to call it quits? For now, he is in the best place to do so.
Seems like not so long ago…
F1 legend Schumacher Michael Schumacher returned to F1 with Mercedes after he was sent packing by Ferrari to make way for Kimi Raikkonen at Maranello, although his 'second coming' did not come with the previously unprecedented first chapter of his career at the highest level.
However, he was the pillar upon which Mercedes based their return to F1 at the time, as the Silver Arrows reformed with Schumacher and Nico Rosberg spearheaded that comeback in 2010; the pair remained teammates until Hamilton joined the team in 2013.
Now a decade later, Mercedes are taking Mick's role seriously enough to release images of his seat fitting as part of the ongoing fuss being made about him.
Their plan is for Schumacher to be present at most Grands Prix this year, as the team reserve ready to replace Hamilton or Russell if one of these drivers cannot race. He will also contribute to the development of Mercedes' W14 car and perform simulator work for the team during the course of the season.
In the wake of being axed by Ferrari, after they all but ruined his F1 career by placing him with Haas, and at the time of his signing by Merc, Schumacher said: "I take this as a fresh start, and I'm just excited and grateful to Toto and everyone involved for trusting me."
Hamilton is looking forward to working with Schumi junior at Mercedes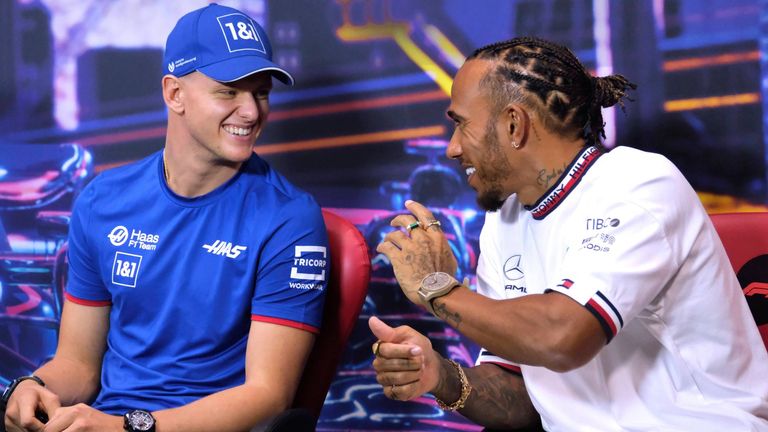 Schumacher was adamant, even before his Mercedes deal, that he would not race any other series until all options in F1 were exhausted: "F1 is such a fascinating world, and you never stop learning, so I'm looking forward to absorbing more knowledge and putting all my effort into the Mercedes team."
Young Schumi makes no secret that he intends to make it back onto the F1 grid in the future, if not as a sub, his goal is 2024.
Whatever the case, the German will be in fine company this season with front-row seats to observe and learn from 103-time Grand Prix winner Hamilton as well as the cream of the 'new F1 guard' which Russell is.
Notably, seven-time F1 world champion Hamilton is relishing the prospect of working alongside the son of the man he replaced at Mercedes in 2013 and said of the appointment: "Mick is a great talent and an asset for Mercedes. He is a German driver. His father Michael and Mercedes were already closely connected."
MSC47 🥰 pic.twitter.com/cVKGpe0dwE

— Mercedes-AMG PETRONAS F1 Team (@MercedesAMGF1) January 31, 2023