Dakar 2023 continued to deliver epic action as competitors fought on through the Arabian Desert on Thursday. 9-time World Rally Champion Sebastien Loeb continued to pile on the pressure through Day 11 as he took his fourth stage win on the trot.
Car leader Nasser Al Attiyah however held strong up front while it was a game of cat and mouse in a tight bike race.
Thursday's 274 km run into the literal middle of nowhere across the Empty Quarter's dunes and dried up pans served as the first part of Dakar 2023's two-day no service marathon stage. Which meant that crews took it relatively easy as they headed to their secret, isolated overnight desert bivouac.
Cars: Al Attiyah soaks up intense pressure form Loeb
In the hope of pressurising the leading Toyotas into a problem, Loeb and Fabian Lurquin continued to push flat out up front in their Prodrive Factory Hunter. Shadowed by Guerlain Chicherit's similar Prodrive machine, and Mattias Ekstrom's surviving Audi RS Q e-Tron quattro, their pace was relentless.
Fourth home, Brazilian rookie sensation Lucas Moraes and Timo Gottschalk did enough to keep ahead of the flying Loeb in second overall. Their dice for second should prove epic as the race winds down towards Sunday's finish. Loeb took six minutes out of Moraes on the day, to cut his overall deficit to second overall to under ten minutes.
Behind Moraes, overall leaders Al-Attiyah and Mathieu Baumel consolidated their handy hour and 21-minute overall lead with fifth on the day in their Toyota Gazoo Racing Hilux DKR T1+.
They came home ahead of two more GR Toyota Hiluxes, SA teammates Henk Lategan and Brett Cummings and Yazeed Al Rajhi, and best of the 4x2s, Mathieu Serradori's SA-built Century CR6-T.
There's no change in the top five cars overall as Al Attiyah continues to lead Moraes, Loeb, Lategan and SA legend Giniel De Villiers. Martin Prokop is up to sixth in his Ford Raptor, from former Le Mans winner Romain Dumas in another GR Hilux. SA duo Brian Baragwanath and Leonard Cremer still lead T1.2 4×2's in their Century CR6-T.
Runaway amateur T1.1 overall leaders, Daniel Schröder and SA notes man Ryan Bland's PS Laser Red-Lined VK50 held a strong advantage class on the road with Thomas Bell and SA navigator Gerhard Schutte's similar machine in hot pursuit.
Bikes: A game of cat and mouse up front
It was another day of cat and mouse in the bikes. Overall leaders, Skyler Howes' Husqvarna and KTM duo Toby Price and Kevin Benavides are duking it out for the Dakar 2023 win.
Price was fourth on the day from Howes in fifth, with Benavides five minutes behind in 11th. That was enough to see Howes back into a 28 second lead from Price with overnight leader Benavides third, two minutes and 44 seconds adrift.
Sixth overall, brother Luciano Benavides took his third stage win of the year on his Husqvarna from seventh man Daniel Sanders' GasGas, Price, Howes; fourth overall Pablo Quintanilla's Honda and Sebastian Bühler's Hero. Fifth overall, Adrien van Beveren languished in 17th after being the second bike to open the road. Wednesday's winner, Botswana's Ross Branch also struggled to 19th.
Joao Ferreira led the T3 side-by-side prototypes from Mitch Guthrie, after leader Guilaume de Mevius hit trouble. That allowed Red Bull duo Austin Jones to move ahead of Seth Quintero overall. SA duo Geoff Minnitt and Gerhard Snyman's HBE Can-Am sat 14th while rookie leaders Eben Basson and Abertus Pienaar were 22nd in their GR Rally.
Local hero Yasir Seaidan led South Can-Am teammate Cristiano Batista and overall leader Rokas Baciuska in the T4 side by sides. Marcelo Medeiros took quad honours from the overall top two Alexandre Giroud and Moreno Flores. And Dutch Iveco trio, Martin and Mitchel van den Brink sandwiched overall truck leader Janus van Kasteren on the road.
Tragedy struck this year's Dakar when  a spectator was killed by a truck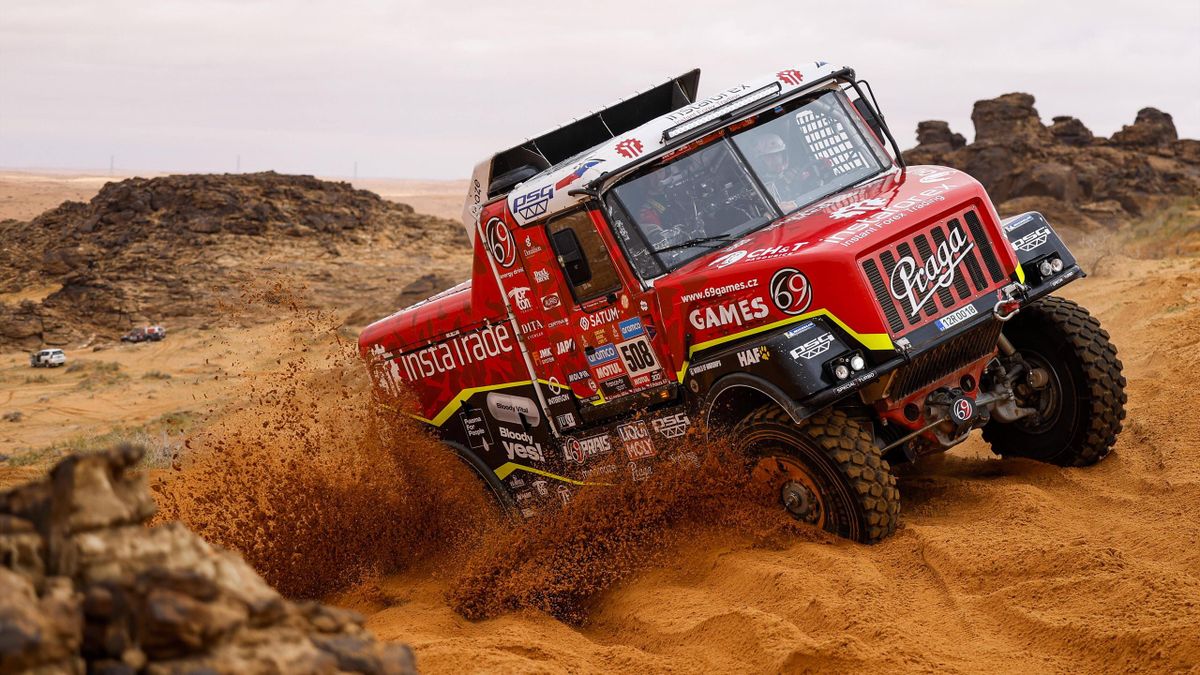 Czech driver Ales Loprais, who was leading the truck category, withdrew from the Dakar Rally after an incident involving an Italian spectator who later died, organisers of the event in Saudi Arabia said on Wednesday.
Loprais who was leading the truck category, withdrew from the Dakar Rally after an incident involving an Italian spectator who later died, organisers of the event in Saudi Arabia said on Wednesday.
The accident occurred during Tuesday's ninth stage but Loprais was unaware of it until after his arrival at the bivouac that night.
Organisers said he was devastated and supporting local authorities with their enquiry.
"As a result he could not continue the race. The rally organizers join him in offering their condolences to the family and friends of the spectator, Livio Sassinotti," they said in a statement.
Loprais said on his Facebook page, which also showed video of the incident, that the 69-year-old man was taking photographs out of sight behind a dune.
"We had been already in bed but the Dakar stewards showed us video footage of an accident from the race that we hit a man by mistake," he said.
"He was injured, he felt nauseous after two to three hours and he had a heart attack while being transported to the hospital. One human life has ended, indirectly my fault because I was driving.
"I have to admit that me and my crew didn't know about it at all. We've got onboards and other videos that prove it but nothing changes that a human life ended… unfortunately he was standing under the dune and we didn't see him at all.
"I'm very sorry and this accident will be with me for the rest of my life."
Friday's 185 km second half of the marathon stage is another sandy, pan, and dune-filled day back to service at Shaybah. Before two more days to the finish on Sunday.  (Report by Reuters; additional reporting Motorsport Media courtesy of Toyota Gazoo Racing)
🏍️ @LBenavides77 flow 🔥#Dakar2023 pic.twitter.com/0ylLRQ4T35

— DAKAR RALLY (@dakar) January 12, 2023