After two woeful years with Haas, coupled with the end of his long-standing Ferrari association and resultant Formula 1 exit, Mick Schumacher has been thrown a timely lifeline by Mercedes, which their star driver Lewis Hamilton says is great news for the team.
Schumacher's struggles at Haas are well documented, in a nutshell, he was placed with the American team as a pay-driver, funded by Ferrari, but a terrible car in 2021 doomed his rookie season and, in retrospect, bombed the first chapter of his career in Formula 1.
Haas, under Guenther Steiner, was grossly underequipped and inexperienced to develop young drivers, as a result, Schumi III was soon not popular in the team, with a catalog of expensive crashes doing him no favours.
While Schumacher was ousted from F1 as a full-time driver, Mercedes have kept his dream alive by handing him the reserve role with the team, backing up George Russell and Hamilton, who hailed Mick's arrival.
Speaking to Sport Bild, the seven-time F1 World Champion said of Schumacher's appointment: "Mick is a great talent and an asset for Mercedes. He is a German driver. His father Michael and Mercedes were already closely connected
"You don't work that closely with the third driver anymore, it's a lot of simulator work and not like it used to be, even though we'll still be teammates," added Hamilton, whose own arrival at Mercedes 2013 was to replace Michael.
Mick: I feel very, very happy to be a part of it
Nevertheless, Mick is obviously relishing the role at his Dad's former team: "It's great news, I've always felt very close to Mercedes not only because of the history with my family but also just because of F3 and the time that I got to spend here when I was younger.
"Just the relationship that I have with Toto [Wolff] as well, I feel very, very happy to be a part of it even though it's not as a main driver, it's a reserve driver but I'm sure it's going to be just as important to contribute and give it my all so that's what I'm planning on doing."
History shows that in 2010 Michael Schumacher came out of a three-year 'retirement' to spearhead Mercedes' return to F1, with Nico Rosberg his teammate and while the 91-time Grand Prix winner never added to his tally, he is often credited as the rock on which the team was built.
Mick knows the history and what it means to drive for Mercedes: "It means a lot, my Dad was part of his team from 2010 until 2012 and set a lot of the foundations of what it iss today, so I'm very proud of being part of it now."
Why was Schumi III picked for the reserve role at Mercedes?
As for what he reckons makes him the right man for the reserve role with one of th biggest teams in F1, Schumacher ventured: "I guess it's not as common to have a, let's say, reserve driver that has driven the new era of cars like I have, I know the new tyres, I know what the car is about, what it needs also in terms of driving style so hopefully I will be able to contribute to that.
"Also to see maybe what the drivers need from the outside and obviously the simulator work is
going to be very important.
"We have a lot to do and hopefully, I'll be able to contribute the knowledge that I have but also gain a lot of knowledge for myself which hopefully I'll be able to use for the rest of my career, in my life," added young Schumacher.
Uncle Ralf Schumacher, who kept a very low profile when the 'get-Mick-into-F1-no-matter-what' campaign planted him with Haas, also praised the move his nephew has just made: "I think it's a win-win situation for both sides.
"One, for the team they have a great driver, if they need a replacement short term if one of the drivers for some reason can not drive. And the next is of course that he is now in a team where he can learn a lot, first of all through a new structure, a big structure.
"For me, I think it's a great opportunity because he now has an experienced team, with two experienced team-mates, and above all, for a change, a team that is happy that he is there."
At the end, when Mick's exit was all but telegraphed by Haas mid-season, Ralf did speak his mind on Steiner whose conduct he questioned, accusing the Haas team boss of "self-promotion' and wanting to steal the limelight with "not normal" remarks.
Wolff: I think he deserves a chance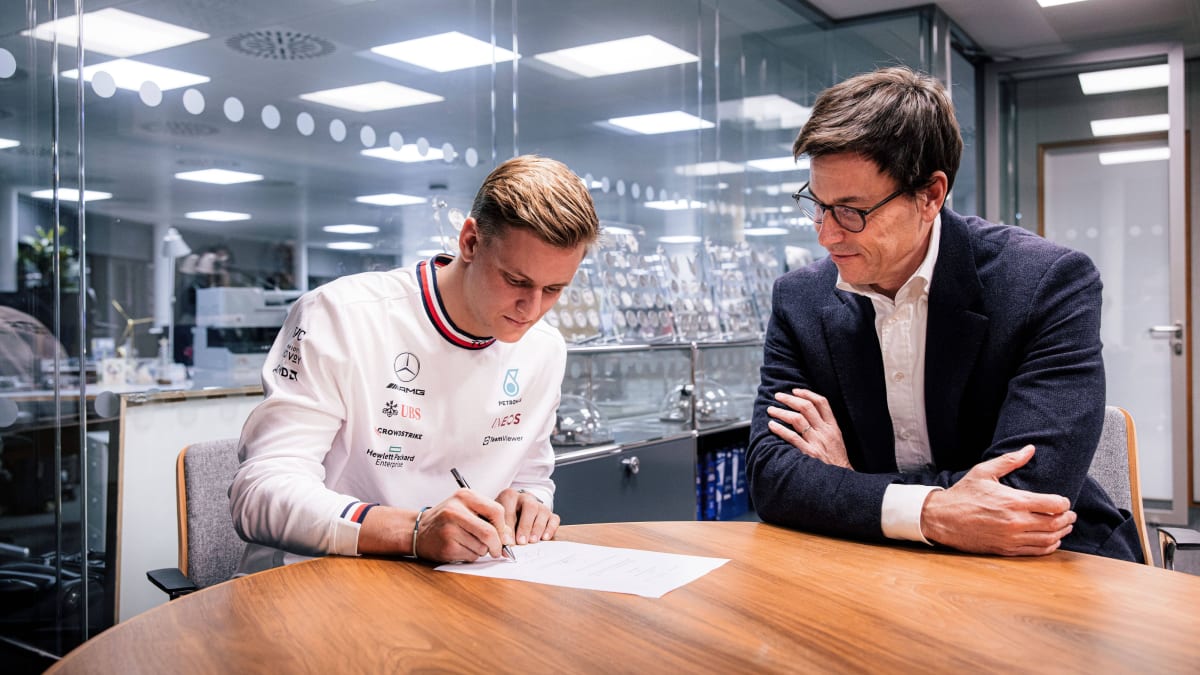 Mercedes boss Wolff, who like all would have been privy to Mick's struggles with Haas, is clearly a baby-Schumi fan and said as much on the Beyond the Grid F1 podcast recently: "I really like Mick and I like the family – how they have raised their kids with this unbelievably famous name – and I think he deserves a chance.
"He won the Formula 2 title and that is not easy. Things can go against you in your first years in F1. He was under pressure to deliver and that doesn't help, and F1 is brutal.
"Maybe, in a way, having a year off as a third driver, similar to what Daniel [Ricciardo is doing with Red Bull] – can be good to reassess yourself and bring yourself in a better place and hopefully find a seat again," concluded Wolff on the matter.
Meanwhile, as chapter one of his F1 career closes Mick Schumacher's report card shows that in 43 Grand Prix starts, two full seasons, he scored 12 points; sixth place at the 2022 Austrian Grand Prix was his best result.
With the same amount of F1 races completed, 43 by early 1994, Michael Schumacher was already a six-time Grand Prix and heading to his first of seven F1 world titles.