While Andreas Seidl departs and Andrea Stella is promoted from within to lead the McLaren Formula 1 team, CEO Zak Brown is bullish about the future and explained why the expansion plans are good for them.
Apart from the flagship F1 team, McLaren also have full-blown team efforts in Indycar, Formula E and Extreme E which harks back to the ethos of Bruce McLaren's team in the early days, when they tackled Can-Am, sportscar racing, F5000, F2, and of course F1; many times simultaneously.
Nowadays, it has been argued that the team could start losing focus on the F1 operation with the aggressive expansion going on under Brown's watch at Woking.
But not so he says in an interview released by McLaren Plus: "There's a variety of benefits. The first remit was to get the F1 team back on track. We've had our first win in almost a decade, and pole and podiums.
"We're definitely not where we want to be but I would say we're back on track and headed in the right direction. Our corporate partners all have different goals and objectives. So if you look at, you know, F1 being our center of gravity if you'd like, North America is hugely important.
"So we got involved in IndyCar racing because however big F1 gets in America, and it's getting very big, we wanted to have another layer on our cake, so to speak."
Brown: In Extreme E, where we have our first female racing driver.
"So again, our corporate partners, and our fans, our employees who want to engage in our activities, to have a real great platform around gender equality and sustainability is important to all of us," declared the McLaren chief.
"So all these different racing series that we're participated in, are to kind of complement and round out the opportunities at McLaren racing. So if you're a fan, an employee a corporate partner, you have many different avenues in which to engage with McLaren racing.
"I joined McLaren in December of 2016. The brief was to get McLaren F1 back to the front, the McLaren brand back to the front. In my first season, we finished ninth in the championship, like the worst year in the history of McLaren. Morale was not great and of course, we were disappointing our race fans, so all the important metrics, the needle was pointed down.
"The brief was to fix that, so I looked at it: Here I was joining my favorite racing team of all time in this iconic, dominant racing team, which is when I grew up watching, I knew there were a tremendous amount of great people here because there's a lot of people that have won a lot of championships and a lot, a lot of races here, but they needed some direction.
"I look back and I'm very proud of our history but things move on and leaders have different styles, mine is very much 'work hard, play hard' when the 'play' is the racing part because we're kind of big kids racing big racing cars.
Trying to bring a lot of passion and a lot of fun to the team
Brown continued: "At the same time, a lot of seriousness and a real desire to win everywhere on the track, off the track and hopefully that's what's coming through.
"I absolutely love the racing business, I've run companies my whole life, having started my own company in and around motor racing. I love my job. I love showing up every day. So I hope that rubs off on everyone that this is a great place to come work."
McLaren's expansion plans coincide with F1 booming around the globe, demand for staging a Grand Prix extremely high making for record calendars; the United States is being conquered finally, the last frontier has fallen to the charms and drama of F1.
Brown, a marketing man through to his DNA, is only too aware of what this means for the sport: "I have never seen F1 more popular than it is today. I've never seen teams healthier than they are today. I've never seen the amount of corporate partners in the sport.
"Certainly, the journey that McLaren has been on, TV ratings up a record number of races, record number of attendees, digital through the roof. It's awesome, what I'm most excited about is to think we're actually just getting started.
"I think now with the cost cap, over time, we're gonna see a leveling of the playing field. So you're gonna go from one or two dominant teams to hopefully five or six that can win races and three or four fighting for the championship, I think that will then make the sport even more exciting, which will draw on more fans.
"The sport has taken off in North America, we haven't even been to Las Vegas yet. That's going to be another shot in the arm. They've just announced a very substantial television agreement with ESPN, ABC will be the best broadcast coverage and that's just in America. We've got new races in the Middle East so the sport is unbelievably healthy.
"Now you have the cost cap. All these teams can afford to be in F1, we were losing 100 million pounds ($120-million) when I started, which is a documented number, to where now we're cashflow positive and going to be turning a profit," revealed Brown.
Brown: As these F1 regulations stabilize teams will catch up and it will be awesome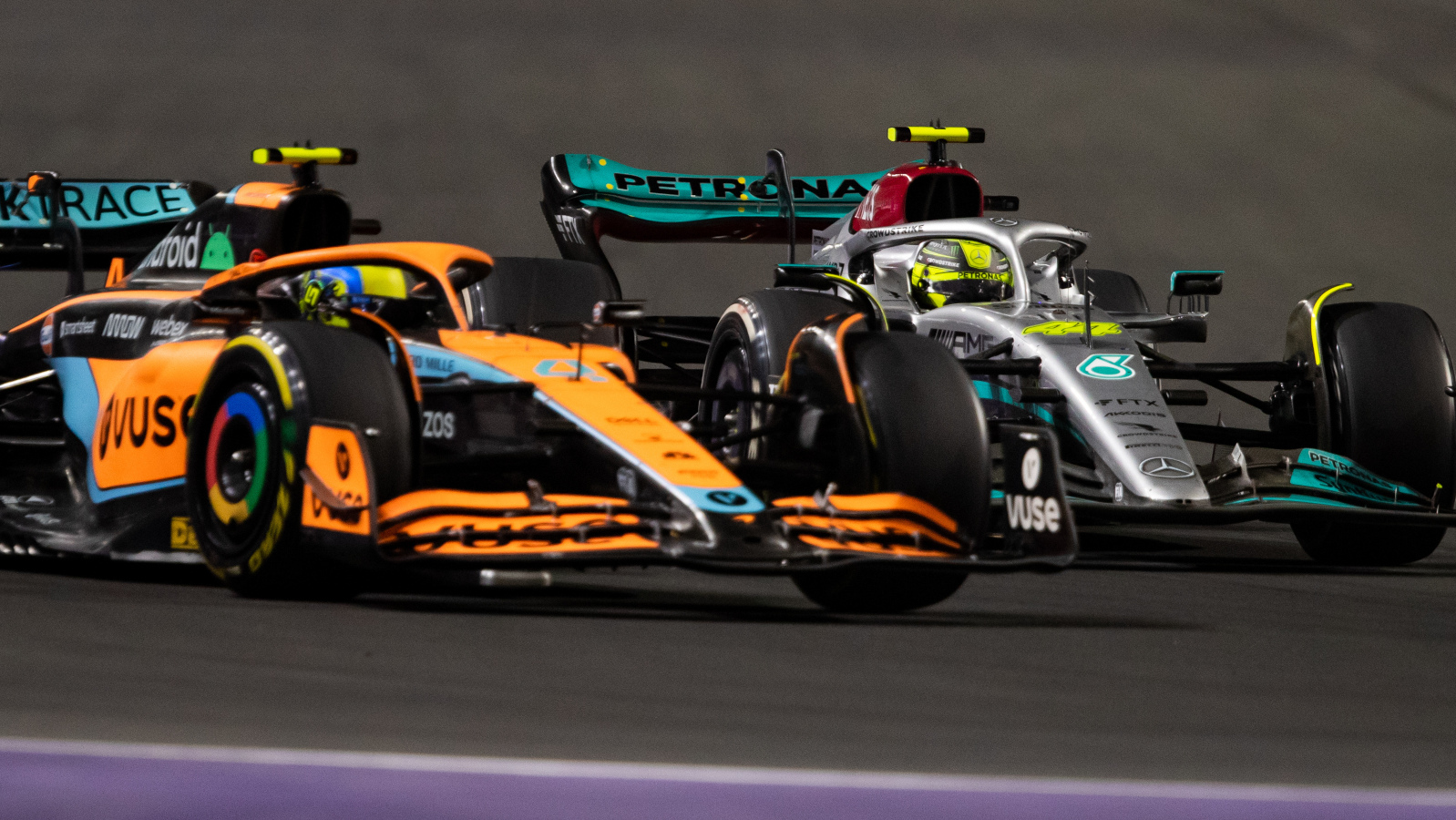 As for the much talked about leveling of the playing field in F1, which traditionally has been dominated by a couple of teams, from a pool that include Ferrari, Mercedes and Red Bull; no other team gets a look in unless they collectively mess up at the same time, which tends to be rare.
Brown is being patient regarding the gap to the front-runners in F1 which he believes will close substantially: "I think probably another two years even though we're all kind of on the same money now spend, some teams have bigger infrastructures
"We're still waiting for our wind tunnel, which is down the road to be done. So even though everyone's kind of on an equal playing field, or most teams, from an annual expenditure standpoint, a handful the teams have come in with a better technology infrastructure, which we're catching up on.
"Anytime you have a new regulation that came out like it did [for the 2022 F1 season] someone gets it right and someone gets it wrong. Then what ends up happening is everyone sees who got it right and they gravitate towards what they've seen, kind of what works from an aerodynamic point of view.
"So if you look at F1 historically, I might get my year wrong, but it was maybe 2012 which was the end of a regulation where you had a lot of different winners that year. So I think as these regulations stabilize, people will catch up in a couple of years. It's going to be an awesome, awesome competition," predicted Brown.
Ahead of the 2023 F1 season, the first priority at McLaren is to have Stella ensconced at the helm of the team and pretty much do as his predecessor Seidl did, namely keep the momentum of progress ongoing with as little disruption as possible.
And of course, it will be up to the technical guys headed by James Keys to deliver for Lando Norris and Oscar Piastri next year, hoping the McLaren MCL37 is a winning F1 car, because (despite the Monza win in 2021) they have not had a top-notch car capable of that for almost a decade now.
Finally, it's worth mentioning that the team Brown now heads, has 20 F1 drivers and constructors champion trophies to their name, 494 podiums scored, 182 times as winners. – the second most successful team in F1 history, behind only Ferrari.