George Russell was the classiest act in the Sao Paulo Formula 1 Sprint Race, winning it in style to set himself up ideally for a first Grand Prix victory on Sunday at Autodromo Jose Carlos Pace, Interlagos.
It was the 24-year-old Briton's first 'victory' in the top flight, albeit a lesser one for it being a Sprint. But 'a win is a win' they say in motorsport, and in this instance, Russell did it with the panache and confidence of a driver worthy of being Lewis Hamilton's heir at Mercedes, and food for thought for his generation of F1 rivals.
It was a stylish victory, aggressive, confident, patient and smart as he came out tops in his dogfight for the lead with Max Verstappen, Red Bull's World Champion starting second on Pirelli Medium tyres, while the rest of the grid (apart from the Williams of Nicholas Latifi) were shod with Softs.
Soon it was clear that Red Bull had erred with the tyres on their #1 car, as around the halfway mark of the 24-lap Sprint, with pole starter Kevin Magnussen long out of the picture, Russell began his attack on Verstappen.
It was enthralling stuff as the Red Bull driver defended as only he can while the Silver Arrow darted around in Max's mirrors, jiving around until a gap appeared after half a dozen laps of riveting action.
George went for it around the outside of Turn 4, squeezing the limits, the cars touched, but the Silver one was ahead and the Blue one dropped back with front winglet damage proof of close combat which Verstappen normally wins, but not this time for a change Russell had more ammo and showed it as he strutted to well deserved victory, masterful even.
Russell: We weren't expecting to have that much pace
Crossing the line, Russell savoured victory with a call to his pit wall: "That's how we roll baby, that's how we roll! Very nicely done, big points for tomorrow let's go!"
Later, in the Interlagos parc ferme in front of a packed and enthusiastic crowd, Russell added: "It was incredible. We weren't expecting to have that much pace, but it goes to show all the hard work we are putting in and the progress we as a team has made.
"These last three races since Austin, the car has been feeling great and it is difficult to know how Max would have got on if he had been on the soft tyres.
"Nevertheless, standing here is a great feeling. It is difficult isn't it because this is a Sprint, so you have to manage risk and reward.
"Even though I was dying to get that victory, I didn't want to risk it too much and have no points starting at the back. We made it stick and third time lucky. It is crazy to think we are both starting on the front row and Lewis did a great job coming from P8 so it is exciting.
"I am sure Max is going to be flying tomorrow coming through the pack, but we are in a luxury position for tomorrow and can maybe split the strategy and go for the win," declared Russell, ahead of his second P1 start of the season; he also started from pole in Hungary.
Hamilton: We should be able to work as a team and hold off the guys behind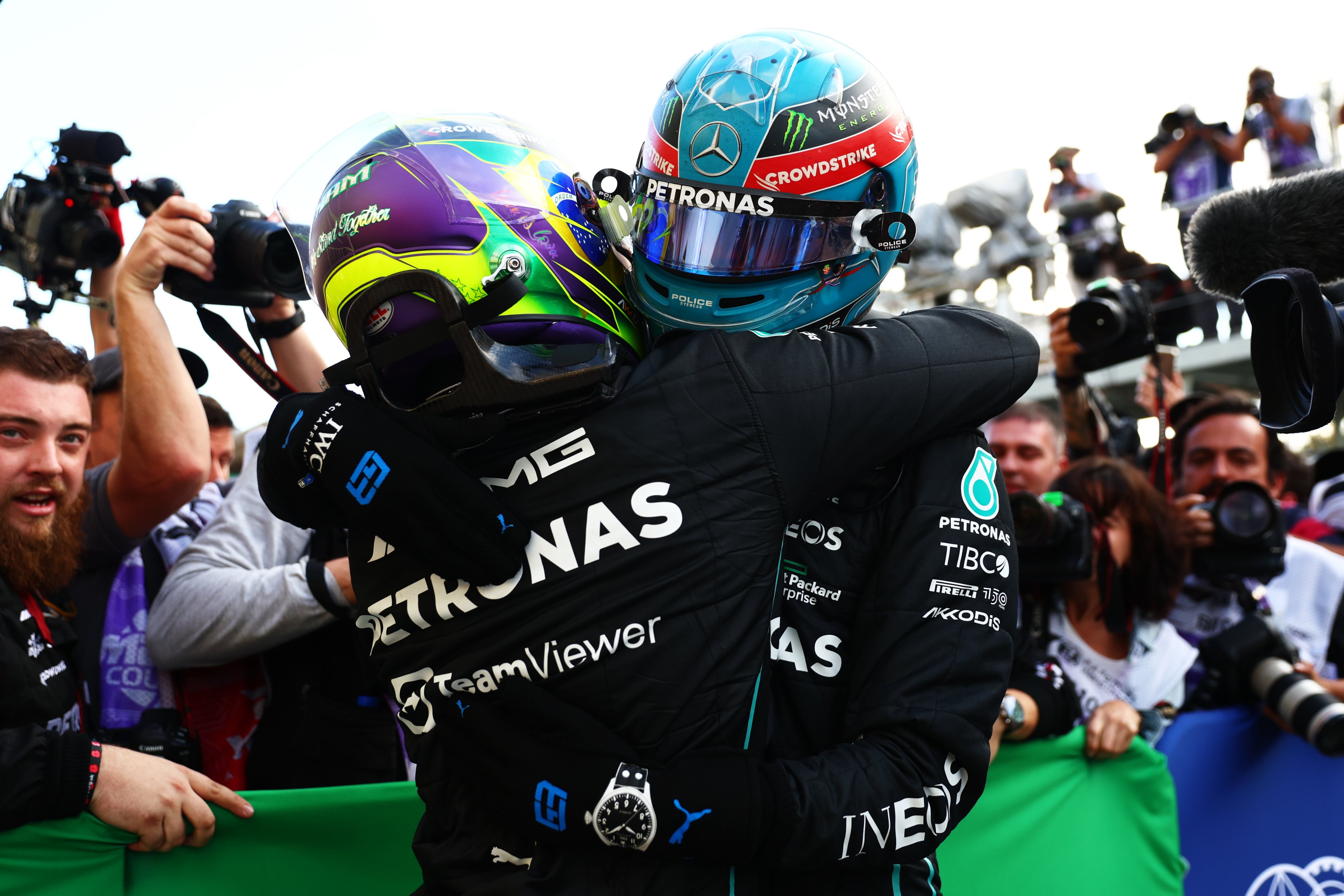 Although Carlos Sainz finished second for Ferrari, he faces a grid drop penalty which promotes Hamilton to second, for an all Silver front row lock-out of the year.
Mercedes seven-time F1 World Champion was chuffed: "I am so, so happy to be here, it has been an incredible week. Difficult day yesterday but what a crowd we've had today.
"Starting from 8th and making my way slowly but congratulations to George. This just goes back to everyone back at the factory, everyone working here on the ground who've been working so hard this year, this is an amazing result.
"To be on the front row tomorrow is incredible. From there, we should be able to work as a team and hopefully hold off the guys behind. We are going to try as hard as we can.
"If we can get some good degradation tomorrow and some good weather, we could have a good fight on our hands. A win here for Brazil would be incredible," concluded Hamilton.
Mercedes have not won a race so far this season, but with Russell lining up in top spot and Lewis Hamilton next to him in second, thanks to Ferrari's Carlos Sainz who finished second being demoted for engine penalties, this could change by the end of Sunday at Interlagos.
It will be Russell's 81st Grand Prix start on Sunday, with Hamilton starting his 309th F1 race.
Crikey. 😉 @GeorgeRussell63 pic.twitter.com/BJn26VniVz

— Mercedes-AMG PETRONAS F1 Team (@MercedesAMGF1) November 12, 2022