Carlos Sainz will start the 43rd United States Grand Prix from pole position after scorching to the top of the timing screens in qualifying at Circuit of the Americas, the Ferrari driver ripping up the form book in the process.
The session began shortly after news filtered through the paddock that Red Bull billionaire king Dietrich Mateschitz had died, news that overshadowed the rest of the afternoon, several drivers visibly affected by his passing.
The Spaniard, who too often has been edged out by teammate Charles Leclerc, this time he made no mistake to claim his third pole position F1 start and the first for Ferrari at COTA.
Sainz today beat the best qualifier in the business, his own teammate, fair and square, his effort of 1:34.356 was less than a tenth quicker than Leclerc could muster in the Q3 shootout, with Red Bull's F1 World Champion Max Verstappen a sliver slower than the Reds, third on the timing screens.
Bu the afternoon belonged to Sainz, the record crowd roaring in appreciation as his name popped to the top. He also knew it was special, coming over the radio when he got the news he was on pole: "I knew it was coming boys. I knew it."
Sainz: I think Red Bull are still favourites
Saturday belongs to @Carlossainz55! 💪#USGP #F1 pic.twitter.com/vFsz2wwkW1

— Formula 1 (@F1) October 22, 2022
Interviewed by Danica Patrick the Smooth Operator added in parc ferme: "It was fun, a lot of fun. It was very tricky out there with the winds today, gusts at every corner and you don't know how much grip you are going to get or expect but I managed to put together a good lap without mistakes and pole position was a long time coming after a few Qualis of getting close but not quite getting there.
"I think Red Bull are still favourites, they normally have the race pace and they normally get us in the race because Max does a very good job. But we are going to do everything we can tomorrow to stay ahead and win the race which would be an amazing way to start these last four races," added Sainz.
His Ferrari teammate Leclerc was quickest of all in both Q1 and Q2, the smart money would have been on the Monegasque for doing it in Q3 but this time the bet would not have paid off as he was second when it mattered, fractionally slower than Carlos, he was second on the time screens. But faces a grid penalty which will send him down the order for the start.
Leclerc said afterwards: "It is difficult with the wind obviously from lap to lap but overall I did my best. The last lap wasn't the best and Carlos did a better job today and deserves to be on pole. I will be starting a bit further back because for the penalty but the plan is to come back to the front as quickly as possible."
Verstappen: It's been hard news I think for everyone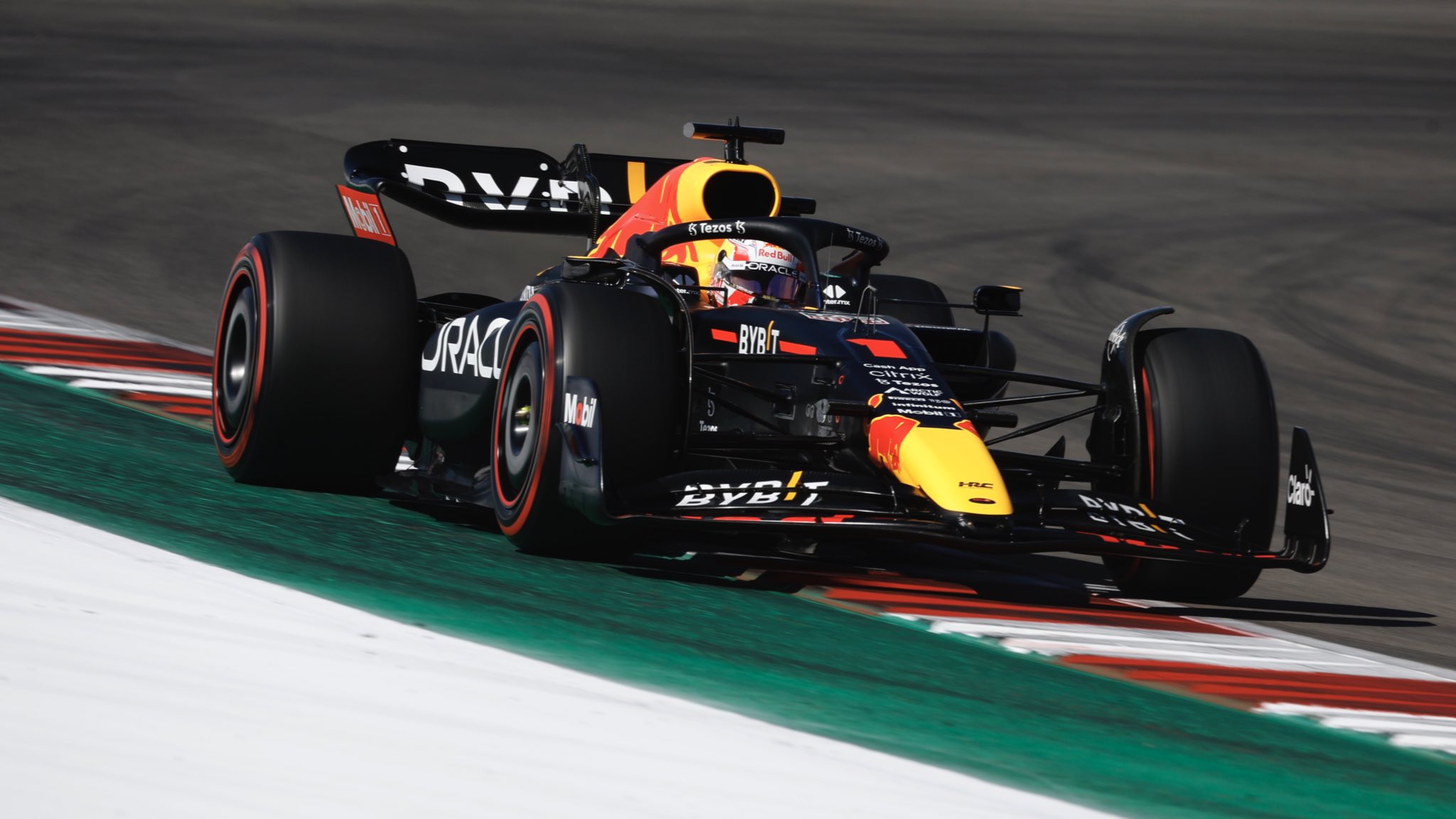 Less than a tenth separated the top three, with Verstappen third quickest, understandably grim-faced by the news of the passing of Red Bull baron Mateschitz: "It's been hard news I think for everyone, I think what he meant to Red Bull and the sport and especially for me and what he's done for my career. It's a very tough day, we tried to give it everything we could in qualifying, but unfortunately, we missed out by a little bit but there's still a race ahead of course and we are going to make him proud tomorrow.
"Well I think our car normally in the race is usually a bit stronger in the race than qualifying, I think already today in qualifying it was very fine margins. I think if you could switch your tyres on a bit better I think that would of made a difference but nonetheless we are there and I'm expecting a good race," added the World Champion.
Sergio Perez was fourth fastest, a couple of tenths shy of his teammate, but the Mexican faces PU-related penalties which will see him drop down the grid.
Once again Mercedes were chasing, half a second down when the big guns came out in Q3, Lewis Hamilton was fifth fastest, a few hundredths faster than teammate George Russell sixth.
Next up in seventh was Aston Martin's Lance Stroll, enjoying one of his better sessions of the year despite a car that has done its drivers no favours this season; Sebastian Vettel was 12th in his last F1 race at the venue where he won in 2013.
The sad demise of Ricciardo continues in Austin
Daniel. 👊#USGP 🇺🇸 pic.twitter.com/2OtTmbVZcb

— McLaren (@McLarenF1) October 22, 2022
At one point in Q2, Lando Norris seemed doomed but got a lifeline when other drivers lost their best times due to track limit penalties. The McLaren driver was eighth. Sadly, once again teammate Daniel Ricciardo was nowhere and he knew it, 17th his reward for his efforts at what will probably be his last Grand Prix for the foreseeable future. One gets the feeling the once big smiling Aussie can't wait for the season to end.
It was also a bittersweet day for Alpine, Fernando Alonso again delivering a performance of the highest order ending ninth quickest, while Esteban Ocon failed to make it out of Q1, ending 18th, an inexplicable six tenths shy of the veteran in the other car.
Valtteri Bottas delivered a mighty effort in Q2 to make it into the final stanza of qualy, ending Q3 tenth fastest.
As mentioned, engine-related grid penalties for Leclerc, Alonso and Perez in the top ten, means the grid will be significantly different from how they ended up in Q3.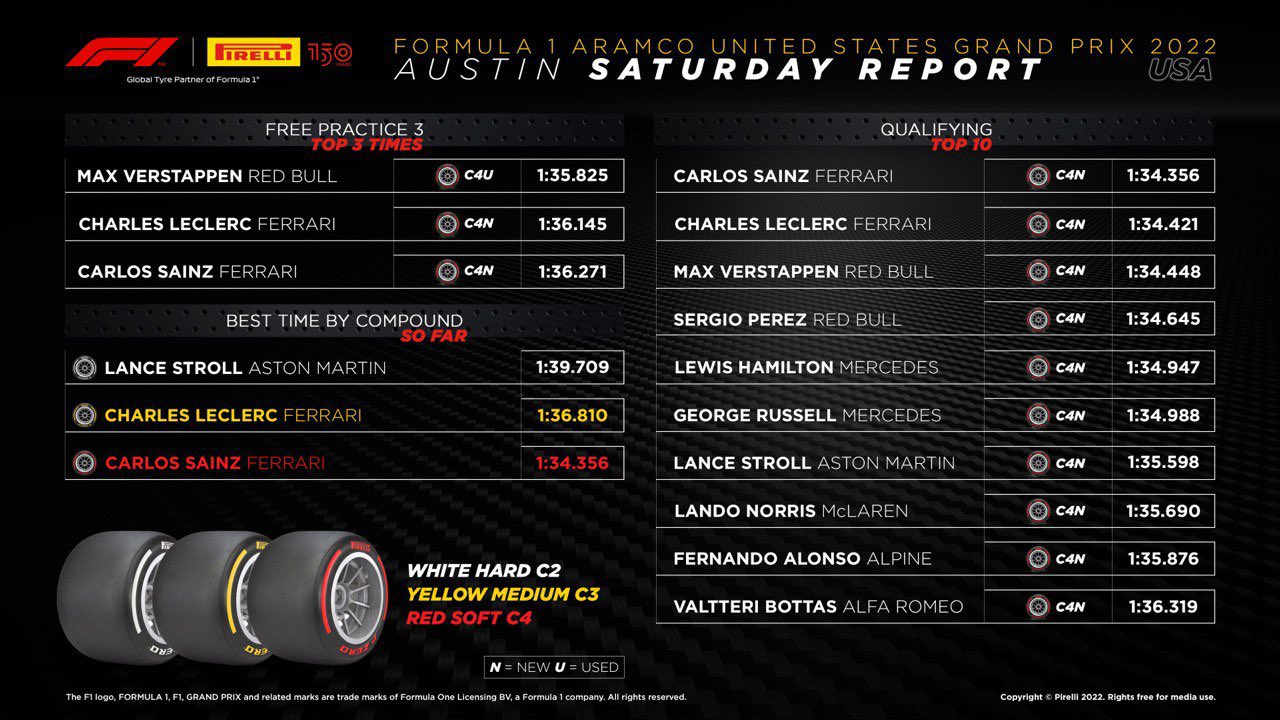 Earlier this is how qualifying unfolded:
Q1
A miserable qualifying for the home American team, both Haas drivers Magnussen (16th) and Schumacher (19th) failing to make it through. Early shower for Ricciardo down in 17th, the soon out-of-work McLaren driver was six-tenths shy of teammate Norris in eighth place; another big scalp was Ocon in 18th, over half a second down on Alpine teammate Alonso who was seventh.
Q2
Leclerc was fastest, followed by Verstappen with Sainz, Russell, Hamilton and Perez at the top.
Track limits cost Zhou and Tsunoda a chance at the top ten, as both made it briefly into Q3 only to have their times deleted and did not progress to the final session; also failing to make the cut were Vettel, Albon and Gasly were the others eliminated.