After powering to pole position for the 2022 Singapore Grand Prix, Charles Leclerc inadvertently, or not, has put pressure on his team to follow up his Saturday act with "perfect execution" to win the race.
Ferrari's fumbles and foibles are well documented, too many victories that were a sure thing ended up not being so sure due to blatant strategy and pit work gaffes that have not helped their drivers this year.
With Max Verstappen and Red Bull fumbling, a rare occurrence this season, and starting eighth, Leclerc starts as favourite; in other words, it's his race to win… if the pitwall gets their act together.
Leclerc said of his 18th F1 pole position for the Scuderia: "It was a very difficult qualifying, Q1 and Q2 with the inters then Q3 we didn't know what to do and went for the soft at the very last minute and it paid off.
"It was really, really tricky and I made a mistake in my last lap so didn't think we would get pole but it was just enough so really, really happy.
"We don't have much data for the race run but, with perfect execution, I am sure we can win." And there lies the (intended or unintended) message to his team. In other words: Please team don't mess up.
In the sister car, Carlos Sainz looked super quick and aggressive on Friday but when it came to crunch time in Q3, he was typically lacking the extra of whatever Leclerc has in his repertoire for the big Saturday laps, the Spaniard was 0.171s shy of his teammate; he will start from fourth on the grid.\
Sainz: If it is not a podium then it is a win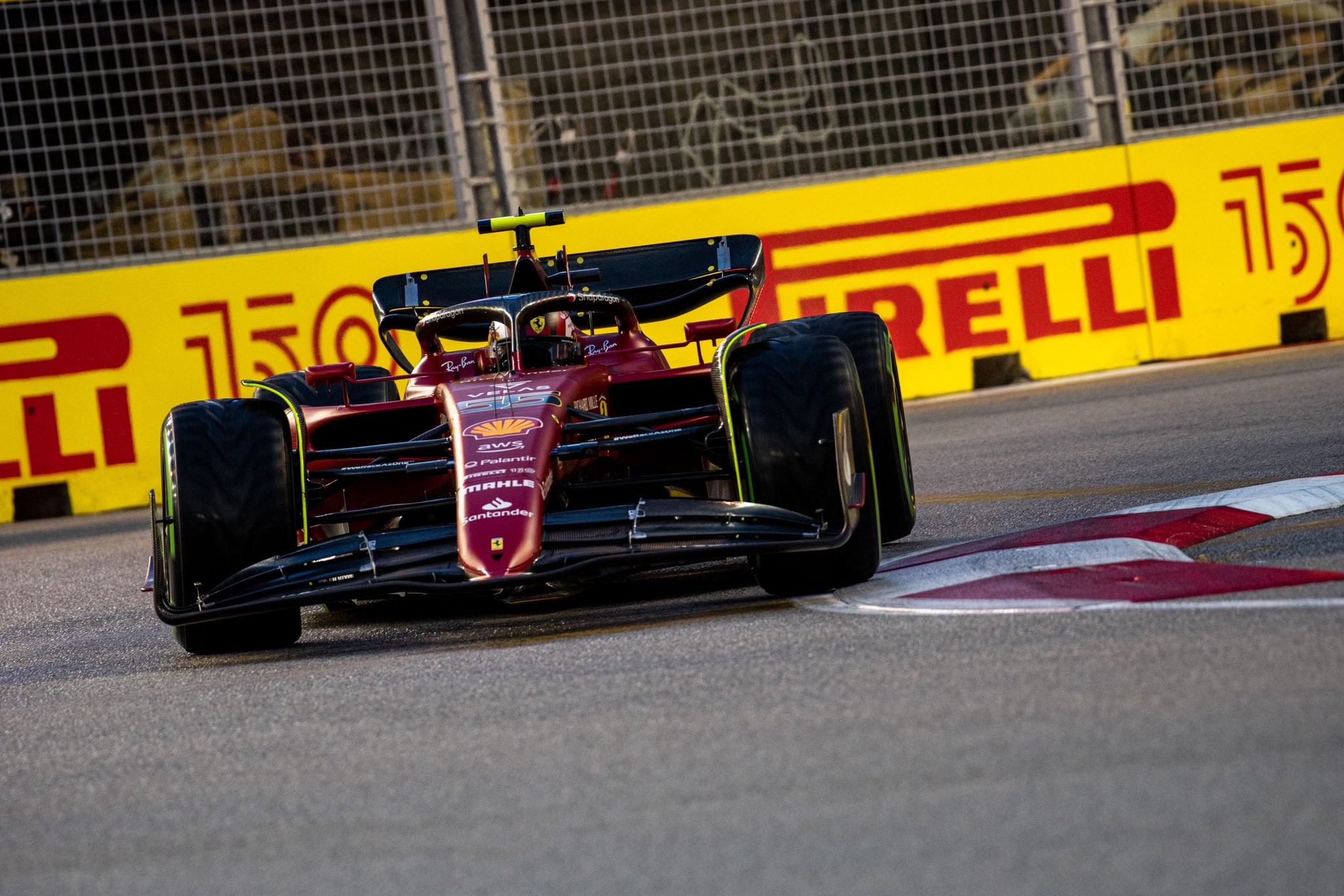 "When you are a tenth and a half from pole and you are P4 you cannot be happy," admitted Leclerc's teammate, Sainz in the TV pen afterwards. "Because you know where that tenth and a half is and how tight it was. It meant we didn't manage to get it but I know exactly where that tenth and a half is in the lap.
"So, I will look back carefully, see what I would have done better. It is what it is and we have to take it. The session is super tight on timing, traffic, it was chaotic. It was very difficult to manage the tyres, the temperatures, the paddles, it was one of the most difficult qualifying sessions of the year.
"I think we did a pretty good job it was just a shame that we missed it by a tenth and a half. Podium that is a target and if it is not a podium then it is a win," ventured Sainz who lies fifth in the 2022 F1 drivers standings.
Ferrari lead Mercedes by 35 points with six rounds to go in a squabble for second place in the constructors' race, as Red Bull are set to claim this year's title, if not in Singapore, in coming races. Leclerc led early in the year.