Max Verstappen delivered a World Champion's drive to turn 10th on the grid to victory at the 2022 Hungarian Grand Prix, after a nail-biting "crazy race" with several lead changes over the 70-laps.
But when the dust had settled the Red Bull ace delivered the best damage limitation result he could have wished for.
Verstappen suffered a technical issue during Q3 that probably cost him pole. That did not deter him despite a cautious start, the #1 car was relentlessly fast while its driver picked his battles smartly which led, unexpectedly no doubt, to victory as Ferrari yet again messed up on important fronts, from tardy pitstops to strange strategy calls that most pundits are still trying to decipher.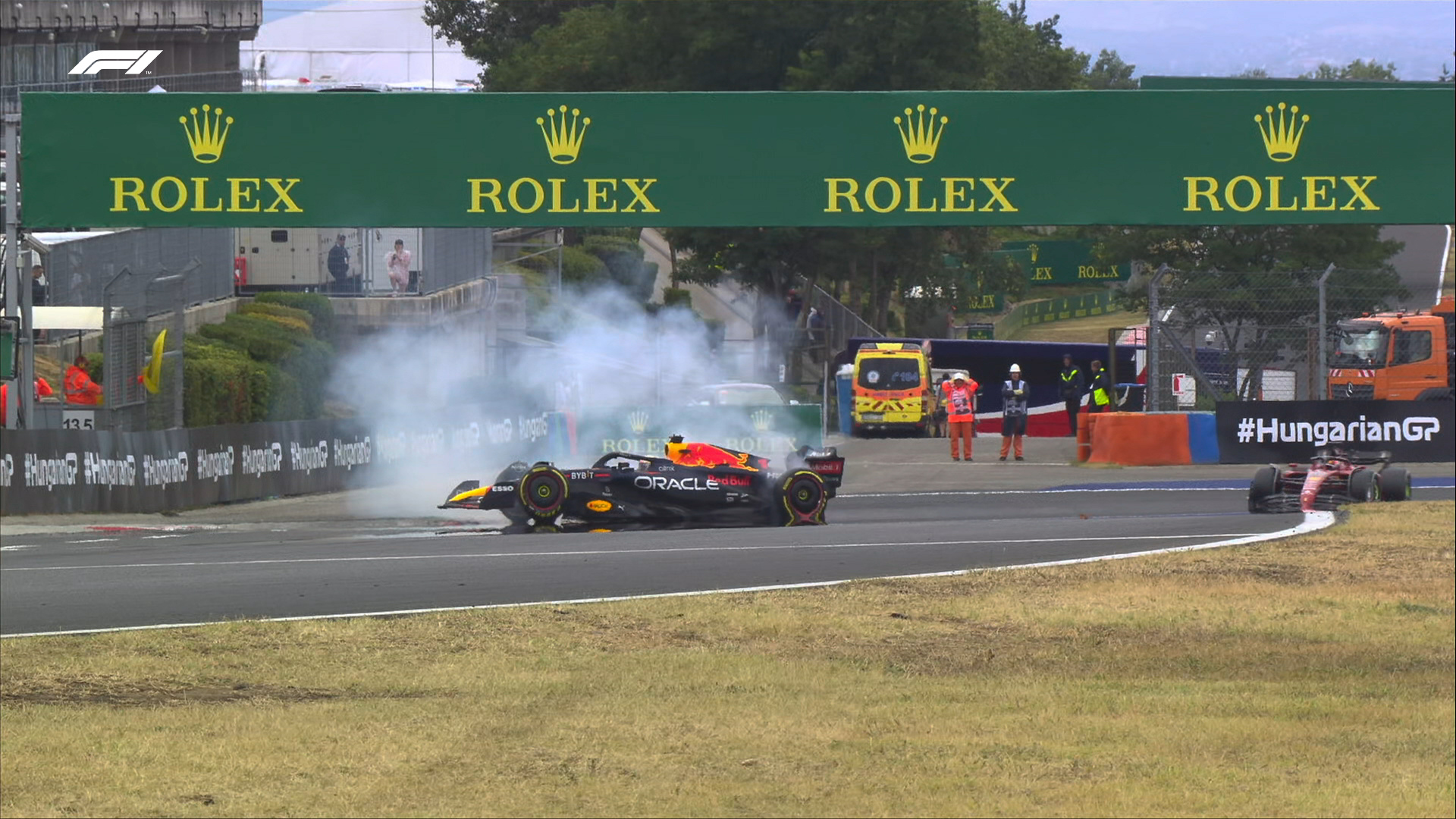 What should have been an all-Red front row after qualifying and a one-two on race day – they do have the car – was expected, but of course, Tifosi was again left scratching their heads or breaking TVs depending on the prevalent temperament.
Verstappen of course relished the unlikely victory, another one all but gifted to him by his rivals. In the end, he was 13 seconds ahead with a lap to go. Driver of the Day was a well-deserved bonus for Max.
He said after his 28th F1 victory: "I was at first hoping that I could get close to a podium, but very tricky conditions out there but we had a really good strategy.
"We were really reactive and always pitting at the right time, I thought we had some good out laps, and at the end – even with the 360 – we won the race. It was a crazy race and I'm of course very happy that we won it."
And indeed he did win it in style, and now leads Leclerc by 80 points after 13 Rounds of the 2022 F1 World Championship.
Heading into the summer break on a high! 😎🏖#HungarianGP @redbullracing pic.twitter.com/BJkxz0tUkf

— Formula 1 (@F1) July 31, 2022
Hamilton's second place was equally impressive starting seventh, he and Max made nonsense of history at Hungaroring favouring the front row starters. Overtaking can happen and does with these new cars irrespective of the track.
Speaking in parc ferme Hamilton had a lot to say after his fifth consecutive podium finish: "I was definitely struggling at the beginning at the race and wasn't sure if I was going to be able to catch the guys up but bit by bit, I was more comfortable with the balance and had a really good start as well.
"I really want to acknowledge my team who have pushed and never given up in this tough year so far. To be on the podium, for both cars to be on the podium twice, it is pretty special for us and really unlucky for George today.
"The others guys still have a bit of an edge but we are clearly closing the gap and this is just an amazing way to go into the break knowing that we have this performance."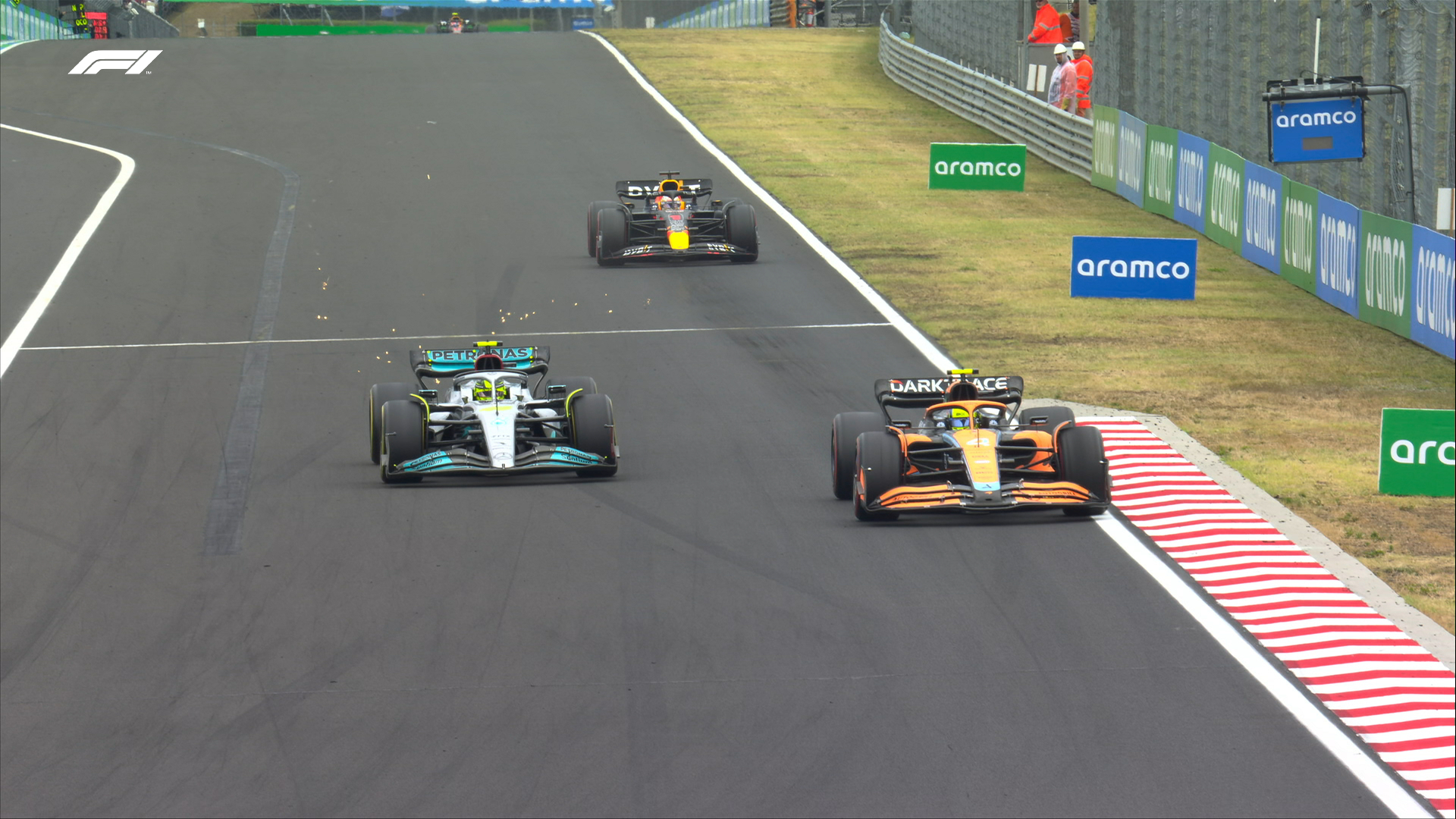 Hamilton continued: "Hopefully we can bring some more into the second part of the season and start fighting with the guys up front. I was hoping it was going to rain at the end so I could challenge Max but we ran out of laps.
"If we had had a bit of a better qualifying yesterday, if the DRS was ok we would have been in the run for the win but two seconds in a row I am really, really happy. Big thank you to the fans, thank you for your support, have an amazing summer, bless you guys," added Hamilton.
For Mr. Saturday, Russell it was perhaps disappointing that a potential win was denied him after a stellar qualifying and an early stint, but he ran out of firepower and had to settle for third.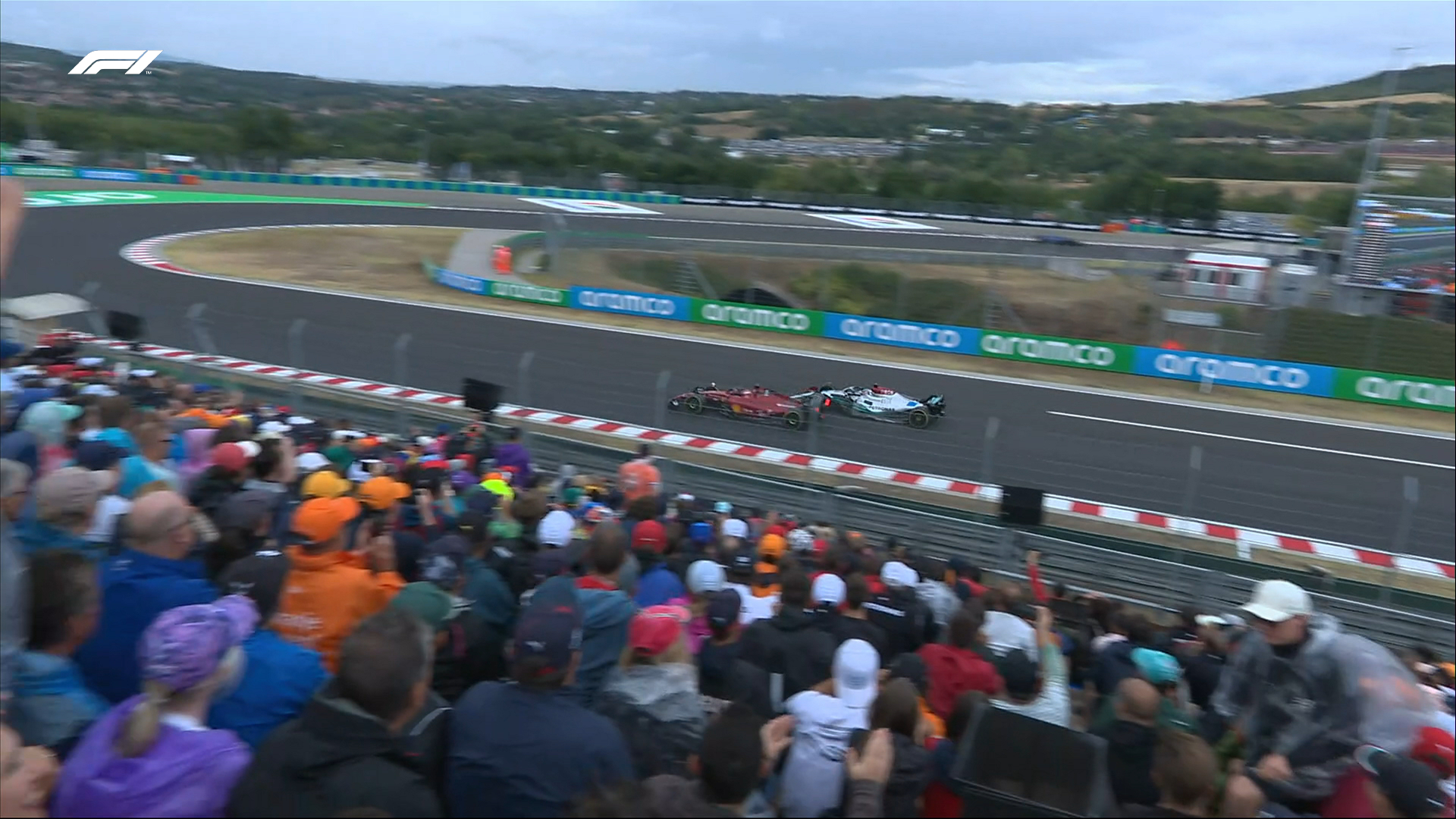 Russell summed up his afternoon in Budapest: "When it started spitting and we were on the soft tyres at the start I thought we were on. Towards the end on the mediums with the slightly heavier rain I really struggled."
However, it's clear the team is making progress and Russell was happy to see both himself and Lewis Hamilton finish on the podium. Amazing job by the team. Pole position yesterday and a double podium –  we're definitely making progress, so really proud of the work we've done," concluded Russell.
Earlier, the race started with drops spitting on the grid, it was a day of watching the skies as the rain was always on the cards but never came.
Making a great start, Russell led for the first third of the race with the Ferrari duo chasing. The changes came after the first stops, with Leclerc pitting late on fresher tyres edged his Ferrari ahead of teammate Sainz and then with Russell's Merc which was on five-lap older tyes was powerless to prevent the overtake.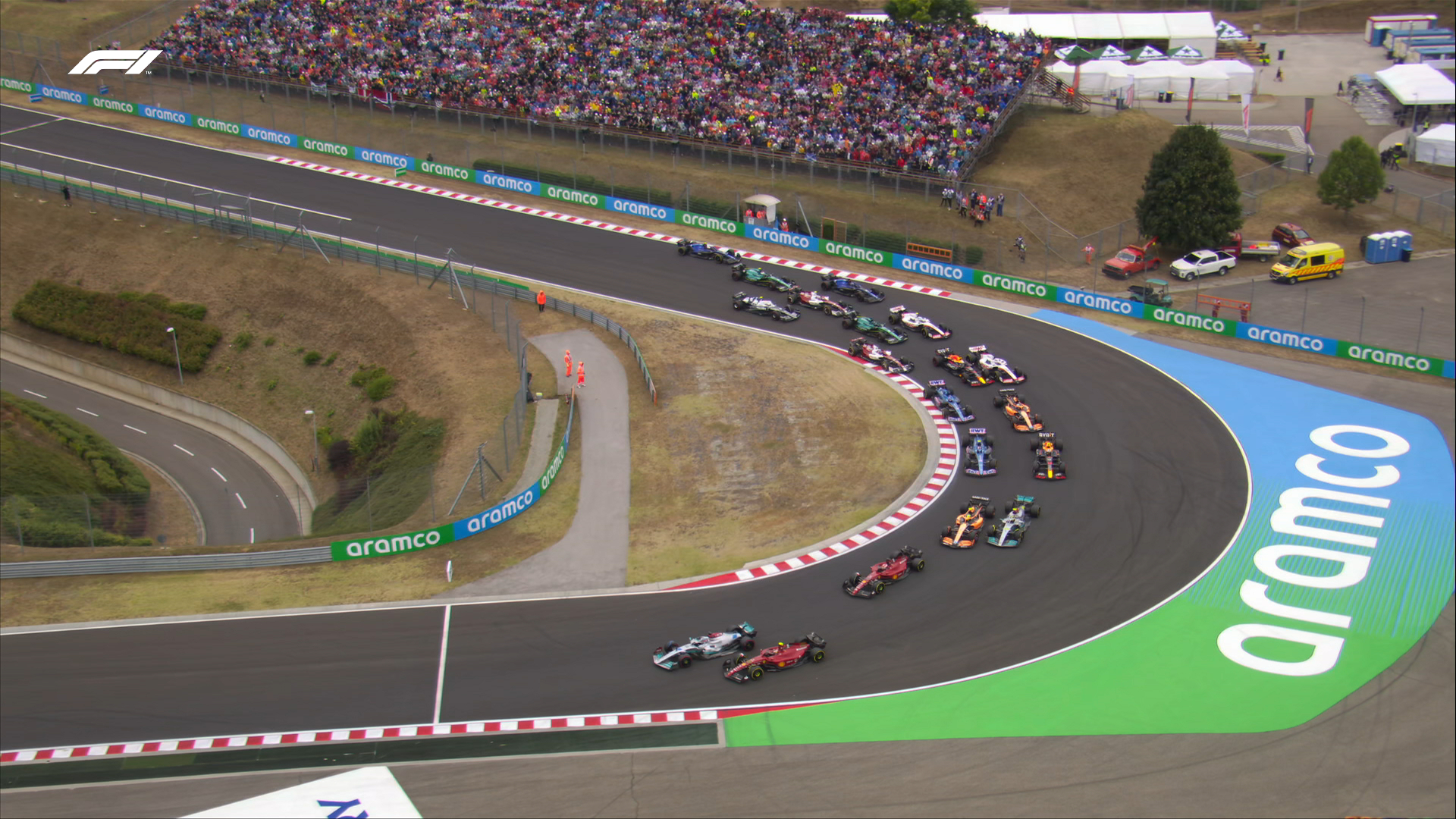 Behind the frontrunners, Verstappen was doing a fine job of damage limitation from ninth on the grid .
On lap 42 Verstappen took the lead with a great in and out lap helping, but then he spun in Turn 13 – a brief pirouette that cost him three or four seconds, losing the virtual lead and again had to chase Leclerc.
By lap 45 Max was in charge and the net lead. Although Sainz led when pitted on lap 48 he emerged fifth. Again his day not helped with Ferrari messing up pitstops.
On lap 52 the real order emerged when Hamilton pitted from the lead, the top eight were VER-LEC-RUS-SAI-HAM-PER-NOR-ALO.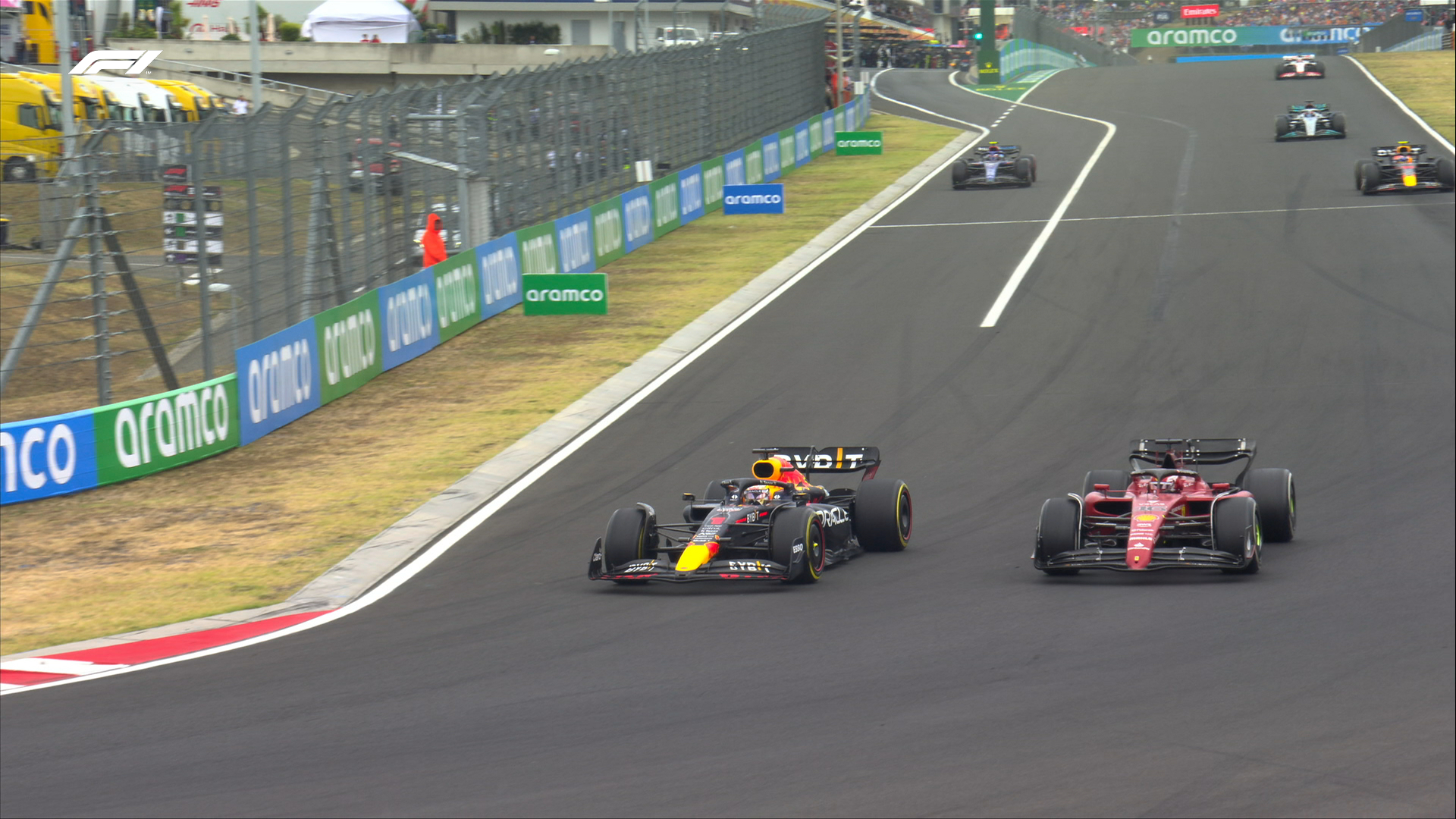 Leclerc on Hards was struggling to fend off a resurgent Russell but did not make it easy for the Mercedes driver who eventually got by on lap 54. Sainz was also on a charge, catching the pair ahead fast.
With ten to go Verstappen was eight seconds up the road, with Sainz and Russell battling with the man on the move Hamilton with the pair in his sights. And gaining at over a second per lap with much fresher tyres.
Lewis was soon in second where he stayed, a strong comeback drive from the seven-time F1 World Champion, ahead of teammate Russell. Not a Ferrari in the top three.
Fourth for Sainz, with Leclerc sixth, was their 'reward' for a wayward afternoon. Another massive blow to their championship hopes before the sport goes into the summer break; plenty of thinking to be done at Maranello as the increasingly incapable team are letting down their more than capable drivers too often to be serious Title contenders.
Perez was pretty much anonymous on his way to splitting the Reds for fifth position, from 11th on the grid it was another case of useful damage limitation for the Mexican who never found his rhythm this weekend.
From fifth and sixth on the grid, Esteban and Ocon and Fernando Alonso ended ninth and eighth respectively. The pair doing themselves no favours racing one another and then the Hards saw them go backwards. But nevertheless a decent points haul in their championship battle with McLaren.
The final point went to retiring Sebastian Vettel in tenth, with Aston Martin teammate Lance Stroll 11th.
Notably, while Norris battled to seventh his McLaren teammate Daniel Ricciardo had flashes of brilliance, a double overtake on the feuding Alpines was tasty, but he also did himself no favours causing a collision with a penalty for it relegating the Aussie to 15th.
Hungarian Grand Prix Result