The 2022 French Grand Prix was a tale of two races, the first bit led by pole sitter, Ferrari driver, Charles Leclerc and the final bit won by Max Verstappen.
On lap 18, after controlling the race but pushing the Pirelli softs a tad too much in the scorching heat of Paul Ricard, the rear broke away sending the Ferrari into the Turn 11 wall. It was not a heavy crash but enough to end his race, triggering a screech: "No!"
It was haunting stuff, as he screeched in despair after panting heavily over the radio as he sat in a flood of unpleasant reality; the third time this year Leclerc has retired while leading.
Replays show the rears broke away as he hit the gas, turning him into a passenger before the wall ended his afternoon early.
Big credit to the Ferrari driver for taking the blame and making no excuses: "A mistake, a mistake. I've been saying I think I'm performing at my highest level in my career but if I keep doing those mistakes then it's pointless to perform at a very high level. I'm losing too many points.
"Seven in Imola, 25 here because we probably were the strongest car on track today so if we lose the Championship by 32 points at the end of the season I will know from where they are coming from. And, it unacceptable, I just need to get on top of those things," added Leclerc.
The safety car that ensued triggered a flurry of pitstops for those who did not do so before the Leclerc incident, Verstappen had stopped earlier and took the lead, while big winners were Mercedes.
Lewis Hamilton from fourth on the grid was now second with Red Bull's Sergio Perez in third, Russell chasing and big mover, from the back of the grid, Carlos Sainz hunting them all down.
But Ferrari messed up Sainz's pitstop and released him unsafely which cost their driver a five-second penalty. What promised to be a fine day for the Reds turned miserable at the flick of a switch.
Sainz went on to finish fifth and scoop the Driver of the Day award.
At the front, Hamilton and Verstappen traded fastest sectors until the Red Bull dropped purple laps on a regular basis as the Mercedes dropping back a tenth or so per lap. Max was in charge by eight seconds by lap 40.
Hamilton was second with Perez in check but the Mexican was chased down by a fired up and furious Sainz, the pair slugging it out with Russell in fifth watching the action.
The chaos on the Ferrari pitwall was laughable again today, forcing Sainz to scold them as they called for him to pitstop just as he was overtaking Perez! And questions will be asked about why they kept Charles out so long…
Then it all kicked off as Sainz hustled to third but was pitted on lap 43 which promoted Perez back to third with Russell and the Red Bull driver getting physical.
In the end, Verstappen had all the answers today and aided by the Ferrari 'show' doing him a favour, to win his second successive French Grand Prix taking another 25 points off of Leclerc.
The 2022 Formula 1 title is his to lose as he now leads by 63 points after his seventh win of the year, on the occasion of his 130th race for Red Bull.
"Good points again that, really good stuff," reported Verstappen over the radio after his 27th F1 victory.
Max Verstappen takes his 7th race of the season in his 130th race start for @redbullracing! 💪🏆#FrenchGP #F1 @Max33Verstappen pic.twitter.com/VPAoj8xuO2

— Formula 1 (@F1) July 24, 2022
Later the reigning F1 World Champion said in parc ferme: "We had really good pace from the start, I was putting pressure on Charles. Following around here, with this heat, the tyres are overheating a lot so I could neve really go for a move – only once.
"We just tried to stay calm, stay close… we pitted a bit earlier and from there onwards you never know how the race is going to go. The car was quick today.
"Of course, unlucky for Charles and I hope he's okay. From there onwards, I just did my race and looked after the tyres. With the pit-lane being so long, you couldn't do another stop so you had to stay out. The tyres were wearing a lot so it was about looking after the tyres to the end," added Verstappen.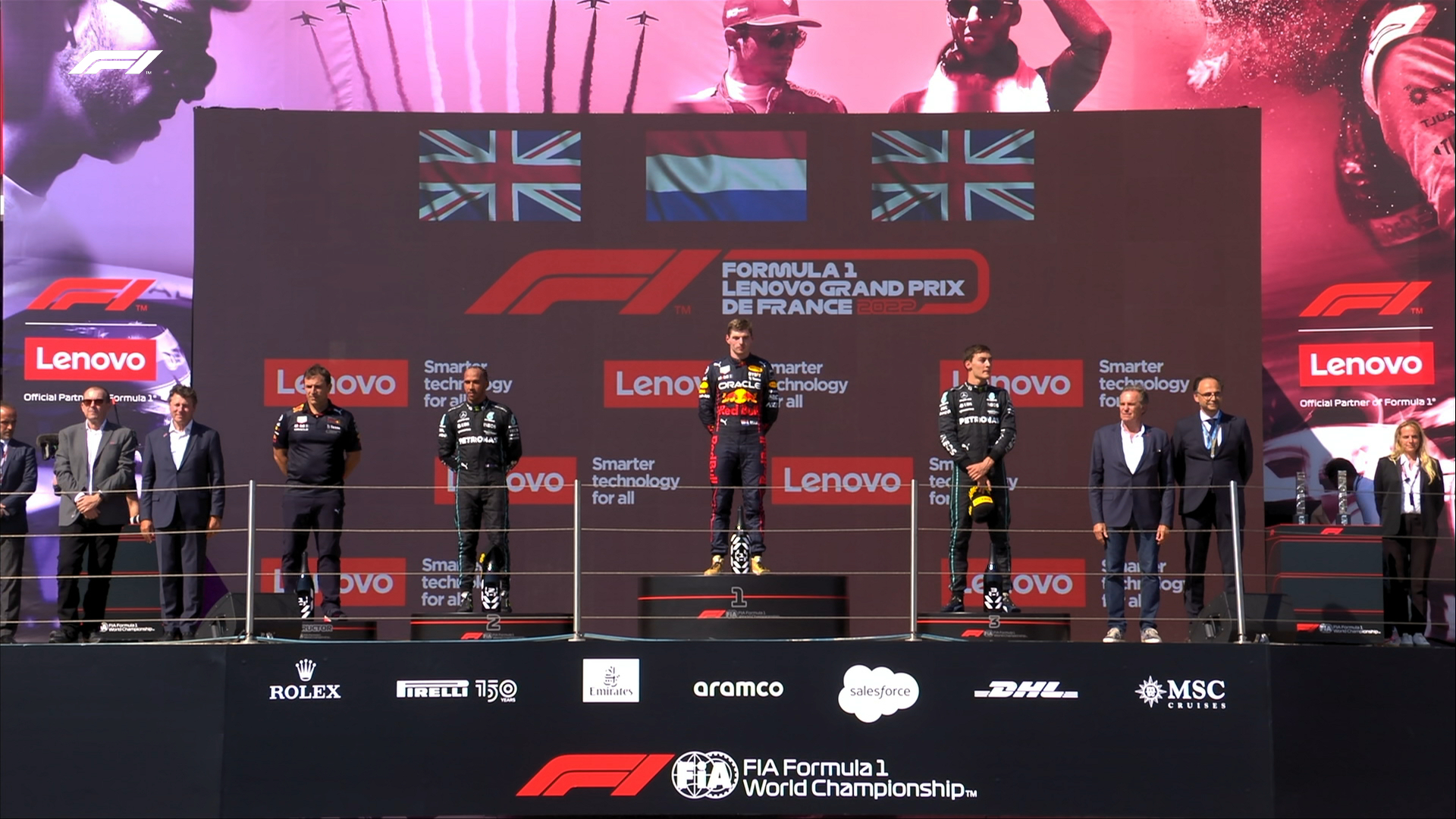 Behind him Hamilton was solid, knew he had no answer and settled for second some ten seconds behind Verstappen on a weekend in which they expected more performance, but showed they had the reliability for the two least important steps on the podium.
Hamilton revealed a water bottle malfunction when summing up his race: "That was actually a tough race because my drinks bottle didn't work, but what a great result, considering we've been so far off these guys all weekend.
"Reliability is one thing that my team's been amazing at, so a huge congratulations to the team back at the factory, the team here, who without them we couldn't get this podium," added the seven-time F1 World Champion at the end of his 300th Grand Prix.
Nevertheless, a very useful points haul for Mercedes as Russell caught Perez napping on the restart after a late Virtual Safety Car and thereafter hung on gamely to take third place and, incredibly, the World Champion team's first double podium finish of the year.
Russell reported: "I'm sweating and a bit knackered now to be honest. The pace was strong but we really struggled with the warm-up on that restart and Checo was all over me. I was glad to see that chequered flag and come home with P3. Two podiums for Mercedes is great."
Fernando Alonso 'boxed above his weight' all weekend for Alpine to take a solid sixth, with Esteban Ocon  recovering from a mediocre qualifying to finish eighth and outscore McLaren to take fourth place in the championship standings with another double points score for the French team.
It was a milestone 346th Grand Prix start for Alonso, the double F1 World Champion becoming the F1 driver with most race mileage in the top flight.
McLaren probably delivered the best they could with what they had, Lando Norris was stellar all weekend to finish seventh, while Daniel Ricciardo was closer to his teammate this weekend, finishing ninth.
Aston Martin's disappointing Saturday turned into a more satisfying Sunday, with Lance Stroll claiming the final point in tenth, with Sebastian Vettel 11th.
Shout out to Kevin Magnussen who powered through the field into the top ten after starting from the back of the grid, at one stage ahead of Sainz who started beside him. But it went pear-shaped for the Haas driver with a DNF; teammate Mick Schumacher was 15th after another forgettable race for the German.
2022 French Grand Prix Result