When Lewis Hamilton and George Russell both crashed in Q3 on the Friday of the recent Austrian Grand Prix the degree of damage sustained to both their Mercedes F1 W13's didn't just create an unwanted headache for their team, it exposed a deficiency in Formula 1's regulative framework.
It wasn't only the damage sustained to both cars and the availability of spare parts; it was also the heavily restricted amount of time available to the team to perform the repairs.
It is clear the cost cap is creating the need for teams to repair parts on-site when things break or drivers crash.
Importantly, we need to remember that because of the cost capping under which the teams are now regulated they no longer carry the same amount of spare parts that once might have.
Teams carry more restricted quantities of current revision spares to race weekends to reduce spending, and either carry additional older revision parts to fall back on as contingency or repair them on-site.
We might remember that in years gone by many of the more well-funded teams were carrying a substantial number of spare parts, but F1 team managers have always been risk adverse from that perspective.
The cost cap has impacted the teams in a way that has taken them back to the days of old where running repairs are carried out on-site, as opposed to continuously pulling new parts out of the transporter.
What happens when two cars of a team are crashed heavily in the same session?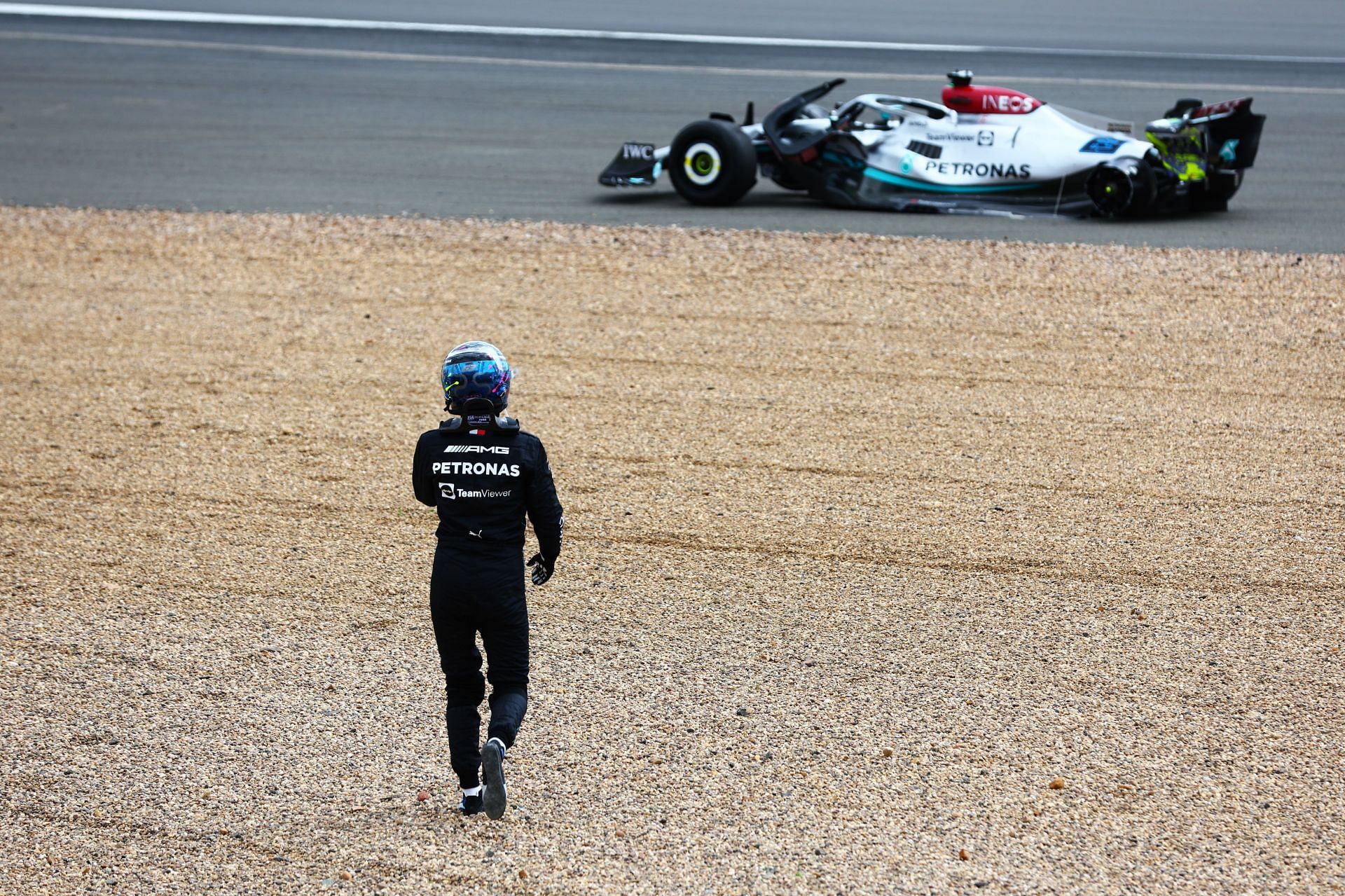 Part of the dilemma that damaging both cars presented was that because both had damaged floors, and with a spares pool not sufficient to accommodate straight changeover to new components for both cars it became necessary to make a usable part from a composite of the two damaged units.
In the example of Lewis Hamilton's car, it was widely reported that his monocoque needed changing out with the spare; teams are allowed by the regulations to carry one spare tub to each meeting.
Nevertheless, the fact that Mercedes chose to swap out his tub doesn't necessarily mean that it wasn't capable of repairing his tub on-site in Austria, it may well have been because there wasn't enough time available to perform the necessary repairs.
For George Russell, who damaged his current spec lower drag rear wing, it was necessary to revert to a higher drag older spec unit, which more than likely compromised his ultimate performance.
Of course, as the qualifying session that both Hamilton and Russell damaged their cars in had already commenced, their cars were in Parc Ferme conditions, but the regulations do allow for swap out of parts to older spec in the event of accident damage.
The team personnel curfew and the dangers thereof
What would have compounded the Mercedes issue, though, was F1's Sporting Regulations restrictions on operational personnel, specifically 23.7 of those regulations that detail the operational curfew, which severely limits the amount of time available to the team to work back at the circuit.
Not only did they have a lack of spare parts because of financial concerns due to the cap, but they also hardly had enough time to complete the repairs in time, as evidenced by Russell's car preparations only being completed after the FP2 session had already commenced, and Hamilton's car ready for action a further 30 minutes later, severely limiting both drivers run plans for the session.
Indeed, there are a prescribed number of curfew exceptions allowed during the season under specific circumstances, but it must be acknowledged that these exceptions are applied to the team, and not driver specific.
There would be very good reasons why Mercedes chose not to break curfew in this instance, and without knowing the facts it may even be possible that they are even approaching their limit, even at this stage of the championship.
Cost cap combined with curfew creates more risk
So, now that I've put all this down in black and white, what are my concerns, and why do I consider it a regulative deficiency?
We all know that the cost cap was introduced into the regulations to even out the competitive balance in F1 so that less well-funded teams can compete on a more equal level with those with more cash available.
The team personnel curfew was first introduced in 2010 to manage human factors and cut down on the hours that team members were working at the circuit during a race weekend.
Yet, by having a curfew in place and now having introduced a cost cap that is indirectly restricting the amount of spares available at a race weekend, team personnel are now under increasing pressure to perform miracles under duress, as we witnessed with Mercedes in Austria.
Was the F1 cost cap put in place without considering the well-being of team personnel?
And it isn't only the management of human factors that concerns me about this. I am concerned about the safety of the drivers, marshals, and spectators as well.
Regardless of all other concerns must always keep in the back of our minds that at speed an F1 car is dangerous, especially in the event of a failure and an associated accident.
When teams are working furiously to repair a damaged car and get it out on the circuit at the death knock there is no time available for quality assurance, double checking, or third-party inspections, its simply get it done and send it.
That is concerning and a real risk, and I fear that it will take a catastrophic incident to catch the FIA's attention and make changes.
If the regulations are going to directly or indirectly limit the number of spares that a team can carry due to the cost cap, then surely, they must allow the teams more time so that they can repair damaged cars on-site with less associated risk.