Ferrari's scintillating, albeit brittle recent form suggests that it still has what it takes to steal a 2022 Formula 1 Title or two, but to do that, Mattia Binotto's team must first manage five crucial facets.
Sunday's performance clearly confirmed Ferrari's 2022 World Championship potential.
Charles Leclerc breezed past Verstappen and his Red Bull, a combination that's more recently been famous for getting the better of Leclerc. That Charles overtook Max not once, not twice, but three times at Spielberg, and that teammate Sainz just as easily powered past the Red Bull, is an omen to Maranello's rivals.
Can Ferrari pull off a shock come from behind Title?
Sure they can! We are only halfway through the season after all, and following on the affairs of 2021, we all know that anything can, and will happen. But there are five critical factors Maranello must first manage very carefully to pull it off…
1. Reliability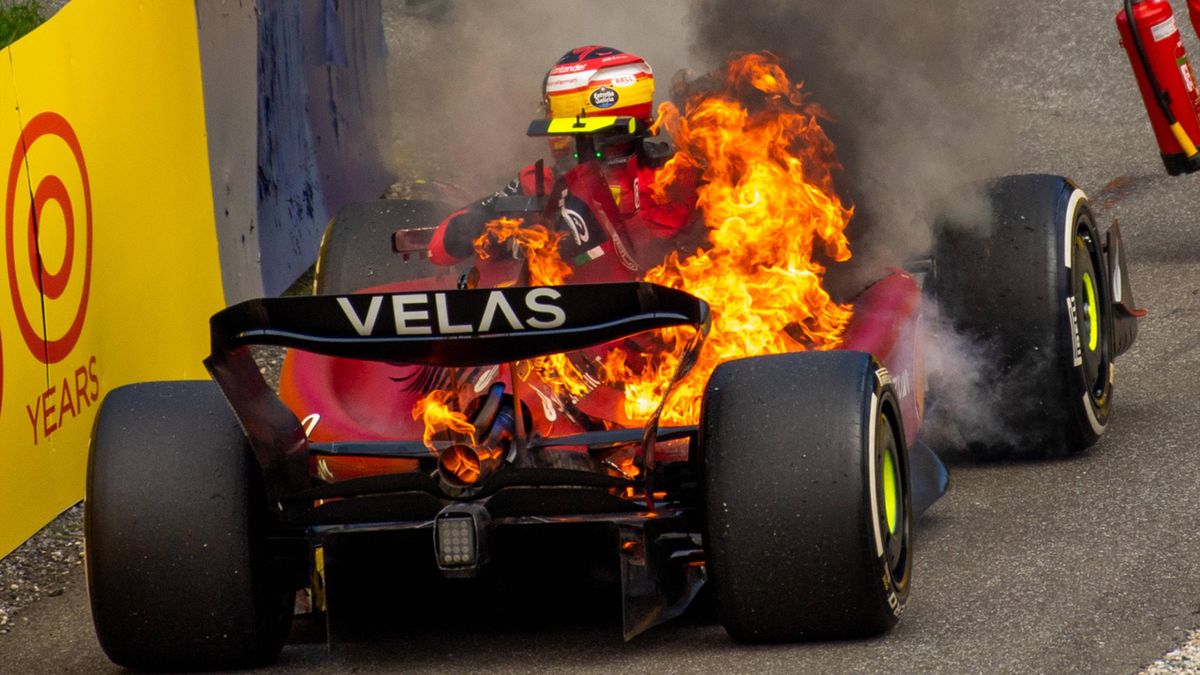 First and foremost, it must control reliability. But how do you manage exploding engines? Listen up – like this:
We all know that as fast as the SF-75 is, it is just as brittle. Sainz' grenade engine a few days ago is patent proof of that. The Baku double retirement just the guarantee. Trouble is, the drivers are earning penalties out of race retirements from the front, which is a double whammy. And when it comes to reliability in F1, well Rome wasn't built in a day.
Faced with a dilemma of fragile 3-4 race old power units failing, would it not be smarter for the team to spread its reliability bets? To pick a few races at tracks where great comebacks are more likely, and swap those penalty-earning bits there. Before those engines blow themselves to smithereens while leading the next race?
Why not tactically and electively take fresh penalty parts at tracks like Spa, where Schumacher came from nowhere to win in 1995? Or at Monza, where Gasly took an unlikely win two years ago? And Suzuka, where Senna did a brilliant comeback in '88. And Kimi again so in 2005?
All those circuits conveniently happen to be dotted neatly through the second half of the 2022 F1 calendar. They, and one or two others, where safety cars are more likely and overtaking plausible, are a far better bets than tracks like Hungary, where racing through the pack from he back is significantly less plausible. Use Spa, Monza or Suzuka to bring in fast, fresh power units or components in, new and reliable enough to… well, not grenade while leading a race later on.
In other words, manage that lack of reliability and take penalties so they hurt you least. While affording the power shop enough leeway to properly engineer out those gremlins.
2. Tactics
The other major Ferrari bugbear this year has been its tactical and strategic planning and management. Or rather, the lack of it in the face of duress.
Sunday proved that under normal conditions, Ferrari's tactics team can cut the mustard. But just add a bit of chaos, like a drying track in Monaco, or a late Silverstone safety car, and the wheels fall off. It's almost as if the red tactics team is not battle hardened enough.
Do they play war games between races? Do they simulate whatever can come up in a Maranello lab, day in, day out, like the drivers pound round and round virtual racetracks in imaginary SF75s, to be ready for any possible eventuality? If not, why not? If so, why does it all fall apart in the real world, whenever the chips seem to go down?
A racing tactician is like a war general. The world's best generals have always been bastards. Does Ferrari have a bastard tactician? If not, get one and rebuild the team around him. Or her.
Nice guys don't win wars.
3. Drivers
This one needs to be nipped in the bud before it gets out of hand again.
F1 is littered with teammates who cocked it up royally. A few good of them in the red cars too. Lest we ever forget the tragedy of Gilles and Didier. Or the farce of Alain and Their Nige. Do we need that again? No thank you.
Sure the Spielberg sprint spat between the current two was splendid in its own right. But the cat got out the bag and they threw away a certain 1-2. Max is three or four more bonus points ahead of where he should have been. Never mind what the bickering in Britain really cost the team, first win glory or not.
All that's just a bucket load more points to catch up. Never mind, what could have happened had they crashed? Sort your drivers out now, Ferrari, pick your horse and back him all the way. Or you will lose any chance of what could be a magnificent upset title. The team comes first, no?
4. Mercedes
This one may seem bit surprising. Mercedes could be the biggest factor in Ferrari turning F1 2022 around against Red Bull. See, if you join the dots, the silver cars will certainly become increasingly competitive as the season progresses. So, it's likely that as it was in Silverstone, the Mercs will become a race winning factor.
There's more to it than Ferrari just keeping Lewis and George behind Charles and Carlos though. Ferrari needs to be sure that the Benzes beat the Bulls as often as possible while they are about it, to maximise the deficit every time. The more cars between a winning Ferrari and the Red Bulls, the better.
It's certainly not an easy one, but after all last year's angst, it somehow seems that Mercedes prefers being beaten by red cars than blue ones. Keep that in mind. Use it to your advantage!
5. Expectations
Last but not least, Ferrari needs to manage expectations, should the Great Team reel Max in and indeed challenge Red Bull for this year's World Championships.
It needs to temper what people expect on all fronts, from at home in Maranello, to anticipation in the pit box and within the media — the Italian media in particular. Even the Pope. Fortunately doing just that is one of capo Binotto's strengths, so he simply needs to keep doing what he's doing there.
Of course, there's far more to reeling Max Verstappen and Red Bull in to steal the World Championship, than just some hack's five points of view. But those five areas must surely be top of mind?
It's no mean feat, either. Still, Forza Ferrari. Anything is possible, after all. Here's to an epic second half of Formula 1 2022…