Hooligans are now part of the modern Formula 1 landscape, shocking drivers, and the sporting world with their putrid actions during the 2022 Austrian Grand Prix weekend.
Politically motivated trailer-park trash who ingratiate themselves into fan forums and groups, then use their status within these communities to foment hate.
A tactic as old as the hills and well dealt with by sport in general. These days self-styled hooligans tend to be kept far away from the venues they want to disrupt thanks to sports combining with police and authorities to win the war, eliminating the vermin from the narrative altogether.
F1 will have to do the same. Halt the greed for money that the sport tends to have by limiting or stop alcohol sales and consumption during events; police the grandstands and campsites more effectively with undercover security and agents and, of course, what won the battle against hooligans in stadiums: cameras.
Identify the cancer, cut it out and then ban it for life.
Easy to sort out and by the French Grand Prix they should have a system in place to weed out the unwanted trash, a minority of opportunists using Max Verstappen's Orange Army as cover for their troublemaking.
However, notably, the rot did start a week earlier at the British Grand Prix when Verstappen was shocked by the boo-brigade, inevitably Hamilton supporters, who jeered his pole-winning efforts and then cheered when he struck problems with the Red Bull, forgetting that Max had delivered the bulk of the entertainment two Sunday's ago at Silverstone.
The reigning F1 World Champion like all in motorsport was appalled by what transpired over the past weekend: "Of course it's not good. All the things that happen anywhere. These things shouldn't happen. I read a few things, a few shocking things.
"So yeah, that's clearly not OK. And I mean, I shouldn't even need to say this. I think this should be a general understanding that these things shouldn't happen. A normal human being, I think, should think like that and should behave like that."
Verstappen: Security can be improved, more people to check, supervisors
As for the solution, Verstappen ventured: "I think one thing can be improved, maybe with security around places, you know, to keep people more in check, supervisors.
"And also don't forget, it's not an excuse, but of course, they watch the races and then they go back and party and have fun and drink alcohol. And sometimes when you drink alcohol, you can do stupid things.
"I don't say this as an excuse but also these things can be regulated: there's a certain amount of alcohol maybe until it's time to maybe go to bed and wake up again next morning and be sober because if you start to go really crazy, you can do also stupid things."
Austrian Grand Prix winner Charles Leclerc was also shocked by what he witnessed: "It's horrible to see that. I've seen the statement of Formula 1 just before the race and yeah, I just hope that Formula 1 can do something for that.
"I don't know how it can be tackled but it's unacceptable to see that anywhere, but obviously if we can do something we should and need to do something.
"I believe that as a community, people that are witnessing any type of harassment, should act and actually, yeah, do something. And of course, as in Formula 1, if we manage to find these people, we need to take hard action, they shouldn't be allowed to be anywhere close to our sport, I believe.
"As drivers obviously we have a lot of followings all over the world, we should speak about it. And so people, obviously listen to us a little bit more and do these type of things," explained Leclerc.
Hamilton: It's crazy to think that we're experiencing those things still in 2022
While Hamilton fans did the business on Max at Silverstone, the Orange Army had a field day with Lewis at Red Bull Ring, cheering his qualifying crash a nasty low by spectators, because F1 fans they are not.
After the race on Sunday, Hamilton tackled the subject: "I arrived with a really positive mindset this morning and then I heard some of the things that had been said and just in a bit of shock and just really sad and just to know that people arrive on the weekend to have a great time, to celebrate, to enjoy their time off and enjoy a great experience.
"If you go to the UK, we've got a wide range of fans that go there. Here of course you've got a lot of the Orange Army, and so when we do the parade lap, you have to look quite hard to kind of see the neon caps, they stand out a little bit better but there's, of course, not as many as the orange here.
"Just to notice someone sitting in a crowd supporting someone else is receiving abuse is… It's crazy to think that we're experiencing those things still in 2022. So, we have to continue to do more. It just highlights that it's still an issue all over.
"And it comes down to education, and, of course, ignorance. So, we all have to work together, with our platforms to spread that positive word, with all of our platforms, to all those people that are watching, because people should come here, should feel safe, should feel included.
"And you should be able to follow whoever it is you want to follow. Doesn't matter. And it shouldn't matter, your gender, your sexuality, or the colour of your skin, you know, it should just be everyone here to have a great time."
Hamilton: We Race as One was all good and well but it was just words
As for the way to tackle and eliminate the hooligans that spoil it for so many, Hamilton said: "I've not given huge amount of thought in terms of coming up with solutions for what the sport should do.
"It goes back to some of the messaging that we talked about in terms of the stuff that we also need to do here within the sport, which is commit more to diversity and inclusion within our industry. Because that then reflects the direction we're going and it also often does reflect what our fan-base looks like.
"It's time for action. We Race as One was all good and well, but it was just words. It didn't actually do anything; there was no funding towards anything; there was no programme to actually create change and spark that conversation.
"So, definitely need to utilise our platforms, as I just mentioned, but we really have to step up and actually really start actioning some of the things we're saying. Just saying… it's not enough. It's unacceptable. It's not enough," added Hamilton, seven-time F1 World Champion.
CCTV, stricter sentences and stadium bans for hooligans have cleaned up football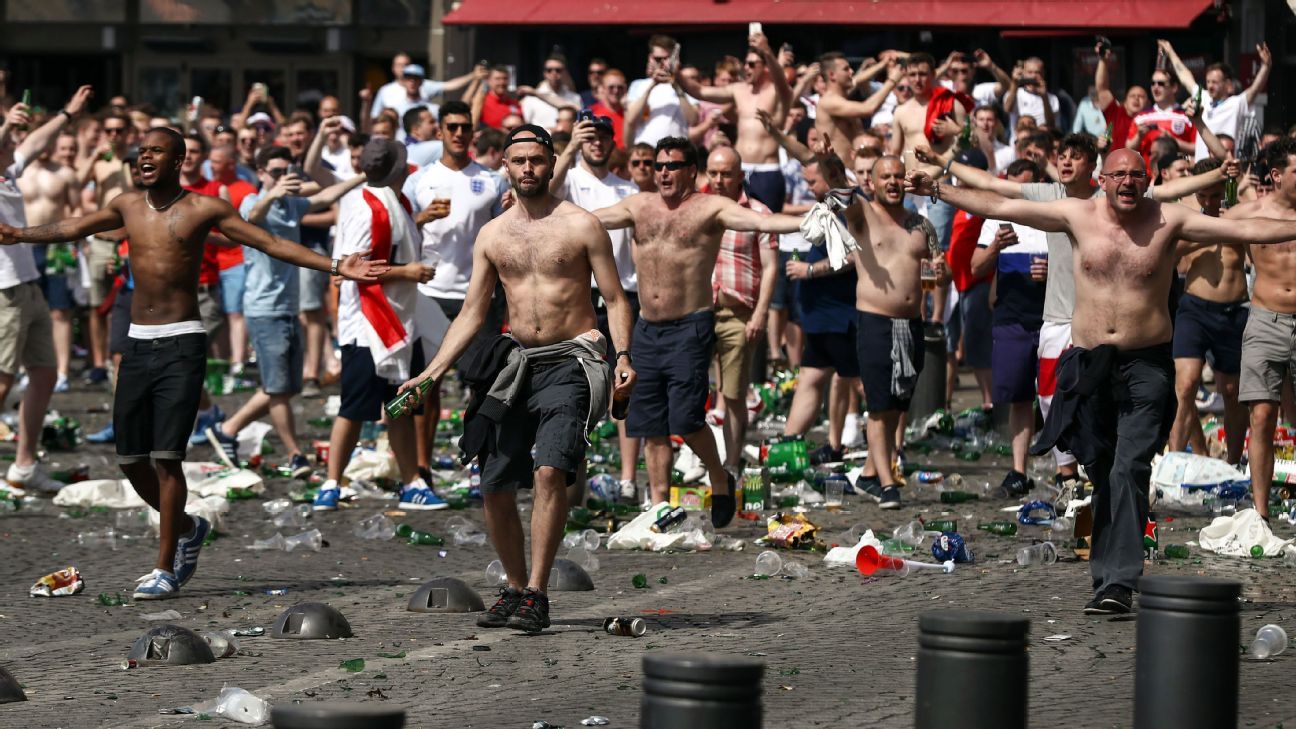 Documenting the history of hooligans in UK football (soccer) Hooligan FC sum up the current state of the scourge which has all but been eliminated from the big stadiums in the country"
Increasing clampdowns on hooligan firms and their "top boys" created a generational changing of the guard. While older lads retired, younger lads who wanted to prove themselves moved up the ranks.
That continued in the last two decades and hooliganism never really went away. It simply moved away from the stadiums and onto the streets.
While more CCTV, stricter sentences, and more stadium bans have cleaned up the image of football to make it more "palatable" for corporate viewers and families, you will be hard-pressed not to find football hooligans at the hottest fixtures across the globe.
English football provides F1 with the perfect template to tweak and tackle the hooligan problem effectively and swiftly starting at Paul Ricard next time out.