Charles Leclerc won a tense Austrian Grand Prix, Round 11 of the 2022 Formula 1 World Championship, after fending off pre-race and home-race favourite Max Verstappen who was lucky to finish second, after Carlos Sainz's Ferrari caught fire just as he was about to attack the Red Bull driver.
Lewis Hamilton led home George Russell in third and fourth respectively, a strong result for Mercedes after both cars crashed in qualifying.
At one point it looked to be a Ferrari one-two; whatever team boss Mattia Binotto said to his drivers seemed to work. Leclerc was allowed to scurry ahead and catch Verstappen, which he did in fine style more than once during a tense and intriguing race.
Sainz did not a put foot wrong, and he was locking and loading to take on Max the Ferrari power unit went up in smoke, big smoke and fire which ended the Spaniard's afternoon.
Leclerc led at that point with Verstappen, pressure released, in second just under four seconds behind followed by Mercedes duo Lewis Hamilton and George Russell, albeit half a minute behind the pace setters.
Verstappen and Red Bull had no answer to what Ferrari unleashed this afternoon, something Leclerc hinted at after the Sprint Race on Saturday.
He was not wrong, it was a nail-biting run to the flag today to win his first Austrian Grand Prix and deny Verstappen yet another maximum points haul, but even with a few to go was anyone sure he had it bagged.
At last, Charles managed to take valuable points away from the Dutch ace; inspiration for a turnaround in the final races before summer.
Leclerc: Oh my god I was scared, I was really scared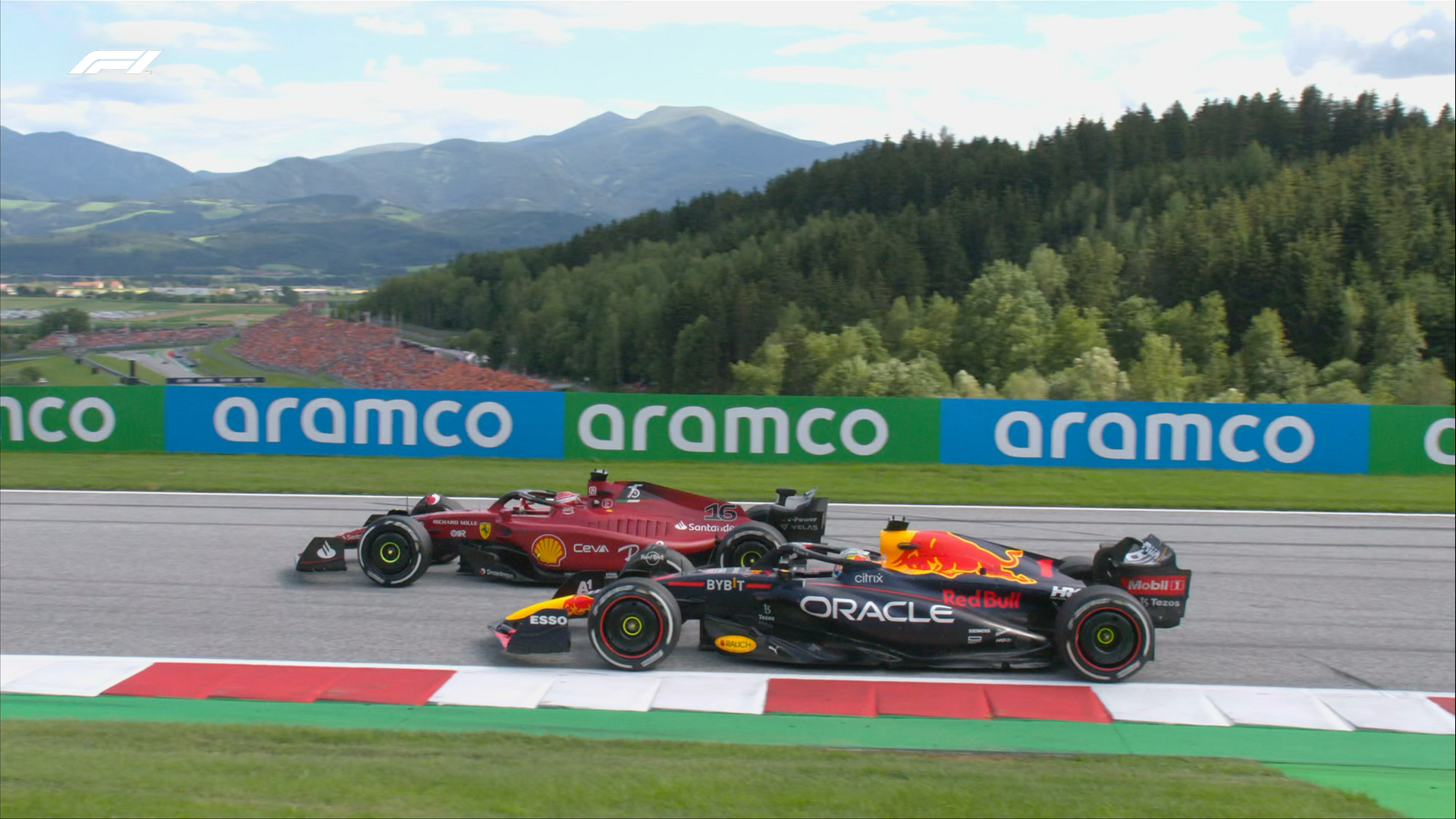 In parc ferme Leclerc recapped his race: "It was a really good race. The pace was there. At the beginning we had some good fights with Max and the end was incredibly difficult. I had this issue with the throttle. It would get stuck at 20 or 30 per cent throttle in the low speeds, so it was very tricky. We managed to make it stick until the end and I am so happy.
"Weirdly [the throttle issue] was more or less the same time [as Sainz's retirement], so I had it in my mind. I knew it was not a problem with the engine because it was the pedal that was feeling weird. Luckily it went until the end of the race.
"I definitely needed that one. The last five races have been incredibly difficult for myself and for the team. To finally show that we have the pace in the car and we can do it is incredible. We need to push until the end," added Leclerc after his fifth F1 career win.
Verstappen: Second place is still a good result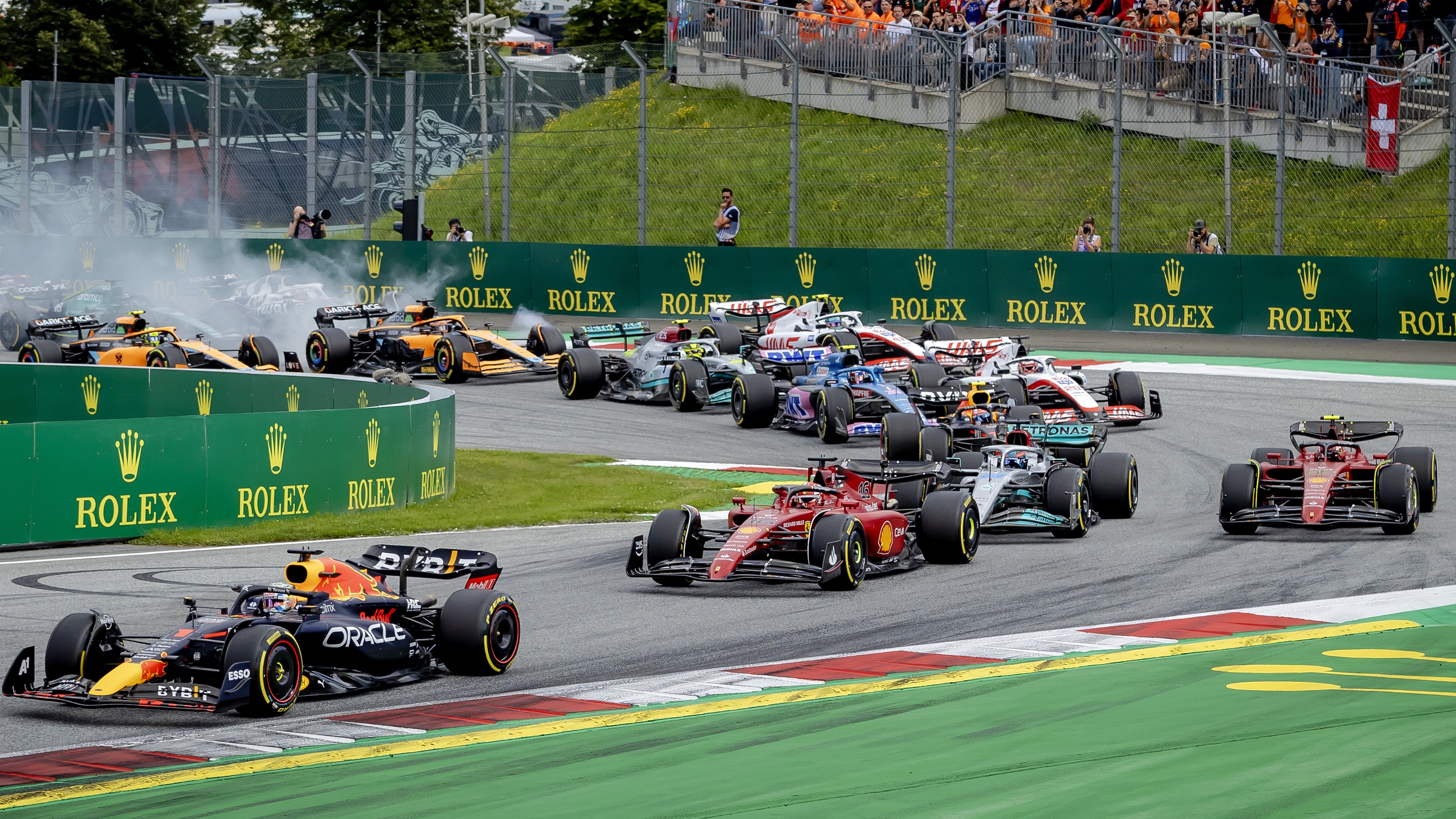 The Championship leader reflected on his race: "It was a tricky day, it seemed like we were struggling a bit with the tyres and that continued on every single compound. Too much degradation to really attack Charles especially but nevertheless, second place is a good result on a difficult day.
"It is great to see so many fans coming here to Austria. Unfortunately, I couldn't give them a win today but second place is still a good result," added the Red Bull driver.
Hamilton toiled hard all day to finish third from eighth, heading home Russell in fourth as the World Champions edge closer to the sharp end.
The seven-time F1 world champion said in parc ferme: "It was a tricky day, it seemed like we were struggling a bit with the tyres and that continued on every single compound. Too much degradation to really attack Charles especially but nevertheless, second place is a good result on a difficult day.
"It is great to see so many fans coming here to Austria. Unfortunately, I couldn't give them a win today but second place is still a good result," concluded Hamilton.
How the Austrian Grand Prix unfolded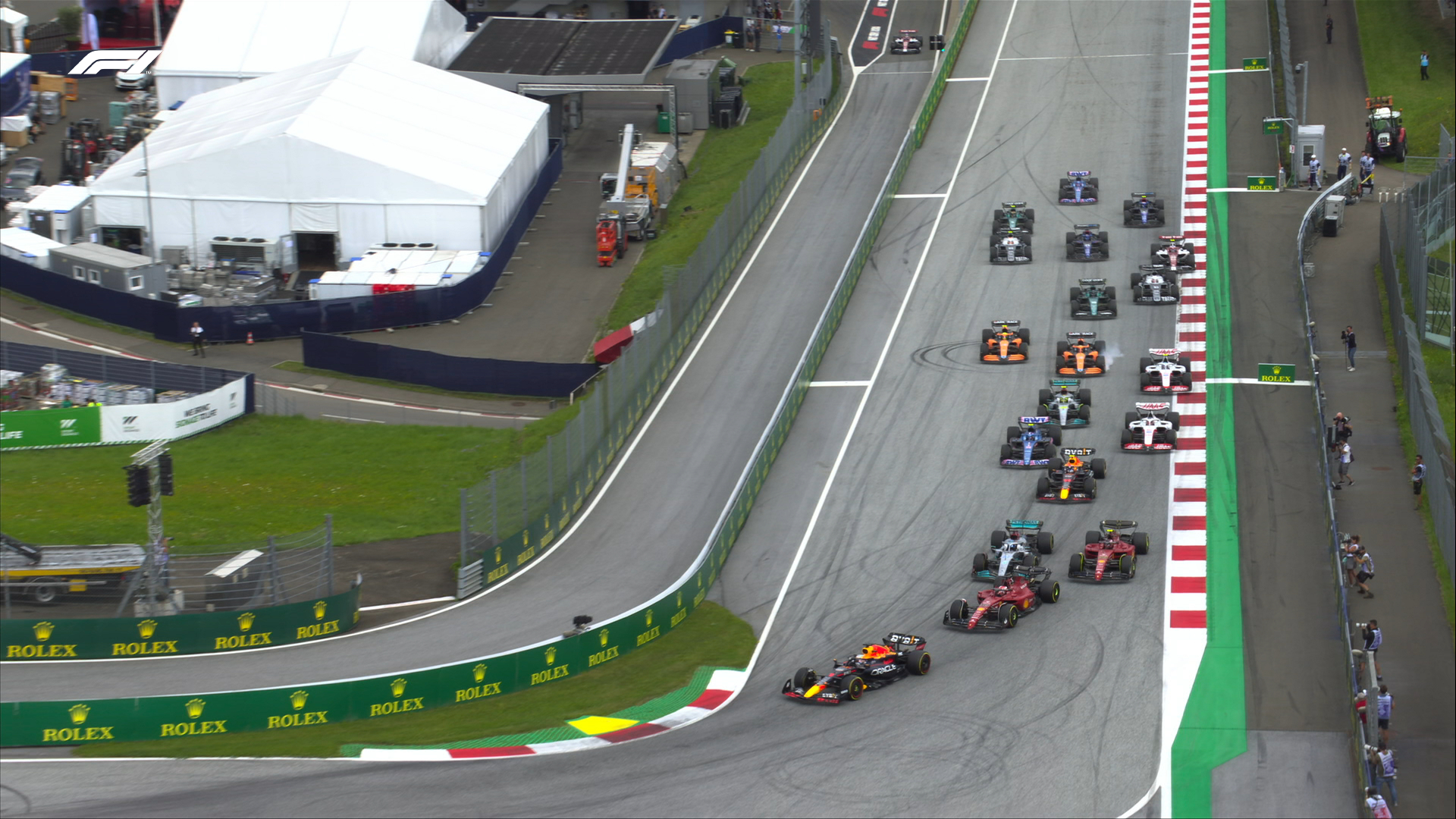 A couple of hours earlier under bright blue skies hidden by orange fumes, Fernando Alonso dawdled to the start grid before they were unleashed for a pretty clean Turn 1, with of the front runners, Carlos Sainz going wide in defence.
By the time they settled through the orange fog it was Verstappen, Leclerc, Sainz, Russell and Perez.
Verstappen was soon out of DRS in the lead, but his teammate Perez and Russell collided out of Turn 4 in what appeared 50/50 – a racing incident – but deemed a five-second penalty for the Mercedes driver by the FIA Stewards. Ocon was fifth followed by the Haas duo of Magnussen and Schumacher. Hamilton in tow.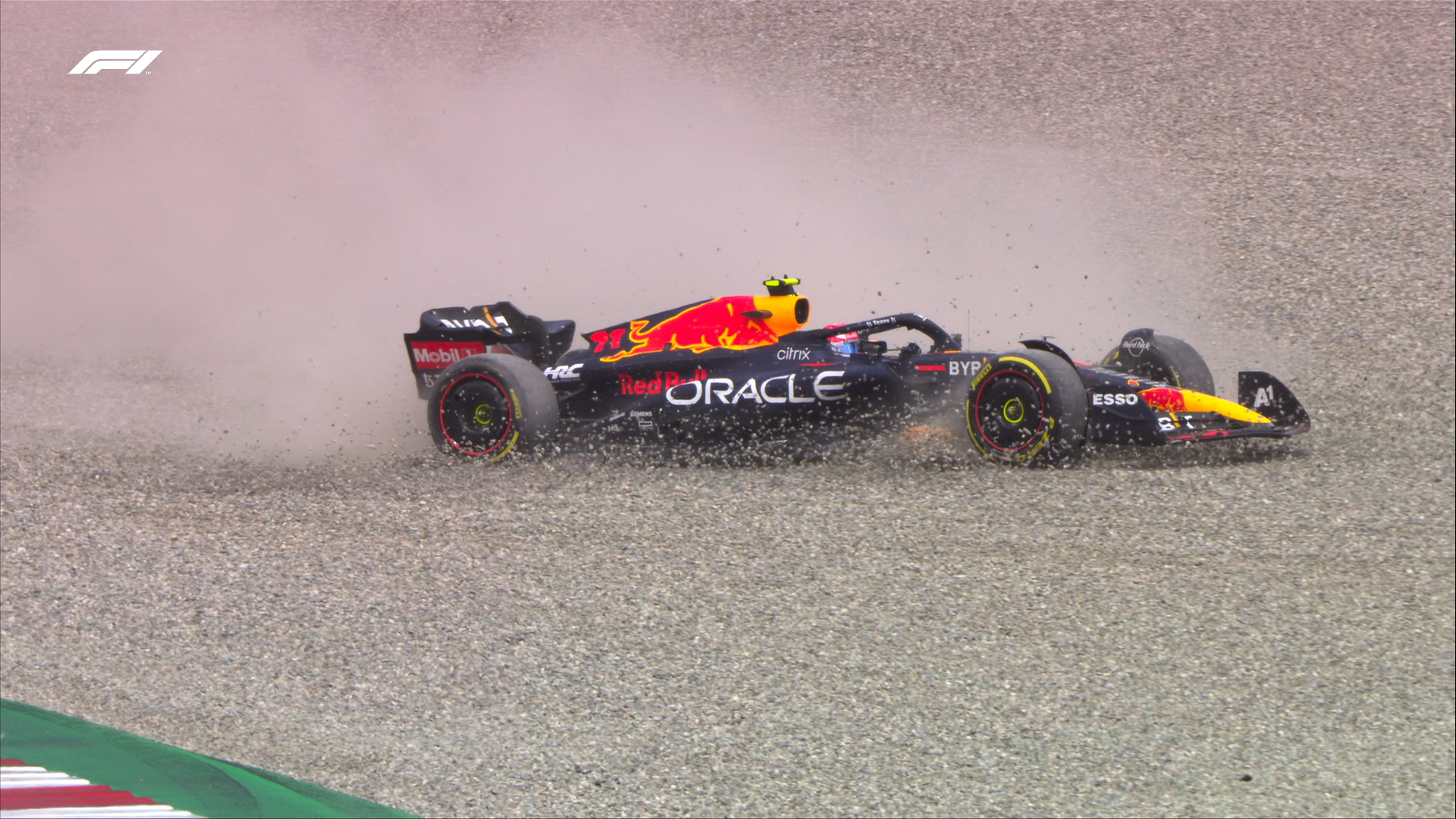 By lap 7, Leclerc upped his pace, within DRS he began bobbing and weaving in Verstappen's mirrors. Lap 10 was epic. Max was anxious. Charles smiling.
Lap 12 Turn 4 and from Nowhereland with DRS, Leclerc dived and took the lead with Verstappen caught napping or offering little resistance. At the same time, the pitstops began with Russell diving in, with Verstappen following the next lap. Ferrari were one-two, LEC-SAI.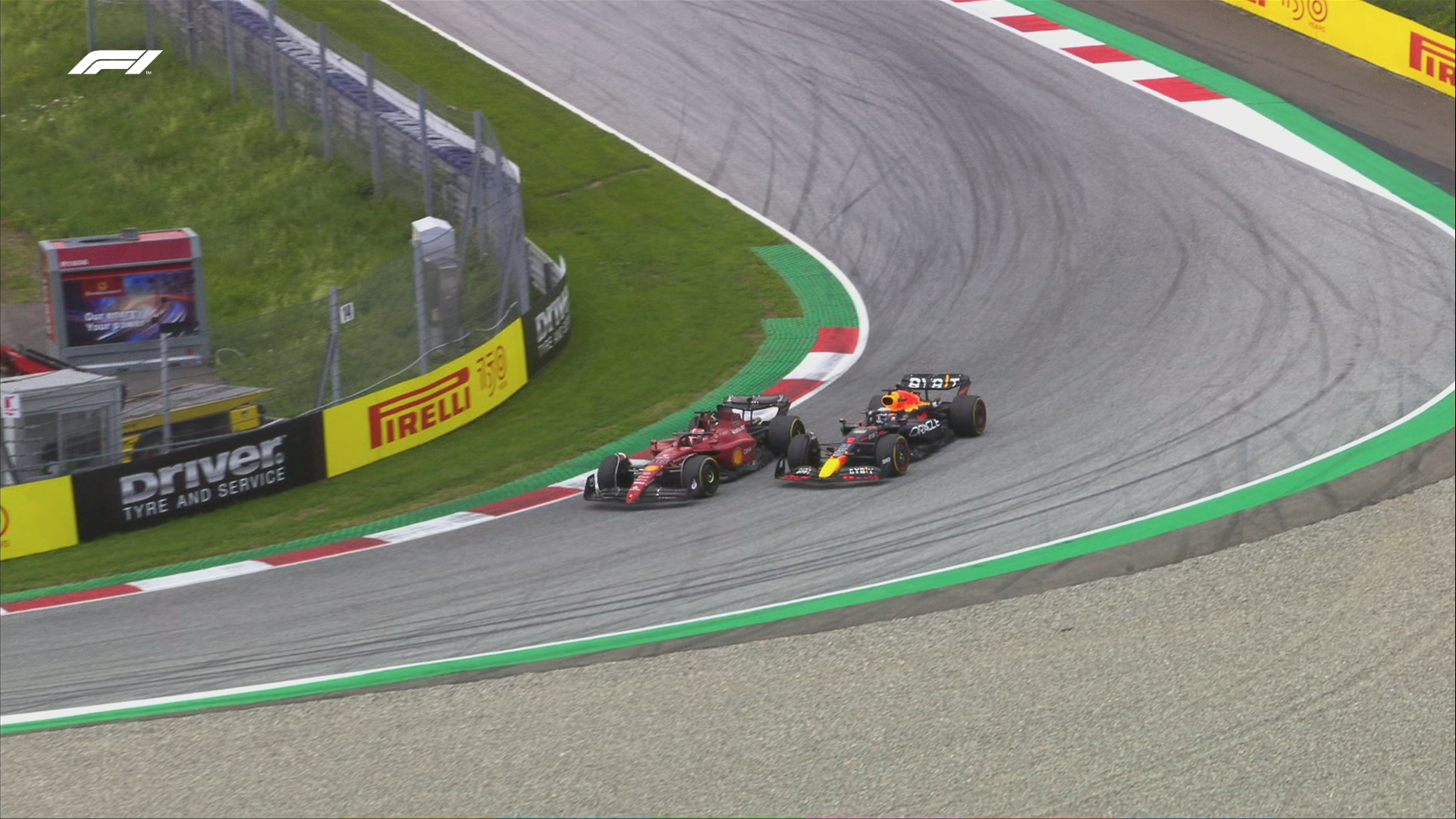 Hamilton was on the move at this point, scything past both Haas cars up to fourth, 1.8 seconds behind Ocon in third Leclerc about 20 seconds up the road in the lead.
Lap 18. HAM-VER nose to tail, the Red Bull slipping by the Mercedes without incident as they powered into Turn 4.
Lap 25. Epic battle wheel-to-wheel between Magnussen Norris, Alonso, Schumacher and Zhou; just like karts as this generation prove to be the most 'racy' F1 cars of the past half-century.
Lap 27. Perez parked the broken Red Bull as Ferrari pulls Leclerc in for his first stop. Sainz pitted next lap from the lead leaving Max five seconds ahead of Charles but the Red Bull on tyres that were 12 laps older. The gap shrinking fast.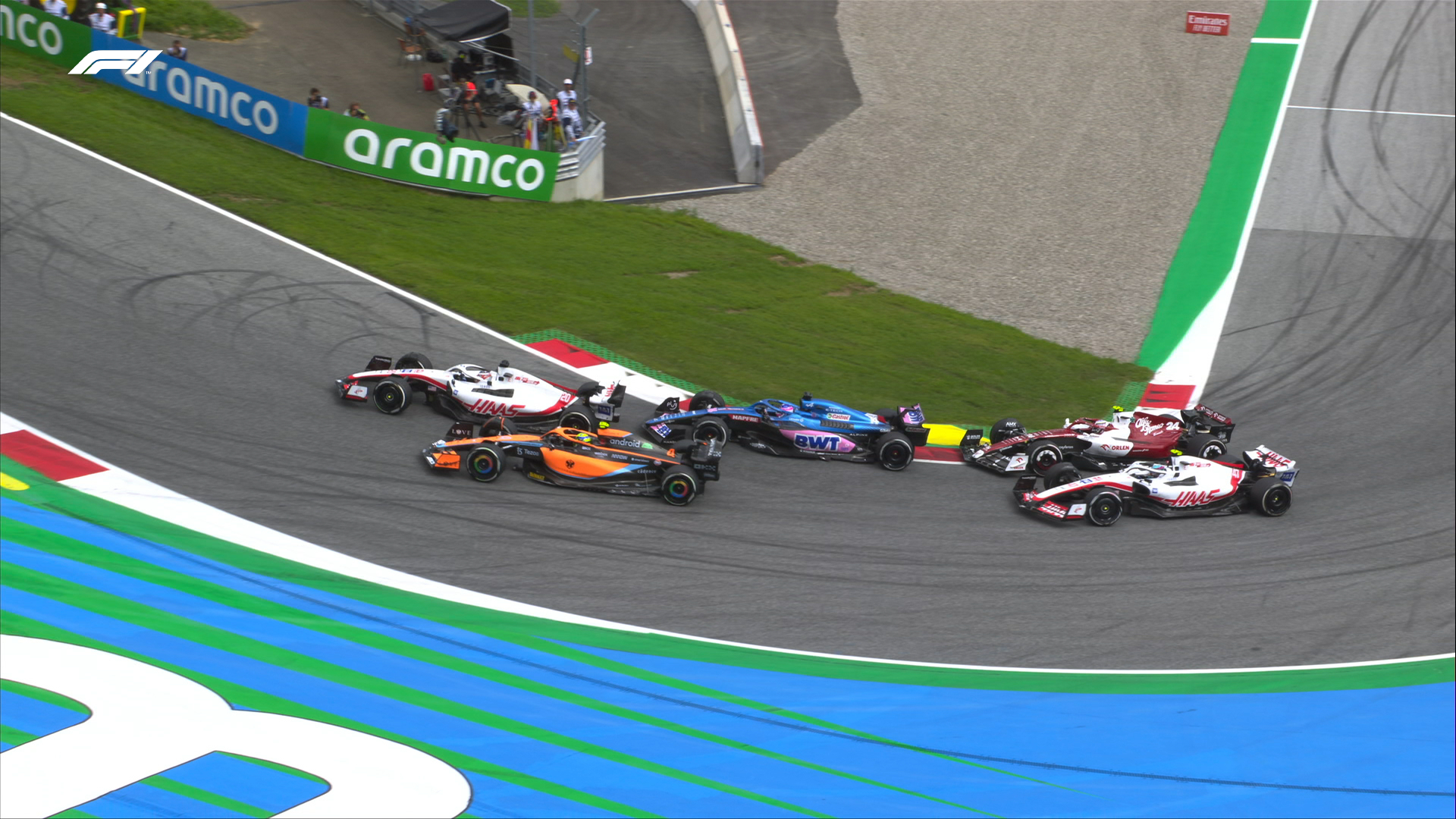 Behind them, Hamilton was up to fourth when he got by Ocon neatly into Turn 3. The Merc man over 30 seconds behind the leader.  MAG-SCH holding station as Norris emerged best of that quarrelling quintet earlier in the race.
Stalemate until lap 37 when Verstappen darted into the pits for fresh hards. By lap 40 Leclerc led Sainz by six seconds with the World Champion 21 seconds behind. But there was something brewing it was not a slam dunk just yet.
Lap 40. Incident-prone Gasly tagged Vettel down the hill into Turn 4 despite the room the increasingly errant AlphaTauri driver who came off the better as the Aston Martin spun into the sand.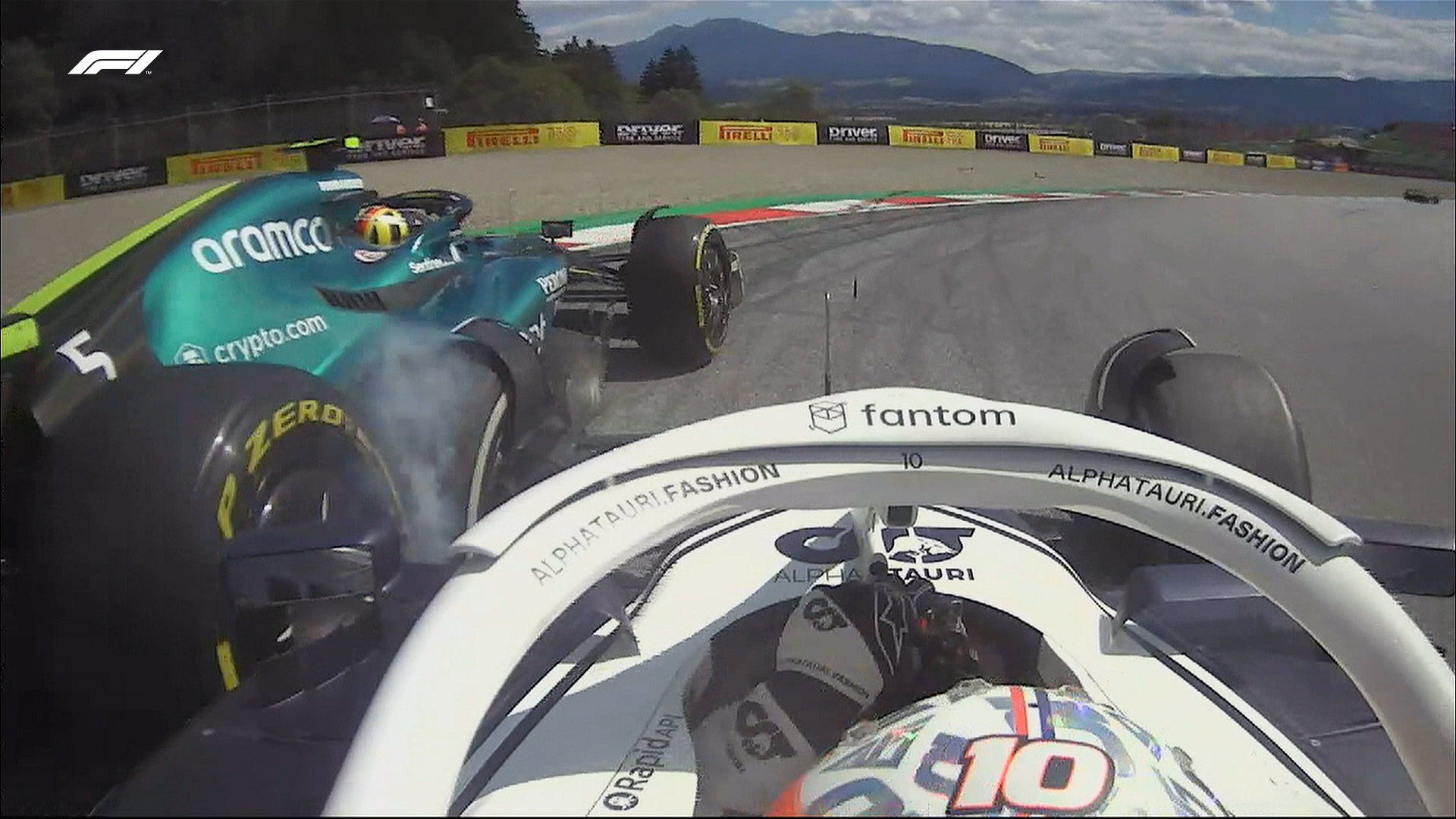 Up front a tense LEC-SAI-VER impasse. Until lap 50 the Ferrari duo were pulled in with Sainz then Leclerc popping Verstappen to the top, the Ferrari within DRS by the next lap. Game on with less than 20 to go!
Not really, Leclerc did the switch over into Turn 3 on lap 53 and was back ahead with a sweet move with Max powerless to do much but have a moan. Sainz popping purples soon had the Dutchman's in his crosshair and with 15 to go, he got in DRS…
And then a big POOF! on lap 57 the Ferrari cried enough, the engine spitting flames and engulfing the car, Sainz thankfully jumped out as marshalls doused the fireball; a week after his first F1 win. How cruel this sport can be!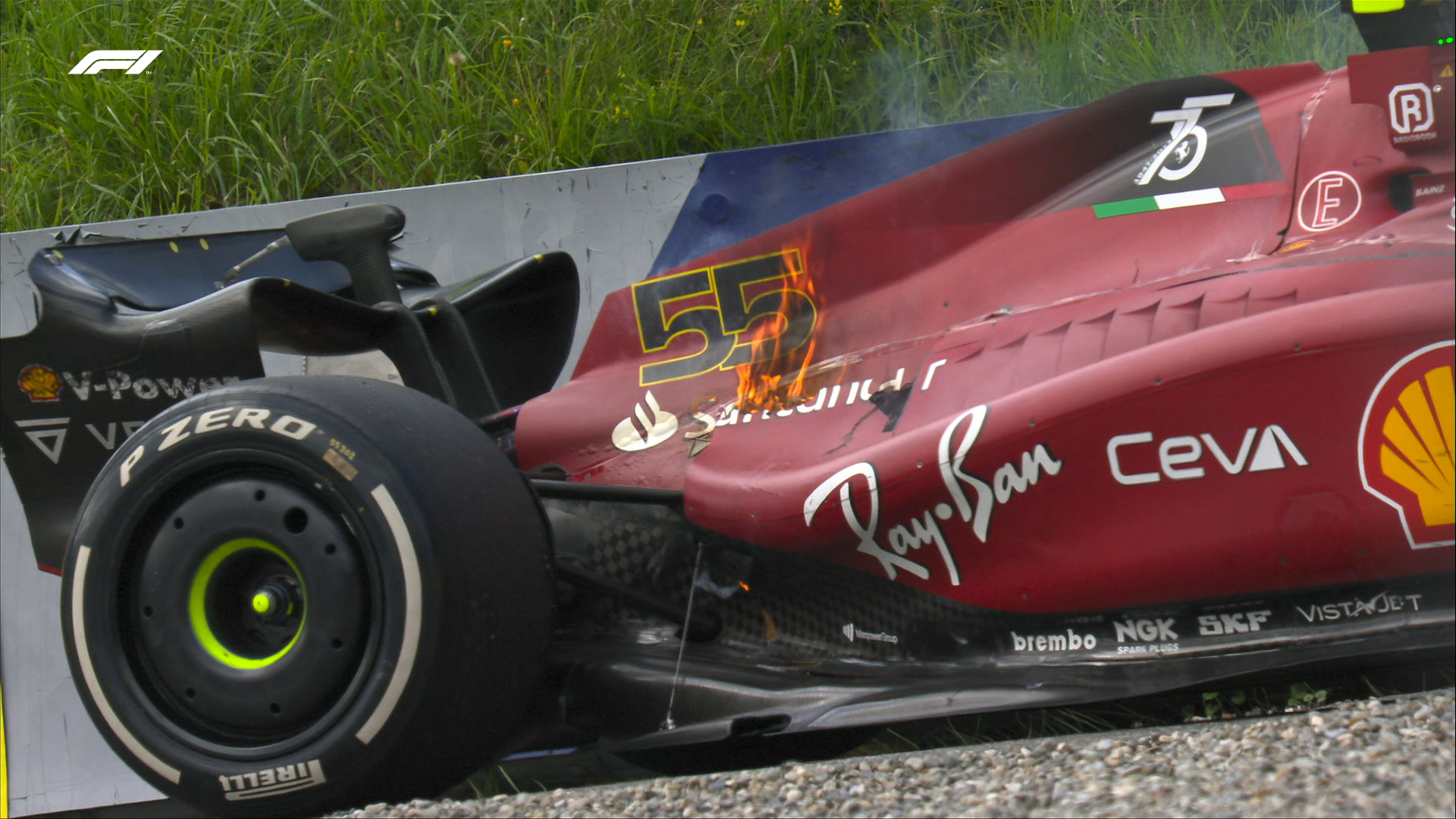 A Virtual Safety Car (VSC) period ensued for a couple of laps. with ten to go the LEC led FER by 3.8 seconds and HAM 28 seconds adrift in third.
Leclerc sounded anxious until he crossed the line, and despite a startling charge from Verstappen on the final two laps, the Ferrari man had it done and dusted to win for the first time since Australia.
Schumacher voted Driver of the Day for his best F1 result
P6!!!@SchumacherMick is your @Salesforce Driver of the Day after his highest ever F1 finish#AustrianGP #F1 pic.twitter.com/7K9BjXYfAr

— Formula 1 (@F1) July 10, 2022
Behind the top four, Ocon had a solid afternoon to finish fifth after gamely taking on the Mercedes but also knowing when to concede for the sake of a result. Alpine teammate Fernando Alonso scored the final point for tenth after an afternoon fighting through a compact midfield from 19th on the grid.
Voted Driver of the Day, Mick Schumacher enjoyed his best day in F1, keeping it clean and picking his fights for an impressive sixth place, albeit a lap behind the winner, with Veteran Kevin Magnussen eighth, capping a strong weekend for the Haas team and their never-updated Haas VF-22 making a mockery of the budget-cap-breakers.
Lando Norris salvaged seventh for McLaren on an awkward weekend for the Woking outfit.; Daniel Ricciardo was ninth.
Charles is back on top! 💪#AustrianGP @ScuderiaFerrari pic.twitter.com/V8tv3zcDfc

— Formula 1 (@F1) July 10, 2022
2022 Austrian Grand Prix Results & Information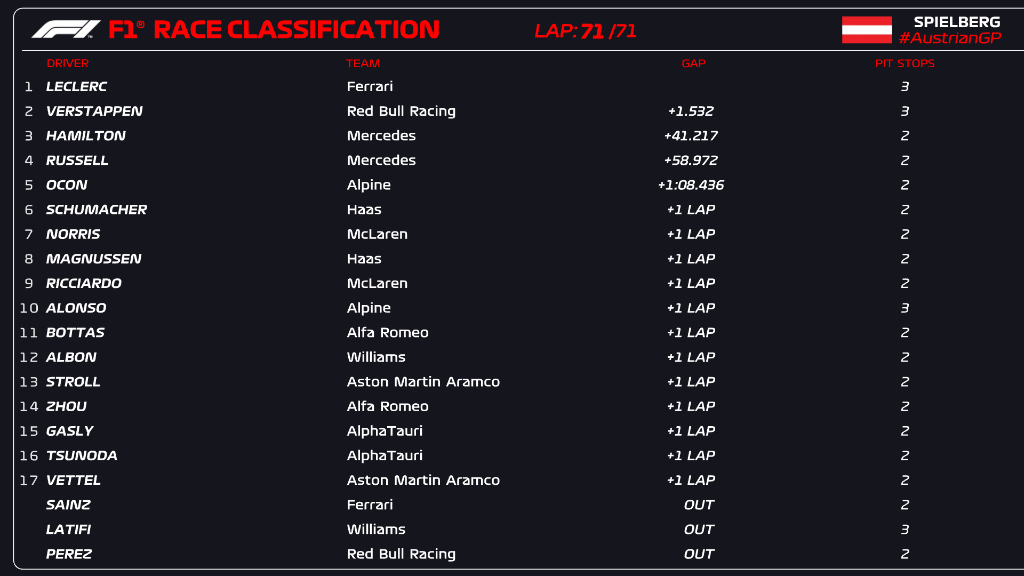 Austrian Grand Prix Pirelli Tyre Stats