Lewis Hamilton defended a group of 'Just Stop Oil' protesters who invaded the Silverstone track during the 2022 British Grand Prix but Formula 1 and Ferrari's race winner Carlos Sainz said they put drivers' and their own lives at risk.
The protesters ran onto the track after a huge opening-lap crash had halted the race but while the cars were still circulating.
F1 head Stefano Domenicali told Sky F1 they had been "totally stupid" and added "you can protest whatever you want, it's freedom to speak — but this is really something… ridiculous, this is the minimum I can say."
British police had earlier said they had credible intelligence of a plan to disrupt the race.
"I don't know what the protest was for," seven-times F1 world champion Hamilton, who finished third for Mercedes, told reporters after initially saying "big up those guys".
"I love that people are fighting for the planet and we need more people like them," insisted Hamiltonj"
Sainz said he had seen them running towards him and had initially thought the race had been red-flagged because of their action: "People obviously need to speak out and do manifestations wherever they want because it's a right
"I just don't believe jumping into a F1 track is the best way to do it and putting yourself at risk and all the other drivers," said the Spaniard. "
Mercedes, who are sponsored by oil company Petronas and chemical giant Ineos, later said Hamilton was not fully aware of the situation: "Lewis was endorsing their right to protest but not the method that they chose, which compromised their safety and that of others."
A statement on the www.juststopoil.org website said the protesters were demanding an immediate halt to new oil and gas projects in the United Kingdom.
With some 142,000 spectators descending on the circuit, which is 90 minutes outside London, the race is one of the British summer's sporting highlights and has in the past been a magnet for protesters.
Two years ago police arrested four people after protesters displayed a banner for climate action group Extinction Rebellion during the British Grand Prix.
The race was closed to spectators then due to the COVID-19 pandemic.
In 2003, Silverstone was the scene of one of F1's most bizarre and infamous protest when a man dressed in a kilt ran on to the track waving a banner saying: "Read the Bible, the Bible is always right".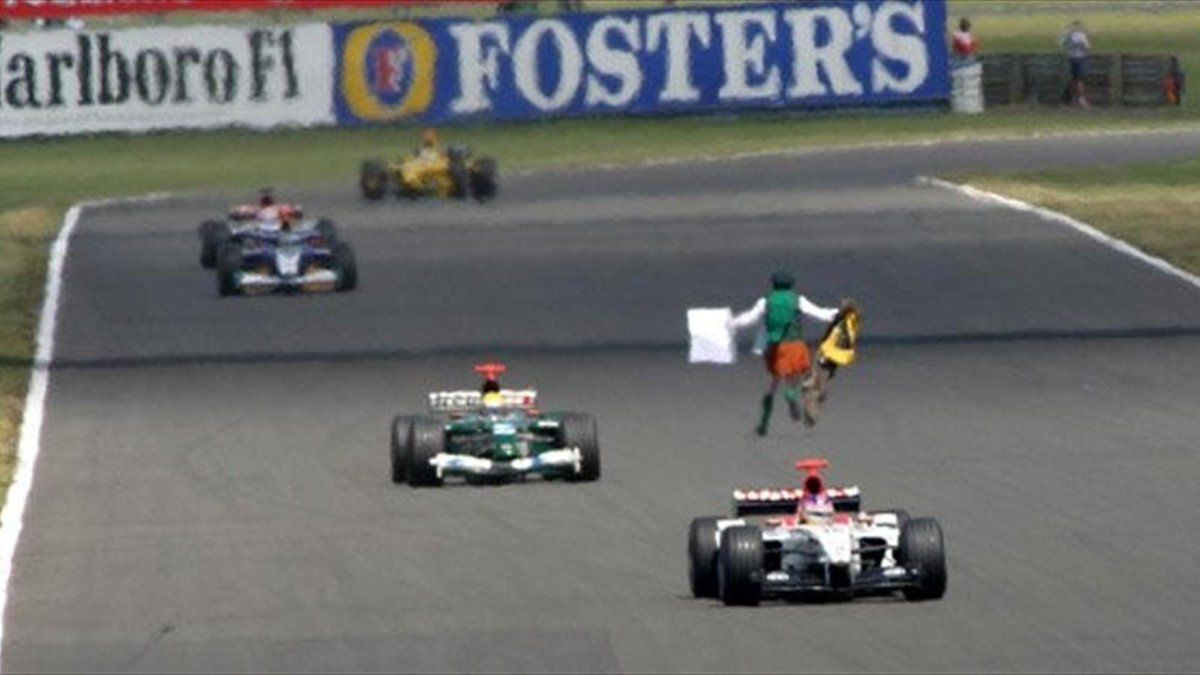 Just Stop Oil published the news of their track protest on their official website:
Five Just Stop Oil supporters have disrupted the British Grand Prix at Silverstone by invading the track and sitting down. They are demanding that the government calls an immediate halt to new oil and gas projects in the UK and have said that they will continue to disrupt sports, cultural events and oil until this demand is met.
The track invasion occurred during a halt in the race after an accident on the first lap. The Just Stop Oil supporters were removed by track officials and police and expect to be arrested.
Louis Mckechnie, 21, Weymouth said: "I'm in resistance because I cannot stand by while our government licenses new oil and gas projects. Our addiction to oil has brought us to the brink of catastrophe. Millions of people face starvation globally as a result of climate breakdown and the fossil-fuelled war in Ukraine. Hungry people are rioting, economies are collapsing – this is what happens when you run out of food.
"Our government is knowingly destroying my future and condemning billions of people to death all over the world. They have failed us, we will die waiting for politicians to solve this crisis. We refuse to be spectators to genocide. I urge everyone to join the Just Stop Oil coalition and resist this government's genocidal plans. Nonviolent civil resistance is the only thing that can save us now."
Bethany Mogie, 40, from St Albans said: "This is the most frightening thing I have ever done, but I'm supporting the Just Stop Oil coalition because I'm even more terrified about what this government is doing to our children. They are behaving criminally and I refuse to stand by and watch. If we do not act with urgency to end our reliance on fossil fuels, climate collapse will be inevitable and unstoppable. We will lose everything. "
Joshua Smith, 29, a bricklayer from Manchester said: "Burning oil and gas is directly responsible for the climate crisis. If Governments arent made to end new fossil fuel projects then children alive today will grow up in a collapsing world with devastating heat waves, crop failure and ultimately no food on the shelves of Tesco. That means you having to explain to your children why they are going to bed hungry each night .
"Successive governments have had 30 years to fix this, it's obvious that our political system cannot deal with such a monumental crisis. Resistance is the only sane response to this situation and it's the only thing that will work. "
Alasdair Gibson, 21, a student from Aberdeen said: "No one is exempt from the devastating consequences of climate change. It's not a problem for tomorrow, it's a threat we face today. It's already here. Hundreds of millions of people across the world are exposed to drought and famine. Every region of the earth is exposed to extreme temperatures. We are living on borrowed time."
"Our government is failing to take the necessary steps to keep its citizen's safe, which is why I believe that civil resistance is needed. Don't be a bystander, get involved in the nonviolent fight for our future." (Reporting by Steve Keating/Alan Baldwin)