Ferrari driver Carlos Sainz scored his first Formula 1 pole position on the occasion of his 150th attempt, surprising all – including himself – in qualifying for the 2022 British Grand Prix at Silverstone today.
In tricky conditions, rain constant and the track wet and requiring Pirelli intermediates, Sainz was relatively anonymous, a second shy of the top times in Q1 and Q2 he was relatively nowhere.
Until he popped to the top of the timing screens late in Q3 with a solid, neat lap at a crucial time when rain beat down at different parts of the track. Sainz got the window of opportunity to put down a marker at just the right time to end his drought.
The Spaniard was delighted if somewhat bewildered as he digested the upset he had just caused, denying pre-qualifying favourite Red Bull's Max Verstappen, who looked strong throughout the wet hour at Silverstone.
After a tense and unpredictable, constantly wet afternoon qualifying session, Sainz said in parc ferme: "It was a good lap. I was struggling a lot with the standing water on the intermediates, there was a lot more standing water on the racing line and it was very easy to catch snaps and lose the lap."
Sainz: In the end, I put together a lap that I didn't think was anything special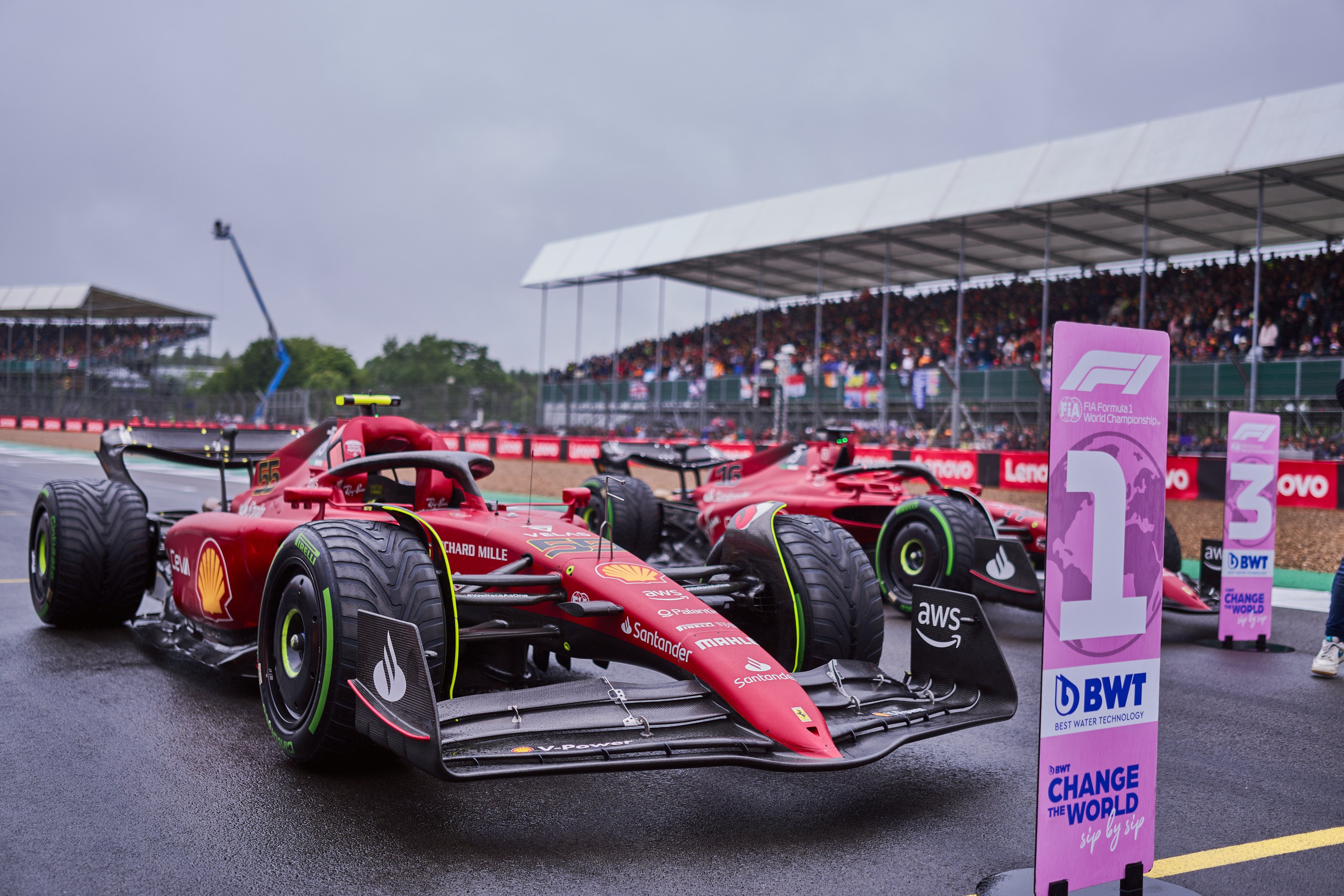 The Spaniard continued: "I just put it on the board and see how it is, and it was pole position, which came as a bit of a surprise."
He later added in the Ferrari qualy report: I'm extremely happy today! Securing my first pole at Silverstone in the wet is something special that I will never forget.
"The whole qualifying was very tricky, and every lap was a new adventure because of the track conditions. Finding grip and traction was a huge challenge and every lap you had to adapt. On the very last attempt, I went for it and managed to put a good lap together that gave us pole."
Looking to the race ahead, again his 150th in F1, how sweet would a win be? Sainz lacks no motivation "The confidence for tomorrow is high and hopefully we can bring our good pace from Friday into the race.
"It will be a very tight battle with our competitors, but I'm ready for it and I'm sure we can put together a strong race and fight for the win. Let's race," declared Sainz.
Leclerc: I'm disappointed but happy for Carlos, he did a great job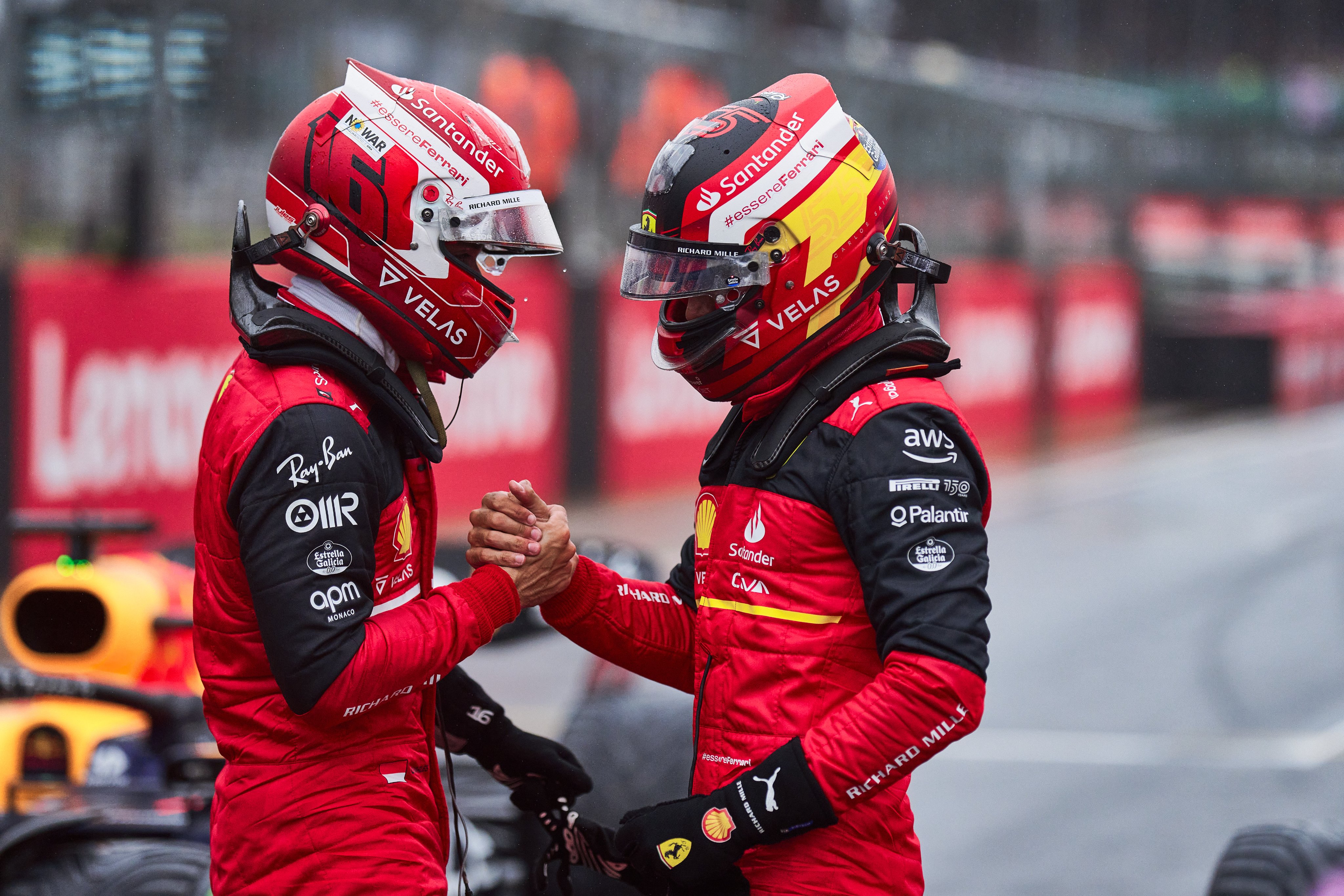 Third and set to start behind his teammate on the grid, for the race on Sunday, is Charles Leclerc who made a mistake when it mattered, he said afterwards: "I'm disappointed but happy for Carlos, he did a great job.
"I spun on that last lap, I knew it was the lap where I had to put everything together and I didn't as a driver, so I didn't deserve to be on pole. P3 is still a good position to start the race and hopefully, we can put everything together and come back."
Leclerc, who will be seeking a third win this season on Sunday, added in the team report: "Unfortunately, I spun on that last lap in Q3 and didn't put it together as I wanted to, so I am disappointed, but I am happy that Carlos finished on pole.
"I felt confident in the car and we were quite competitive, even in these conditions which is where we struggled quite a lot for the past two years. It's good to see that we've found some consistency in the wet.
"Strategies will be different between teams tomorrow, so whether it will be one or two stops, I hope we can gain something by making good moves and fight for a 1-2 for our team," insisted Leclerc.
The Monegasque, who led the championship until recently now trails Verstappen by 49 points ahead of Round 10 on Sunday; Ferrari are second in the championship 76 points behind Red Bull.
A day @Carlossainz55 will never forget! 💪#BritishGP @ScuderiaFerrari pic.twitter.com/bhq8rIedrE

— Formula 1 (@F1) July 2, 2022