This weekend's 2022 British Grand Prix probably represents the best opportunity this year for the Mercedes F1 team to fire the recalcitrant W13 onto the top step of the podium.
And I hope either Lewis Hamilton or George Russell do, because short of FIAT (sorry Ferrari) and Red Bull "falling off", I don't see it happening anywhere else other than at Silverstone – their home circuit Silverstone, as close as it gets to their Brackley and Brixworth bases.
The reason why the Silver Arrows are likely to be hot this weekend, in their neighbourhood, lies in the prevailing nature of the Northamptonshire track. Firstly, it's a smooth surface (although there have been issues with the latest layer of tarmac), something that the finicky Mercedes W13 demands and when given, delivers e.g., Barcelona.
Secondly, the track is abrasive, 'eating' front left tires for breakfast, lunch and tea.  Something the new low profile rubber will exacerbate, so we can expect the rears to join them in sympathy. High "deg" tire tracks, as we know, are bad news for Fiat (sorry again Ferrari). While they might put in their usual one-lap wonder pace for qualifying, the surface will provide a real challenge for them in the race.
Advantage Hamilton and Russell at Silverstone?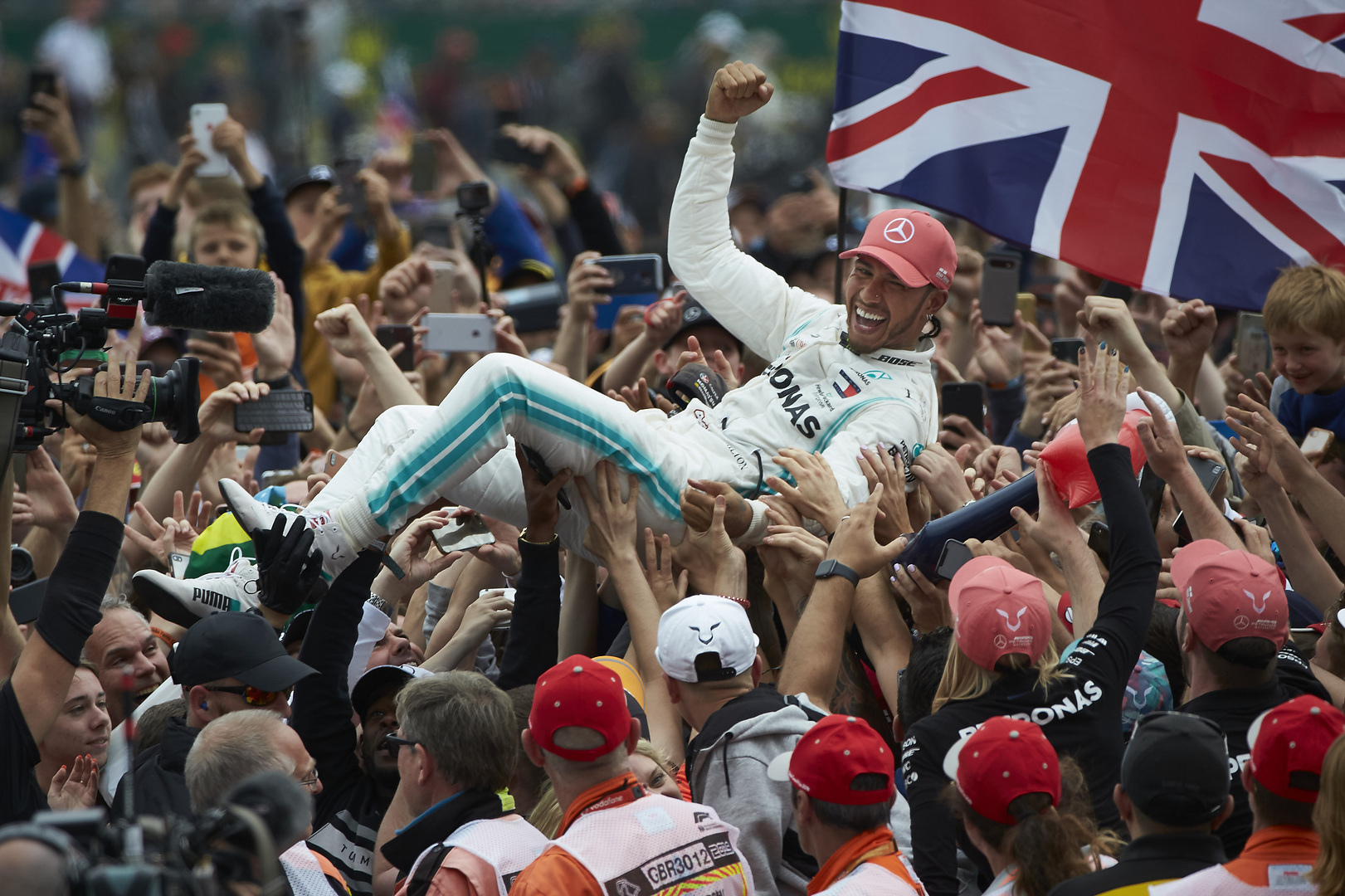 Thirdly, it's a home crowd for both the Mercedes drivers (something that can always deliver an extra tenth in performance) and after last year, not one with the happiest of memories for Red Bull's Max Verstappen.
The history of British motor racing fans reached a low point, cheering as he flew into the Copse Corner Tecpro.
Who was at fault here has been a matter of extensive debate and conjecture, however it was interesting to see the message Tom Coronel received from Max shortly after the crash (search for it on the web if you're interested).
He (Max) pretty much laughs the whole incident off. Which sounds more like the real Verstappen than the supposed official "twatter" that went out from "him" post-race.
My interpretation of what happened has always been that the young Dutchman was hoisted by his own petard. The apparent "WhatExt" or "TexApp" he sent to Coronel only reinforces that belief.
That just leaves them "Checo" to deal with, although I hear Jos may well take care of that one himself. That is, if there's any truth in the rumour that circulated post the Canadian race a fortnight ago. Apparently, he was spotted leaving Perez's pit box in the early hours of Sunday morning, with a hammer and some gearbox parts! Really?
To stay, or not to stay… that is the question
Finally, following the Technical Directive issued by the FIA at the Canadian Grand Prix permitting an additional floor stay, Mercedes reacted quickly and tested it in FP1 & FP2.
I suspect it probably worked better than Mercedes let on, however, the threat of a protest by Alpine and Fiat (oops sorry again, Ferrari), ensured it never made it into FP3.
Essentially, they implied it was all a bit suspicious that Mercedes was able to rustle up the stays so quickly after the announcement. I must admit they were a little fast out of the box.
But, it also telegraphed that FIAT (there we go again, Ferrari) and Alpine find machining a bit of aluminium and stumping up a few nuts and washers, over a race weekend, just too much of an ask! Maybe it's just a budget cap issue…
Regardless, I'm given to understand the "extra stay" will now be permitted for this weekend's theatricals and could prove a big help to the local team. The ability to run the car lower (without porpoising) will be key for Mercedes in both the high and low-speed turns on offer at Silverstone.
That completes my rationale for a potential Mercedes win at the weekend. Although I would admit to an outside chance of the "klompmeister" spoiling the Mercedes Pimms party on Sunday afternoon.
The young Dutchman is confidence personified these days and the car seems to have overcome the engine niggles that it had earlier in the season.
A bit of nostalgia about the British Grand Prix at Brands Hatch not Silverstone
On a final note, I mentioned at the beginning that Silverstone was the home of the British Grand Prix. In practical terms this is true, but if you asked me where its spiritual location is, then I'd give you another answer – Brands Hatch.
Being old enough to have attended Grand Prix's at both venues, I can testify this to be a fact. I always found the Silverstone atmosphere somewhat flat compared to the "Brands" experience. Possibly because you could see most of the club circuit section (all 1 mile of it) from most of the vantage points.
But it was also the crowd. Clutching their deckchairs and thermos, as they ran for a spot at Paddock Hill bend as soon as the gates opened. Hanging out of the trees and off the hoardings between Pilgrims Rise and Pilgrims Drop.
And who can forget all the cars parked on the South Bank, honking as the bus passed with the drivers on the post-race parade lap… Ooof, I've gone all misty-eyed…