Leclerc has the edge over everyone this weekend, only teammate Carlos Sainz running close as he did in qualifying. But had no answer to his teammate on the day.
Monaco qualifying is always tense and something of a roulette game for F1 cars, stoppages at the wrong time have been known to alter the course of the script. Today was no exception.
But whatever the case, no one was going to go quicker around the unforgiving streets of Monte-Carlo than Leclerc did with his 1:11.376 which was two tenths and a bit faster than Sainz's effort in second.
And more importantly, in the context of the 2022 F1 drivers' title, Max Verstappen was only good for fourth on the grid, three-tenths shy of Leclerc's pole-winning time.
The Monegasque reported afterwards: "I am very pleased with our overall performance so far this weekend. I felt confident in the car and started pushing a bit more in Q3. The first lap was good. I think that the second was one of the best laps I have ever done in qualifying.
"It was so much fun to drive and I was really on the limit. I had a lot of oversteer, so the rear was quite loose. Still, I knew that the lap was coming together nicely and that felt particularly good. It's a shame that I couldn't finish it, but this is Monaco and we know that the final attempt is always at risk of yellow or red flags.
"We secured pole anyway, so I am really happy. Whatever the conditions are tomorrow, we will start from the best place possible and will do everything to finish the weekend as smoothly as it has gone so far," added Leclerc who trails Verstappen by six points after six rounds.
It's the third pole in a row for Leclerc, who will be hoping to end Verstappen's streak of three wins on a trot and is best placed to do so, as well as score F1 points for the first time at his home race.
Sainz: A shame the red flag cost us a shot at pole position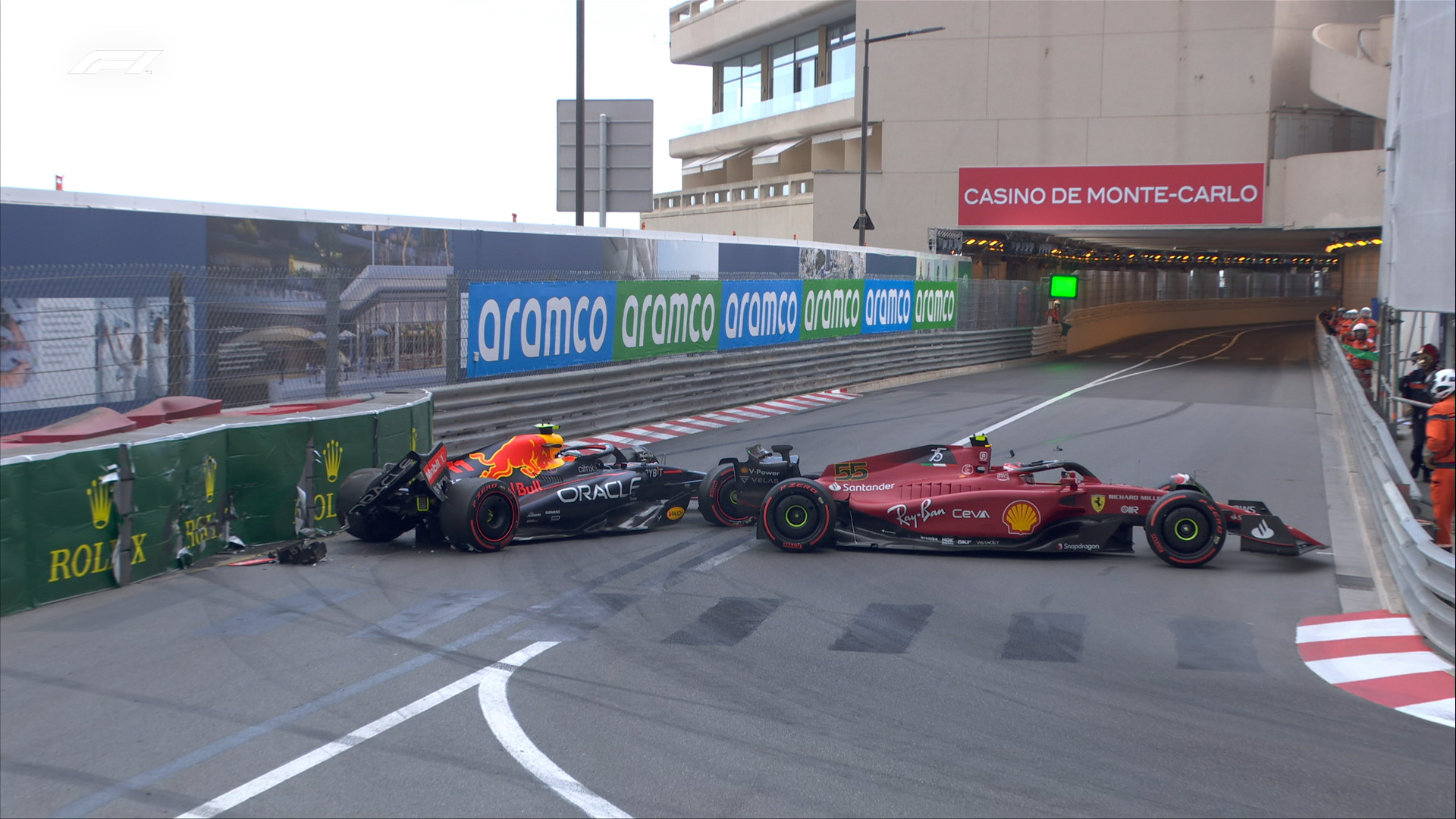 In the sister car, Sainz again proved to be expensive as he clattered into Sergio Perez just before the tunnel, the Red Bull blocked the exit of the corner after the Mexican driver smacked the wall on his final Q3 run.
Sainz's Ferrari was next on the scene, with nowhere to go he slid into the stricken Red Bull and again added to the Ferrari repair bill.
The Spaniard said in parc ferme: "Perez crashed in front of me and I was on my flying lap. I saw the yellow flag coming into Turn 8, I had to hit the brakes and try to avoid him the best I could. Things like this can happen in Monaco and unfortunately, I was caught up in it again.
"It is a shame another red flag costing us the end of the session so that we cannot go for pole position but that is typical Monaco. We thought we had really good pace all day and we were just building it up for Quali."
That Sainz believed he had a crack at beating Leclerc's stellar was somewhat optimistic for the incident prone Spaniard, who added: "We will never know and it is impossible to say but I was feeling good.
"Let's finish the job [Sunday], I think we are in a good position to get a result for the team, the car has been amazing all weekend so we will go for it."
In the Ferrari team report later he added:  "It was a great build-up throughout qualifying today, especially up until Q3 when unfortunately things got a bit messier. On my first attempt, I had to overtake both Mercedes during my flying lap and I left a couple of tenths on the table, especially overtaking Hamilton at the swimming pool.
"Overall, P2 is a decent position to start on Sunday and it's a good day for the team with another front row lock-out and a good opportunity to score solid points tomorrow. Let's race!" concluded Sainz.
Mekies: Charles produced a superlative performance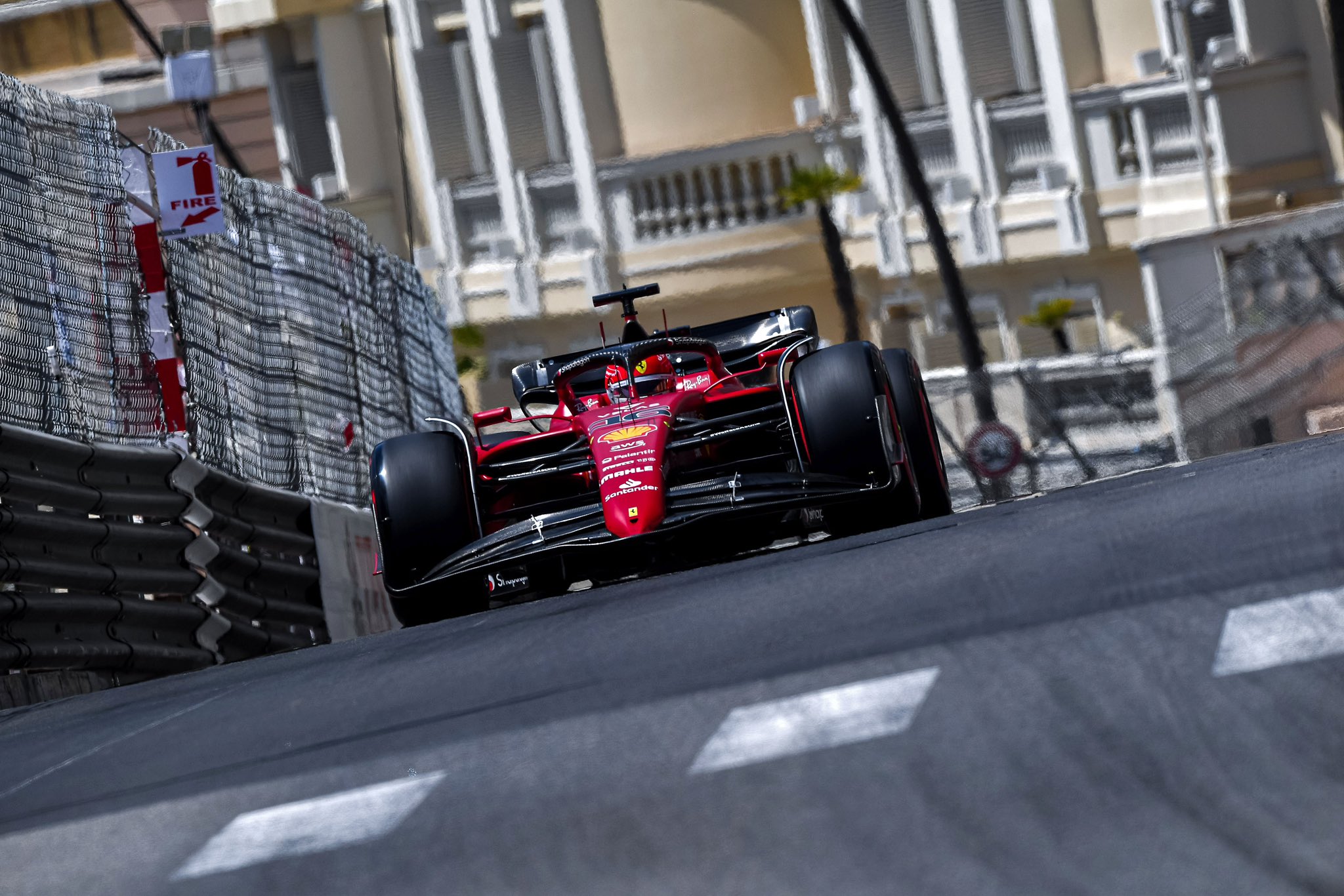 Ferrari racing director Laurent Mekies summed up: "We are very pleased with how qualifying went. The Monaco circuit is one of a kind and the fact that, even here the F1-75 was very much on the pace, shows that Maranello has produced a really good car. Congratulations to all the team and the drivers who were excellent.
"The Monaco weekend is always particularly tricky and Charles and Carlos dealt well with the pressure and the traffic, managing to make the car and tyres work at their best. Once again, Charles produced a superlative performance and, but for the red flag, could have gone even quicker.
"Right from the start of free practice, Carlos demonstrated that he had a great feeling for the car which allowed him to qualify on the front row, which will be very important for tomorrow. Unfortunately, on his second run in Q3, he spun to avoid Sergio Perez who had crashed just before the tunnel.
"There's no denying we got a fright seeing the two cars stuck across the track and we hoped the red flags would come out as soon as possible. Fortunately, neither driver was hurt and now we will give the F1-75 a thorough check to ascertain the extent of the damage.
"We can expect a very long race, which could be particularly tricky if it rains. Tonight, we will work on preparing for every eventuality. There are a lot of fans here supporting us and Charles in particular and we want to give them something to cheer about," concluded Mekies.
Ferrari are second to Red Bull in the 2022 F1 constructors' world championship standings by 26 points since their defeat in Spain last Sunday, they will be looking to reduce that deficit on Sunday and are next placed to do so from first and second on the grid.
Third pole in a row for @Charles_Leclerc 💪#MonacoGP #F1 pic.twitter.com/JedKxvE6JE

— Formula 1 (@F1) May 28, 2022