Was it human error or a technical gremlin? Whatever the case, Max Verstappen was denied a shot at pole position which was annexed by his title rival Charles Leclerc, the pair will start the 2022 Spanish Grand Prix from the front row and setting the stage for another epic duel.
Formula 1 'script-writers' got it right again for Sunday's race in Barcelona, as Leclerc versus Verstappen is box office material. One could argue that the Ferrari man's lap was a bridge too far for the Red Bull driver on the day, but we will never know.
For now, Leclerc has the plaudits but zero points for his efforts and is also worried that his Ferrari does not have the race pace of his rival. Add to that the fact that Verstappen has hoovered up maximum points in the last two races (sprint at Imola included) while admitting he fancies the race pace in the RB18.
Asked if he had a shot at beating Leclerc in the final Q3 run, the reigning F1 World Champion said: "I mean it's always difficult to tell but I couldn't do my final run, either the DRS didn't open or I just lost power."
Indeed, the Red Bull's DRS remained open as Verstappen began his final flyer, by Turn 1 he was four-tenths down already. He reported a power loss, which no DRS would have been an obvious cause.
He continued: "It's a bit of a shame but I think overall to be on the front row for us here looking at the whole weekend so far I think it was a good achievement, but of course, I would of liked to go for that final run."
The Red Bull RB18 looked handy on longer runs in practice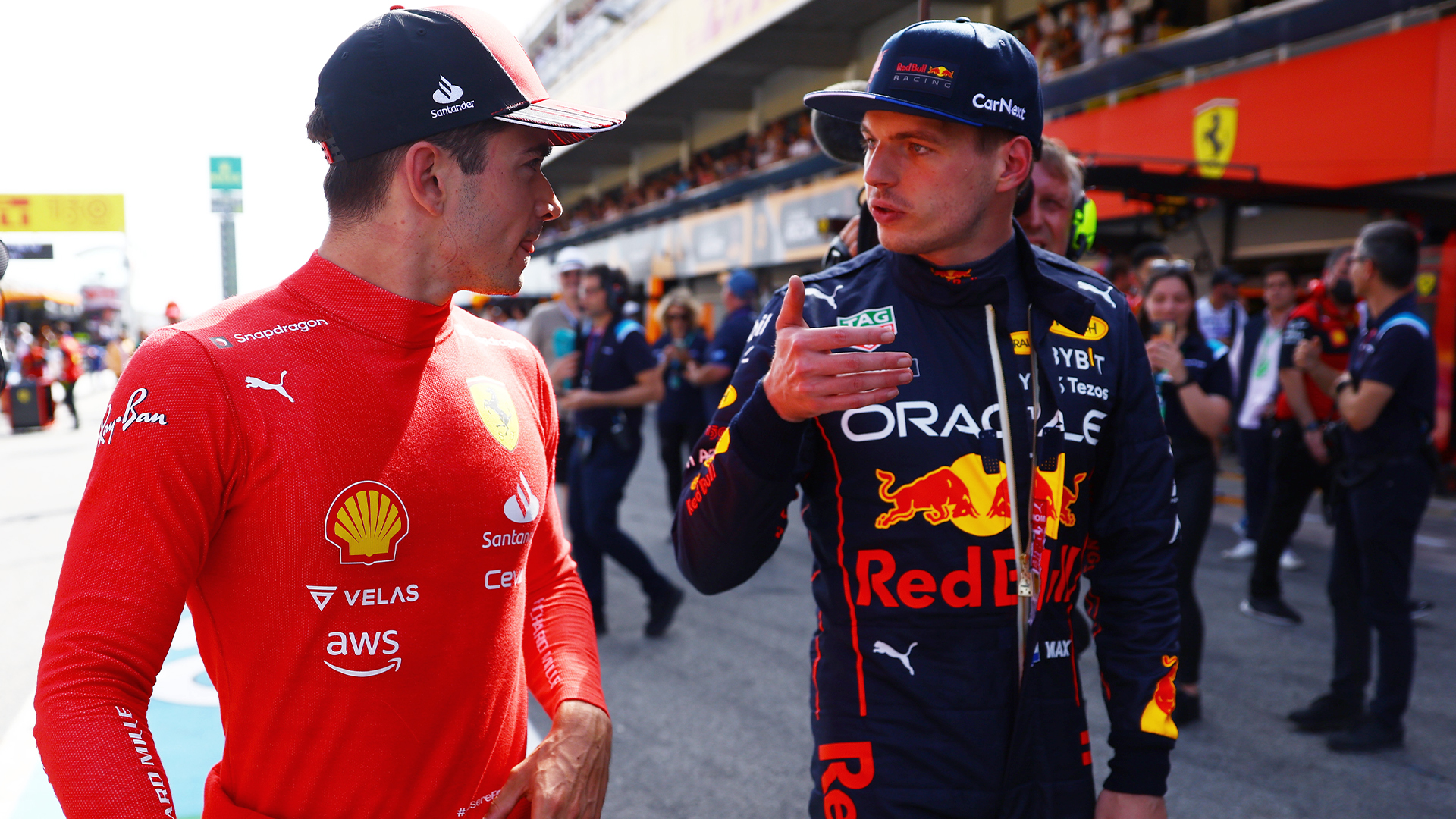 Performance during practice suggests Red Bull have the better car in Spain, which Verstappen acknowledged: "Last two races we seemed pretty decent on the tyres.
"Of course tomorrow again will be very hot, very warm. This track will be quite tough to pass but let's see, hopefully of course our car will again be kinder on the tyres but it's a bit difficult to tell at the moment."
Later, in the team report, Verstappen confirmed: "The DRS didn't open so I backed out and aborted the lap as I was losing a lot of time, three or four-tenths. We are starting second which we can be happy about but it was a bit of a shame with the last run.
"That meant we didn't get the opportunity to fight for pole, nevertheless, we will give it a good go. Ferrari are looking pretty strong so it will be hard to beat them, they did a long run this morning and it looked strong.
"Tyre management is going to be really important tomorrow with the heat and you also need overall race pace. Hopefully we'll have more pace tomorrow and there's a long run into turn one so a lot can happen," added Verstappen.
Teammate Sergio Perez was good for fifth on the grid, the veteran was done a disfavour having to sit out FP1 for the mandatory running of a reserve driver; on Friday it was Red Bull young gun Yuri Vips in Checo's car.
Perez: I think we will have good race pace and we will push from the start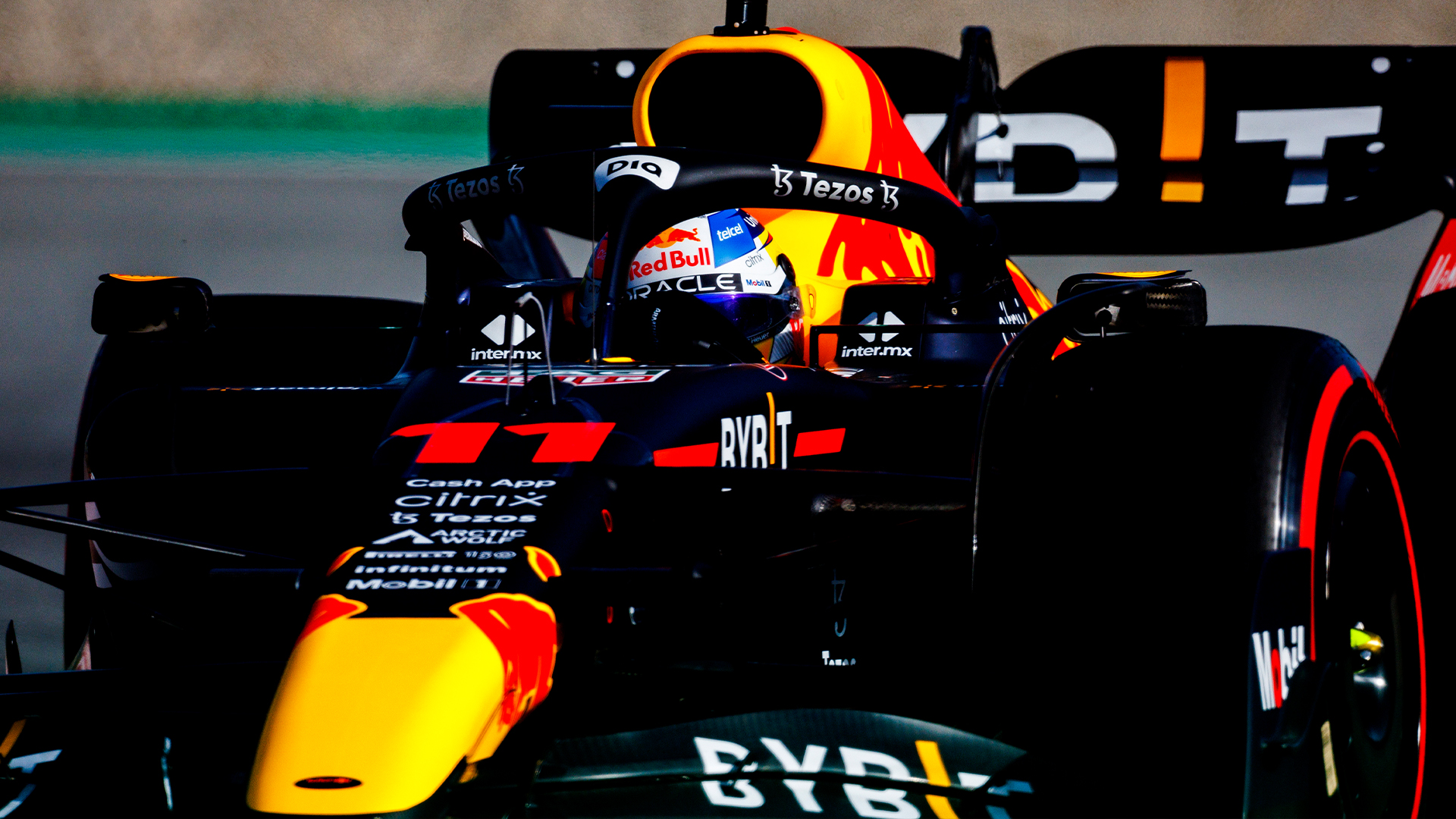 The Mexican summed up his afternoon: "It was tough, there was more to give, especially on my final run in Q3, we tried something different with the set-up and it felt a bit awkward, so I didn't get a great lap. I have felt like I have been struggling throughout the weekend.
"I haven't been comfortable, we tried some things on the car and the pace was there but I couldn't quite make it work to put that lap together. It's not an ideal result but I think we will have good race pace and we will push from the start.
"I still think we can fight from fifth, tomorrow is a long race and anything can happen. I think it is going to be very hot, especially for the tyres, degradation will be high so it will be an interesting one.
"Ferrari were very strong today so we will see what we are able to do against them come race day, hopefully we are able to get them back. The race is a different situation and our long runs have looked good in practice so we can be confident," concluded Perez.
Horner: I think it will be a very close and fascinating race
Team boss Christian Horner also saw the positives: "I'm pleased we will start from the front row with Max in P2, as he had a DRS issue on his final lap which meant he didn't get the chance to reply to that final lap from Charles.
"While I don't think we had enough to beat his time today, I do think we'd have been closer without that issue. It shows that it's such fine margins in this sport and that's the same with Checo, he didn't quite nail Sector One which means he starts from P5, but he'll race ok from there.
"In these temperatures, it's all going to be about tyre degradation and management, so I think it will be a very close and fascinating race," predicted Horner.
Verstappen trails Leclerc by 19 points after six rounds of the 2022 F1 championship, the Dutchman's season blighted with two early mechanical DNFs and will again look to maximise the points haul, a hat-trick of wins as he chips away at the deficit to the leader.
Ahead of Round 7 on Sunda, Red Bull are second in the F1 constructors' title race, trailing leaders Ferrari by six points. It's all to play for in Barcelona.