Charles Leclerc delivered a wonder lap, under extreme pressure, to claim pole position for the 2022 Spanish Grand Prix but ahead of Sunday's race the Ferrari driver is worried about the race pace of his car.
The Championship leader's effort was worthy of a F1 World Champion. On his first hot lap attempt in Q3, Leclerc spun through that niggly and quite horrible chicane before the main straight. With Verstappen top of the timesheets at that point, Leclerc was bottom in tenth with no lap time.
There was a lot at stake for that final shot, which will go down as one of the most astonishing recoveries and astounding laps in a long while: three-tenths of a second better than anyone else was capable of, a mega effort overflowing with massive commitment and total intent.
Leclerc knew it when he said in parc ferme: "I feel good. It was a very, very difficult session – especially in Q3, as I did a mistake on the first run and then I only had one lap. But it went extremely well. I had a bit of moments on my lap but at the end made it stick. Very, very happy with pole position, the car was amazing too."
So amazing that Ferrari scion of the Agnelli family, clad in the bright yellow of the Scuderia gave team boss Mattia Binotto a bear hug as Leclerc's achievement sunk in. This means a great deal to the sport's most famous team.
But the points are dished out in the race not qualifying, that's where Leclerc is wary: "I am in a strong position to start the race, but I've been struggling with tyres compared to Red Bull. If we don't manage those tyres well, we will lose that win. So, we need to get on top of it and do a good job tomorrow with tyre management."
Leclerc: We saw some improvements this morning when we did a long run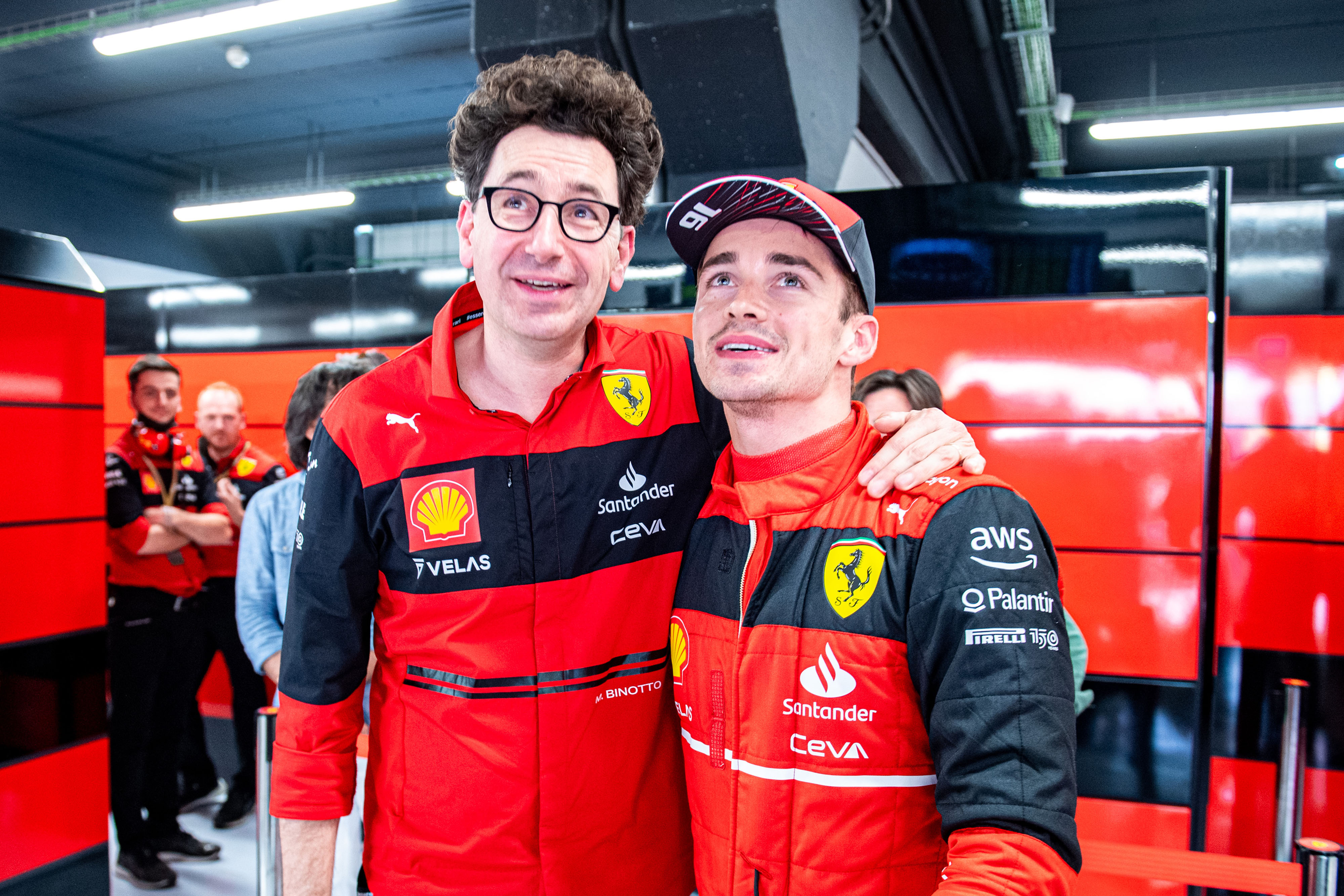 Later in the team report, Leclerc added: "We really turned things around since yesterday and our team did an amazing job. We struggled a lot in the first two practice sessions this weekend, especially with the tyres.
"We analysed all the data and made significant changes to the car last night. We saw some improvements this morning when we did a long run and hopefully it will be enough to beat our competitors who have had an advantage in this area for the past two races," concluded the world championship leader.
In the sister Red car local hero Carlos Sainz was aiming for a first pole in today's qualifying for the 2022 Spanish Grand Prix, but in the end he had no answer to the scintillating lap delivered by Ferrari teammate Charles Leclerc.
Sainz's best effort was four-tenths shy of his teammate in the same car, an age in Formula 1, but he believes he can turn things around as he seeks his first Grand Prix victory on Sunday in Barcelona: "It's been a tough weekend so far.
"The conditions have been difficult with the wind but today we managed to put a decent lap and that allows us to fight from there. I think the key will be the start, the tyre management, see if we can get a good start and go from there. It's a decent position to start.
Sainz: We'll give everything from there to fight for the win!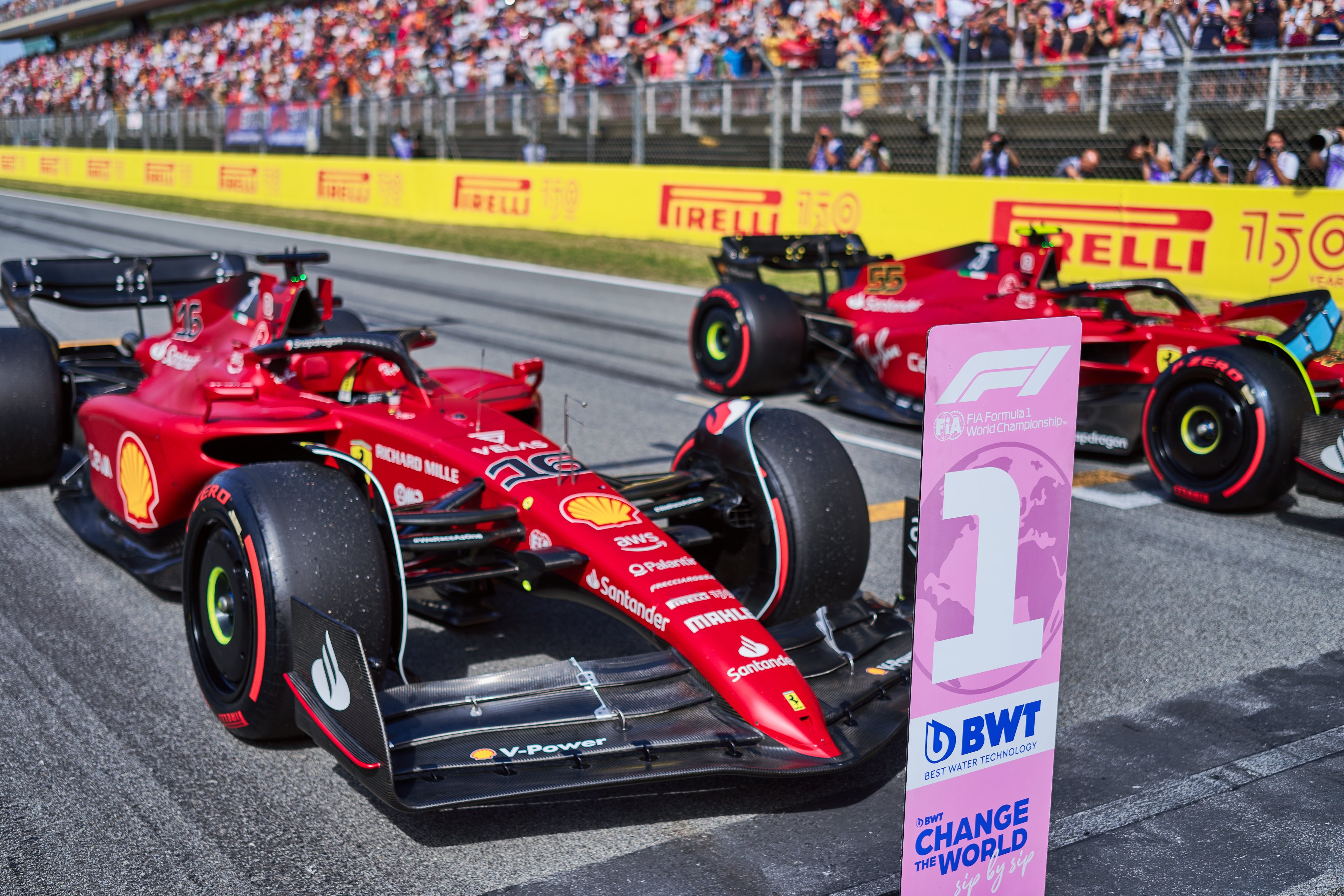 "I think anything can happen and we will try our best," added Sainz, who has made 145 starts in the top flight without a victory or started from pole, by far more than any driver on the current F1 grid.
Later Sainz summed up further:  "Overall P3 is a decent result for tomorrow and we feel positive for the race, as the upgrades seem to be working well. We still struggle a bit with the rear being very light in this car, so I'm not driving it exactly the way I would like to.
"However, we still managed to grab P3, which is a good position to attack tomorrow. We'll give everything from there to fight for the win! A big thank you to the mechanics for their hard work overnight to change the chassis and also to every fan out there in the grandstands for their incredible support. Let's race tomorrow!" declared the Spaniard.
At the very sharp end, with a 19 points lead in the championship standings ahead of this Round 7, Leclerc versus Verstappen, both starting from the front row, is as good as it gets ahead of Sunday's race.
This one is going to be a humdinger, at a very familiar venue race track where the margins are finer than they are likely to be anytime this year.
Drama in Q3 as Leclerc goes spinning off at Turn 14 😮

Watch all the key action from qualifying in Barcelona 🇪🇸#SpanishGP #F1

— Formula 1 (@F1) May 21, 2022