Lewis Hamilton's alarming fall from Formula 1's serial winner to midpack oblivion has been rapid and sore but few know the feeling better than his former teammate and nemesis Fernando Alonso.
The pair were teammates at McLaren during Hamilton's rookie 2007 F1 season which all ended very badly. And while the Spaniard has never added another F1 title to his two, won in 2005 and 2006, the Briton has gone on to win seven F1 world championships.
However, an eighth won't happen this year, even a win is hard to see for Hamilton as things stand, which is the 103 time Grand Prix winner toiling miserably in midfield oblivion, with young George Russell showing up his older teammate adding insult to injury.
George vs Lewis perhaps triggers some deja vu for Alonso who now drives for Alpine, only he knows, but what is certain is he is well aware of what Hamilton is going through: "This is the nature of the sport. Sometimes you have a better car, sometimes you don't have such a good car and you still need to fight and make some progress.
"This year we see that the driver is very important in F1 but not crucial. Lewis is driving as good as he has been the last eight years. He was dominating the sport and breaking all the records and 100-and-something pole positions.
"And now he is doing a mega lap – as he said in Australia or somewhere like that – and he is one second behind. So, yeah – welcome," ventured Alonso in an interview with BBC Sport.
Alonso: Age is not a factor in motorsport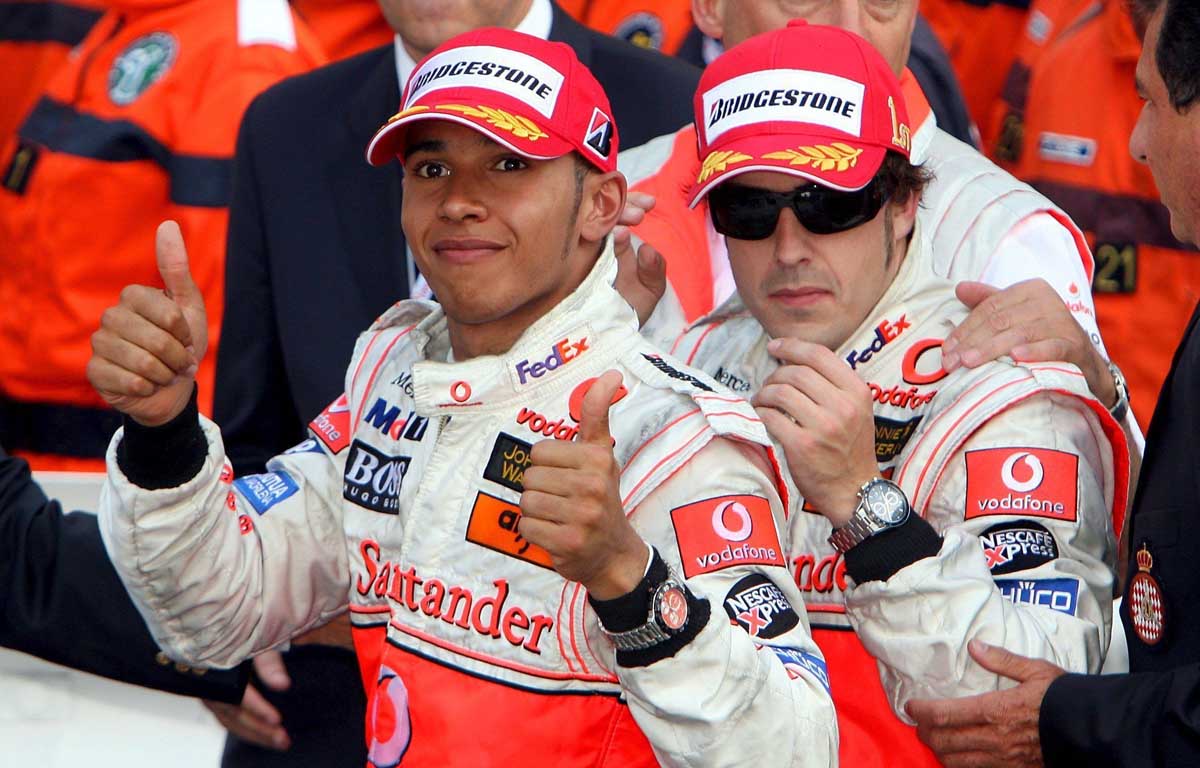 Alonso outlined the harsh reality facing drivers: "This is F1, it is not going to be a fair sport in terms of numbers. This is a team sport more than anything and we tend to forget this, especially when we have success. We are so happy about what we are achieving that even if we try to share with the team, all the headlines are for the driver.
"It happened to me when I won the two championships. I was beating Michael Schumacher. This was a big topic, but my car was more reliable at that time and had very good performance and you cannot praise enough that package because the headlines will still be the driver. And with Lewis it's the same.
"To have more than 100 pole positions in F1 is something unthinkable. You need to have the best car and package for many, many years. We were doing magic laps sometimes and we were P15, and how do you explain that to people? It will be impossible."
One could point to Hamilton's remarkable comeback in the final four races of last season, from nowhere he came back to win three of the final races and fate denied him four in a row. Nevertheless, that was the seven-time World Champion at his very best.
The only difference is the magnificent Mercedes W12 was a beast of a race car (as were its predecessors dating back to the W05) but this year's successor is a lemon in comparison.
Hamilton did not forget how to drive fast over the past offseason
Alonso continued: "Lewis deserves everything he's achieved in the past but this year is a good reminder that in all those records and numbers there is a big part on what you have in your hands as a package in the car."
As for Russell showing up Hamilton, Alonso explained: "George has been very fast in the last few years and I think everyone was expecting him to be a tough competitor for Lewis.
"But I still believe Lewis will eventually finish the championship in front. Eventually, when things are more tricky or difficult situations, Lewis will still have more experience and maybe more talent," predicted the 40-year-old Spaniard.
He and Hamilton are among the last of the Old Guard that dominated the sport this century. Michael Schumacher retired; Kimi Raikkonen also. Alonso is near the end of his career; Hamilton too; Sebastian Vettel probably closer to the end than the latter two.
"Age is not a factor in motorsport," declared Alonso. "In other sports it is different. You have to rely on your physical condition and things like that, but in motorsport, I would [rather] have one new front or rear wing than three years less than I have. That would give me more performance for sure.
"The two years out of the sport was enough to completely reset my mind and also the physical condition and be happy training and preparing the races. I am as good as when I was 25 or 30," insisted the 32-time Grand Prix winner.
Alonso will make his 340th Grand Prix start when he lines up on the grid for his home Spanish Grand Prix on Sunday, at Circuit Barcelona-Catalunya, hoping to score points for what would only be a second time in six rounds thus far.