As modern-day Formula 1 heads to Barcelona for Round 6 of the 2022 World Championship, in glitzy Monte-Carlo, the sport's glorious past is being on show at the 13th Grand Prix de Monaco Historique.
The event serves as a curtain-raiser to the city's Grand Prix at the end of May and features some of the most iconic Formula 1 cars over the ages.
The weekend provides fans an opportunity to see cars of once-great teams, now defunct, their historic cars keeping the legacy alive such as Lotus, Tyrrell, Brabham, Surtees, Cooper, BRM and the like, mixing with Ferrari, McLaren, Renault and Williams F1 cars of the past.
Among the drivers taking place are Emmanuele Pirro, Marco Werner, multiple winners of Le Mans 24 Hours with Audi, Roberto Moreno, a former Benetton F1 driver, as well as Claudia Hurtgen, Jean-Denis Delétraz and Toni Seiler, Roald Goethe and Michael Lyons,
HSH Prince Albert II of Monaco launched the 13th edition of Grand Prix de Monaco Historique on Friday spending time in the paddock where more than 180 exceptional cars and their experienced drivers were waiting to finally be able to enter the mythical track which will be reserved for them all weekend.
Welcomed by Michel Ferry, Vice-President of the Automobile Club of Monaco (ACM) in charge of Sport, and by Gery Mestre, President of the Classic Cars Commission, Prince Albert had a long talk with Monegasque driver Frédéric Lajoux entered as in 2018, in the F Series, driving a superb black and gold Arrows, dating from 1978.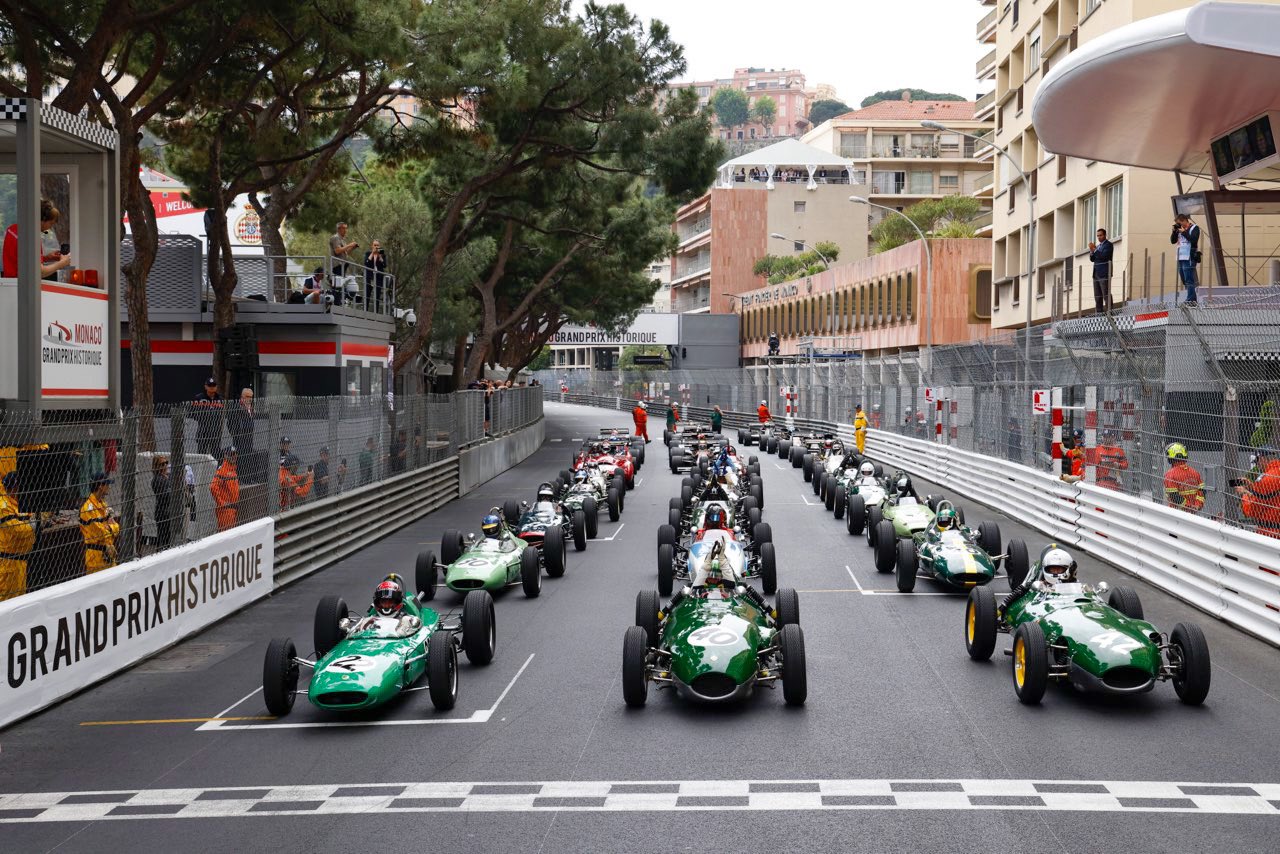 Also with the aim of paying tribute to young Formula 2 driver Anthoine Hubert, who tragically deceased at Spa-Francorchamps in August 2019.
The first quality lap times fell to A1 series drivers, notably the venerable ERAs of Nicholas Topliss (Class 1) and Mark Gillies (Class 2), pre-war cars (voiturettes) managing to beat a pack of Bugattis, Maseratis and other Alfa Romeos.
In the B series, under the expert eyes of Clive Chapman, son of Colin Chapman and boss of the Lotus Classic Cars team, a car from the English brand that was the fastest: the Lotus 21 of 1961, with a Climax engine, entered for Mark Shaw, a regular customer of the event, who beat Joseph Colasacco's Ferrari and Christopher Drake's Cooper-Ford.
All eight series were on the menu of this opening day of the 13th GP de Monaco Historique, including a huge number of Lotus cars to celebrate the 40th anniversary of the passing of Colin Chapman.
Most of them in English green livery, the famous "Racing Green" often seen in the 60s, or in black and gold livery, as was the case in the 70s. To the delight of nostalgics!
Monaco Grand Prix Histroique Useful links: