It's been a week since we saw the first-ever Miami Grand Prix and it is fair to say, despite the huge buzz, and constant flow of international guests, including just about every A-Lister at the event, the real show – on track – didn't hold up to its promise.
A disappointment it was, if the chain reaction initiated by Fernando Alonso, damaging Pierre Gasly's AlphaTauri and then Gasly taking out Lando Norris and bringing the Safety Car in, had not happen it would have been seriously boring.
But why was it so dull? It's all about the track, isn't it? Well, it is in a way but as a racing driver, I tried to look into the real factors that affected the show and not only blame it on the track without trying to look into it in details.
First of all, as a race driver, you discover the track from the onboard cameras, and it looks like serious fun. You are in a mix of Jeddah but safer, a tiny section of the track could be compared to Macau where in other areas you could almost be in Melbourne. I liked it immediately.
Off-camber corners are a signature of Apex who built the track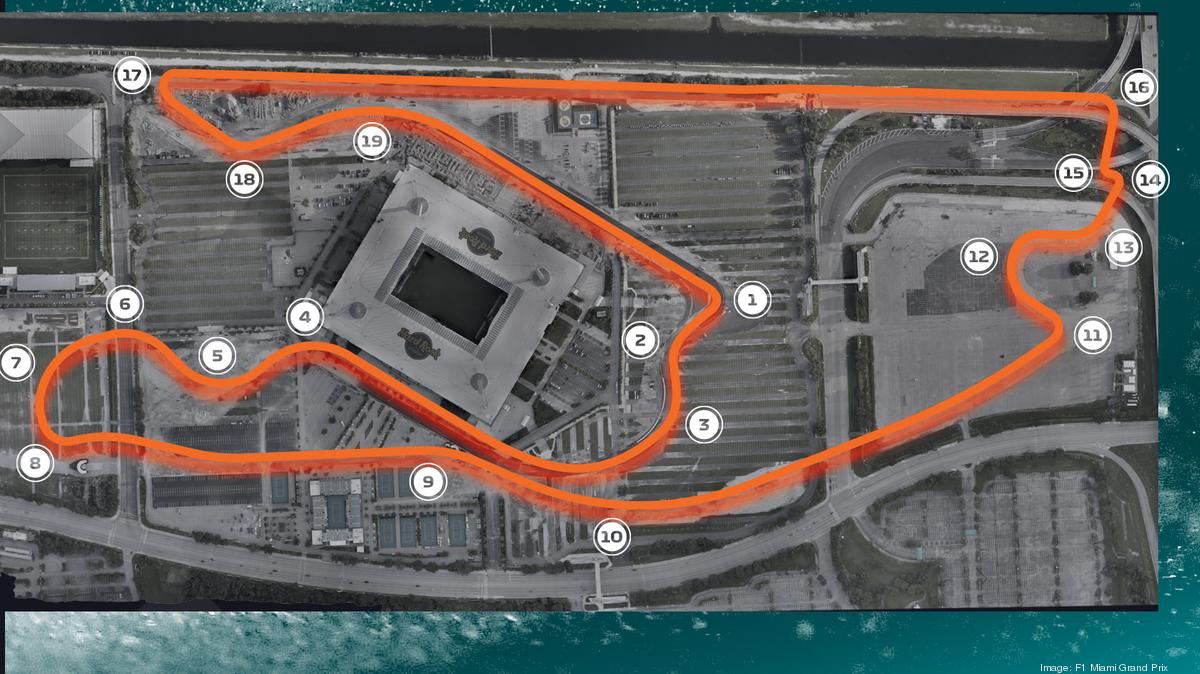 The Miami International Atuodrome starts with a very tricky combination 1, 2 and up to the middle of Turn 3 where you are on the edge all the way through, and concrete walls are scaringly close.
I am actually surprised we didn't see more incidents and crashes in that section since you have to compromise on the exit of T1 to be on the right line for a very sharp change of direction into T2, before another sharp change into the entry of T3 where we can see it is a challenge to keep the car balanced while trying to push the throttle.
Come the middle of T3, it gets easier, and you are out of a very nice and challenging first section of the track.
Then comes the combination Turn 4 to Turn 8 where a simple mistake on the turning point of T4 could penalise you till the brake markers for T11.
T4 is this type of corner where you slightly tap the brake and throw down a gear before getting back on the power while turning in. This is done to get the maximum downforce effect, but you have to be extremely focused on the turning point in order to get it right.
While you want to stay on the power, comes T5 and this one is tricky, you have to stick to the inside if you want to get the right line for T6, T7 and T8 but the designer made it off-camber – which is one of Apex track designers' signature.
The off-camber is a nightmare here, it forces you to ease of the throttle out of T4 and be patient and wait for the car to turn and stick to T5's apex untill you are set for the next three corners.
T5 requires patience and focus to fight the track camber. T6 and the grip is back since the camber is back to normal, you want to and you can go on the power but you have to control your speed to make sure you don't outbreak yourself for T7/T8.
There are a succession of corners in which good drivers can really make a difference
T7 and T8 are one corner only but T9 and T10 are kinks and not real corners, T7 and T8 decide for you how fast you will be down the straight leading to T11.
And this is why you have to be patient out of T6, if you approach the T 7-T8 combo with too much speed, you are not going to turn in the car fast enough to be early on the power and get the straight speed you want.
As I said, T9 and T10 are not corners but kinks in straight lines on racetracks are encouraged for overtaking since they imply a change of direction and allow for better slipstream efficiency.
The last technical section of the track is T11 to T16. This is where I feel a bit of the crammed confines of Macau, the whole area looks narrow, corners are tight, walls are extremely close, you are driving below an interchange, these are typical markers of Macau.
And designers brought in massive off camber again in the chicane, which is making it even more difficult. A single mistake into T11 can ruin your speed down to the end of the second straight and braking point into T17.
This section is slow and extremely technical, it was designed to close the gap between cars in low downforce corners just before the back straight.
The last real Turn is T17, this is a very slow hairpin with very hard and long braking at the end of a long straight, theoretically, one of the best recipes to favour overtaking.
T18 and T19 again are not real turns but they are kinks like the abovementioned T9 and T10 complex they should favour overtaking into T1.
I really liked the Miami Autodrome as a driver but why was the race boring and overtaking difficult?
The key problems lie in small details in venue, but they can be improved if the goal is to create a better on-track show for the 2023 Miami Grand Prix.
The asphalt is a real issue. It has not been discussed much but the track has been patched in many areas during the course of the weekend and in between sessions. The track was deteriorating, it was getting bumpy and grip was going away.
Small gravel granules accumulated off the race line and made it super slippery, only one line was good for speed and putting a wheel out of it meant immediate loss of grip. This made it almost impossible to overtake.
It almost cost Bottas his race and definitely made him lose two places but in general, it ruined the show. This is the main point to address before 2023 but this is not the only one.
This track is great because we didn't hear discussions about track limits, and this means the design is solid in that way. The only corner where track limits could be an issue is T11 and could do with a tweak.
It comes at the end of a long straight, but overtaking is still very difficult here. My view is that the last left kink before T11 is too close to the braking point and also that T11 is too easy to defend. A small smart change could make overtaking easier.
The last key element for me is the DRS activation Miami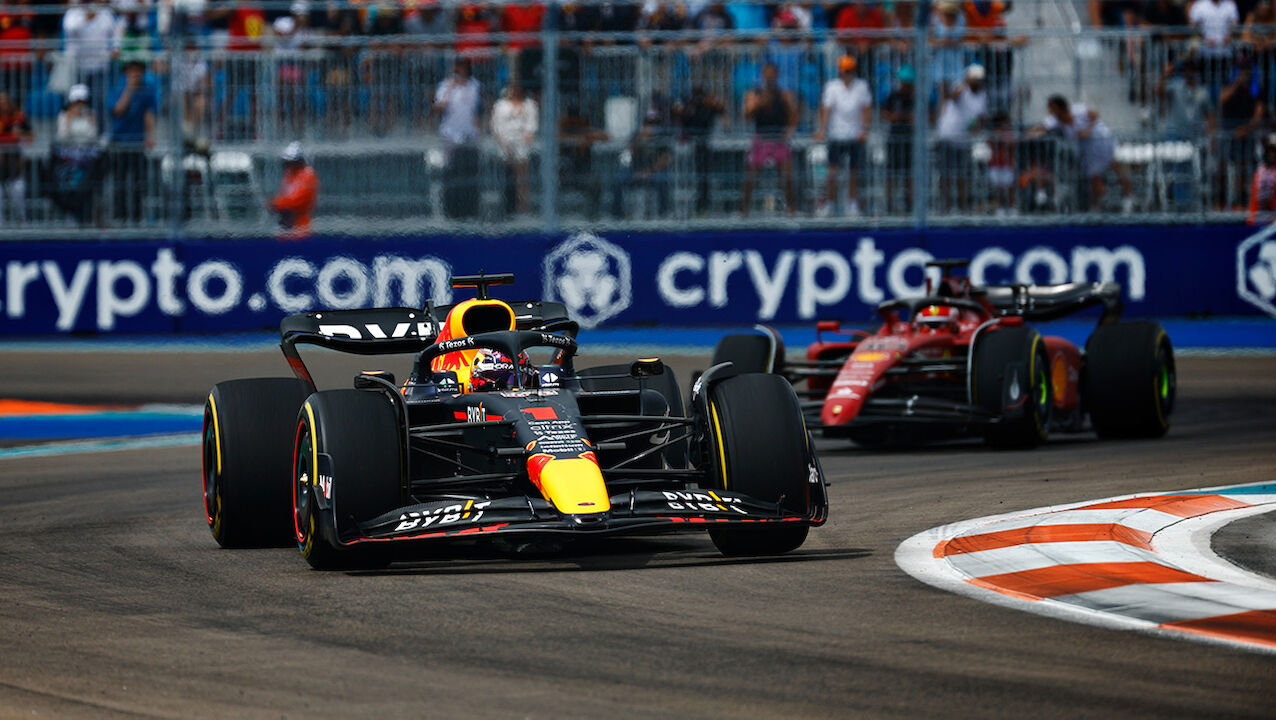 It is difficult to determine if DRS would have been efficient enough had the new asphalt offered a better and more even grip level in overtaking areas, but it felt as if it was badly positioned and badly triggered for most of the fights happening on track.
A mix of longer DRS zones combined with small variations in DRS detection zones would have made overtaking easier in my view.
In closing, in terms of visuals, atmosphere and show, it was an American race, and you like it or not but this is also what makes F1 more popular these days. As mentioned it is just a shame the race was so dull.
But the track is good and I am quite sure small adjustments in the areas listed above could turn it into a a real challenging venue with overtaking and opportunities to race closely.
Work on the track in Miami will be done as this was the first race, and hopefully, the on-track action can match the off-track glitz.
But, as F1 heads to a far older and more traditional venue, I am afraid we are at risk of even more boring track action in Spain. Barcelona is never the best track for overtaking, even if it used to be quite fun to drive before they placed this boring chicane in between the last two turns and it's not even a street circuit like Miami!