Max Verstappen ambushed Charles Leclerc in the final laps of the first Sprint Race of the 2022 Formula 1 Season, the Red Bull driver disappointing Tifosi, who on Saturday painted Imola the Red of Ferrari, who were crying out for a win on home soil – tomorrow is another day and the real deal…
Leclerc made a great start, while Verstappen faltered but thereafter the reigning World Champion stalked the 2022 championship leader before pouncing on lap 19 of 21, claiming the lead where he remained when they crossed the line.
Hence Verstappen bagged eight points, one more than his title rival. Not a huge haul but the Dutch ace and his team have to finish ahead of Leclerc for the foreseeable future, no mistakes and not a single DNF also a 'must' part of the plan for him to retain the title.
Sergio Perez turned seventh on the grid into third place, followed by Carlos Sainz in fourth from tenth on the grid. Superb damage limitation efforts by the current number two drivers of the top two teams.
Worth noting for the race, Verstappen starting from pole will have Red Bull teammate Perez behind him while Leclerc has Sainz in his mirrors in the other Ferrari.
McLaren had a hectic early Saturday, turning hardly any meaningful laps in FP2, both drivers lining up somewhat blind to their setup in the wake of changes.
Third for Lando Norris in Friday qualifying was flattering for the Englishman who ended the Sprint in fifth followed by teammate Daniel Ricciardo in sixth for an all orange row three at Imola for the Grand Prix, with front row seats for the Red Bull versus four-way battle into T1.
Full report from the Emilia Romagna Grand Prix Sprint Race, read more here>>>
Here are quotes from the top ten drivers; the top three finishers speaking during the FIA hosted top three press conference after the Sprint Race at Imola:
Top Three Sprint Race press conference transcript
Parc Ferme Interviews Conducted by Naomi Schiff
Q: Congratulations on the Sprint Race win. It's not the start you would have wanted but you managed to turn it around talk us through it? 
Winner, Max Verstappen: Yeah, that was very bad. I don't know exactly what happened or why it was so bad, just too much wheel spin, but after that we had to stay calm. And it initially looked like Charles was actually having a bit more pace but then I think he ran out of tyres and we could close the gap and go for the move into Turn 2. I know maybe tomorrow it might be again a bit different, but for sure today it worked out for us to be on this compound. So very happy to have a clean Sprint race at the end.
Q: Well, you were able to keep the pressure on Charles all race long and you showed that these cars can follow a lot better than they used to be able to. Will you have to be looking over your shoulder tomorrow?
MV: Ah well, if I make a start like today for sure. But let's see, let's see tomorrow. I'm of course happy about today, but I know that tomorrow, you know, with also other tyre compounds coming into play it might be a bit different, but we had a good day.
Q: Well, despite what happened today, you've had great starts here in history. So good luck tomorrow. Charles, congratulations, it obviously started a lot better for you than it ended but it's still a front-row start tomorrow. Talk us through the race today. 
Second, Charles Leclerc: Yeah, it's still a front-row start. We struggled with the tyres at the end, so we need to analyse that for tomorrow at the end the main race is tomorrow and we need to make sure that we are ready. But the pace was good until then and then we started to have some graining on the front left and lost it towards the end but it's fine, we will work and come back stronger tomorrow.
Q: Now, you may not be able to hear it but we definitely had the support that's in the crowd here for you. So maybe you can take this opportunity to share the love back with them? 
CL: Yeah, I mean it's incredible. Every time we are in Italy we have so much support and it's amazing to see so many people in the grandstands. Isperiamo domani si un altra fine. Grazie mille a tutti regazzi. 
Q: Sergio, great Sprint Race today. You certainly proved that it is possible to overtake on this track. What did you take off from the race today?
Third, Sergio Perez: Yeah, I think it was important to minimise qualifying from yesterday you know it was…  The red flags out there really, we did struggle a lot with that, so we didn't put a lap together when in mattered. But yeah, today we managed to recover and I think we are in a great position for the fight tomorrow.
Q: Well, you're starting third on the grid tomorrow, with Max first. How much can you make a team effort tomorrow to maximise the points? 
SP: Yeah, it would be ideal, you know, to get a one-two. That would be great for us but probably not for the tifosi, but we will try.
PRESS CONFERENCE
Q: Welcome to the top three finishers of the F1 Sprint Race and our top three on the grid for Sunday's Emilia Romagna Grand Prix. In third place, Sergio Pérez. In second place, Charles Leclerc and our winner, who takes eight world championship points and will start first on the road on Sunday, Max Verstappen. Max, it was tense it was breathless. Talk us through it from the moment you let out the clutch at the start.
MV: Terrible when I let the clutch go, just a lot of wheel spin and no traction. So my start was very, very poor. And then of course after the Safety Car restart it seemed like initially Charles was very quick and he was actually pulling away like a tiny bit lap after lap. But then at one point the tyre deg came into play and it seemed like from that point on, I could actually then close the gap again. And yeah, of course at one point… It's very tricky once you get around that one-second window to get super close. Of course with these cars it is better to follow but it's still very hard to pass because you still need to use up your tyres and especially with the deg we had on the soft, like getting in that DRS window was hard. But then, yeah, once I got into it, I think on the second attempt, we had a good little battle into Turn 2. Buy clearly the we had a bit more pace at the end of the race, yeah.
Q: You had a bit more pace was that as a result of you playing a bit of a waiting game early on in the race?
MV: Well, I think we were pretty much flat out, you know, in the beginning. It's not many laps you have anyway in the race. But of course we knew that on these tyres it was going to be tough at the end of the race, like the last few laps, but yeah, it worked out for us.
Q: And this is the first battle for the lead that we've had in the F1 Sprint Just how much did you enjoy it?
MV: Well, my opinion is still the same about the Sprint, but the battle is good. Yeah, it doesn't matter if it's in the Sprint or in the main race.
Q: Charles, coming to you now. You made a tremendous getaway at the start of the Sprint. Just talk us through the braking zone for Turn 2 when you and Max were side-by-side.
CL: Where we side-by-side? I don't think we were side-by-side…
Maybe even ahead by that point.
CL: I had a very good start, so yeah, we ran side-by-side through Turn 1 and I could focus on my own race from that moment onwards. I tried to push at the beginning to get a bit of a gap and for Max not being the DRS zone, because I knew that I will have been vulnerable if it was the case. But I paid the price a little bit later on in the race and had some graining and really struggled in the last two, three laps. So, it's like this but it's only the sprint race and we'll learn from this to be better tomorrow.
Q: What are the main lessons – that's what I was going to ask you next – that you've learned today in the Sprint that will help you in the Grand Prix itself tomorrow? 
CL: Well, that we need to fix the graining most of all. It felt like we damaged the tyres a bit more, especially the front right for some reason. So, we'll focus on that for tomorrow's race.
Q: Checo, coming to you now, tremendous Sprint race from you to go from seventh to third, helped again by a great start. 
SP: Yeah, we had a really nice start. It got a bit messy into Turn 1 with Daniel, I think.  I couldn't avoid him, so we touched. Luckily, there was no damage for both of us. And yeah, then there was a Safety Car. And it felt quite short that the time, the race, you know? Because we lost, I think, three laps. And yeah, at the restart was just about getting as further up as possible. So, I think P3 is, it's a great position for tomorrow.
Q: You did a lot of overtaking. Where was the car particularly strong this afternoon? 
SP:I think we looked after the tyre really well. I think that particularly, it's a good step, especially given the deg we've been having – but it's only a short race so we'll see tomorrow if we made the right steps.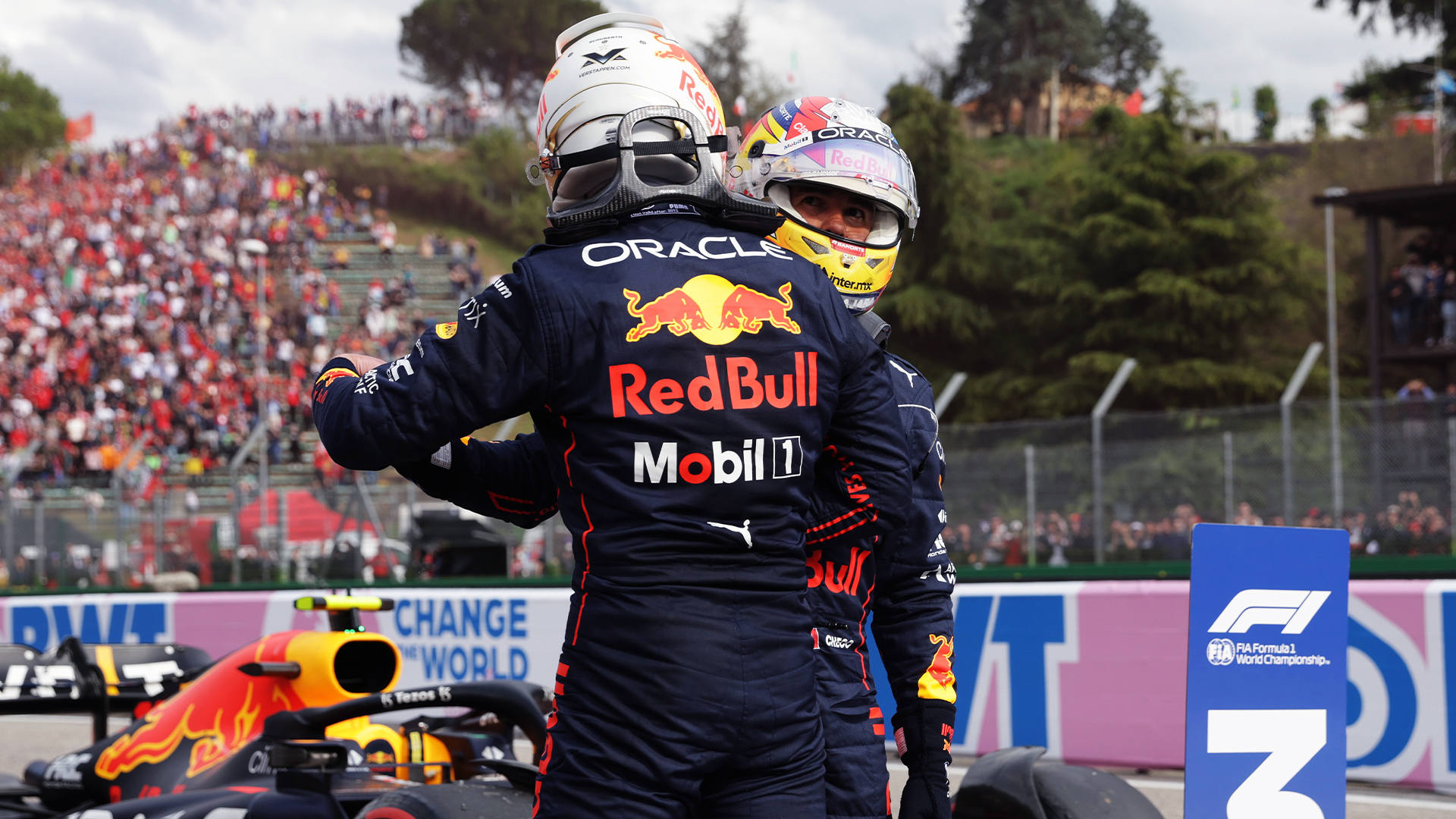 QUESTIONS FROM THE FLOOR
Q: (Aaron Deckers – RacingNews365.nl) Max, you had a bad start. You said something… you mentioned something about the gearbox or something, or the gears but was it also maybe that you're on the wrong side of the track? Maybe pole was on the wrong side?
MV: Well, I mean, Lando had a decent start so there's no excuse. I mean my start was just terrible and yeah, I didn't have gear sync for whatever reason. I need to see exactly what went wrong.
Q: (Matt Kew – Autosport) Question to both Max Verstappen and Charles Leclerc. The DRS effects was really pronounced today. Charles, are you confident you can reverse the results tomorrow? Max, are you confident you can defend, given how strong it looked?
CL: I think the pace are quite similar. What made the difference at the end is the graining phase that I went through at the end of the race and if we managed to cure that for tomorrow, I'm pretty sure that we're in the fight for the win. If not, it's going to be a bit more difficult. But anything is possible for tomorrow, I think.
MV: Yeah, like Charles said, I don't think it was because of the DRS, it was just because at the end, Charles was definitely struggling more with the graining, so then, of course, I could close up and, of course, use the DRS then to get by – but I think it was more just a bit of a waiting game because every lap, it just seemed like the gap or the difference in the two cars was getting bigger in terms of lap time and so on.
What the other Imola Sprint Race top ten finishers had to say
4th. Carlos Sainz (Ferrari): Today was a good day and I'm fairly happy with the comeback. The start went well and then I was able to pick up places one at a time, with strong pace and good tyre management all the way.
"It was a solid Sprint race but most importantly, we are back in a good position for the race. After a difficult day yesterday, I want to thank all the tifosi for their support. It's such a positive boost. The weekend is still not over and I will give everything tomorrow to deliver a good result."
5th, Lando Norris (McLaren): "A tough Sprint! I just didn't have the pace to keep up with the guys in front, but we got the best result we could today and a few points, so I'm happy.
"We've got a good position for the race tomorrow, we can fight for some more points from P5. There's a few things to try to work on and figure out tonight, apart from that, I'm happy."
6th. Daniel Ricciardo (McLaren): "I didn't really know what to expect for the Sprint because we haven't really had dry running this weekend. With the issue in practice this morning, it was really just a 'go out and see what we got' situation.
"I felt like I had a good start, so I was looking ahead. I got Fernando [Alonso] early and was looking to get Kevin [Magnussen]. But by the time we got to the braking zone I ended up sandwiched between Kevin and Sergio [Perez] going into the braking zone and made we made contact. Luckily there was no damage.
"I tried to settle into a rhythm, and I think we struggled a bit towards the end with the tyres but other than that it was pretty good and we scored some points. I think we had a bit more to show, but I'm looking forward to tomorrow. It should be good."
7th. Valtteri Bottas (Alfa Romeo): "First of all, I want to thank the team who did a great job putting the car back together: there were so many things they had to change but they were brilliant and thankfully everything worked perfectly.
"I always trust the crew to get the car right, but they had a big task ahead of them and they delivered. Once we got racing, it was a fun afternoon with a lot of battling and some nice overtaking. I had a good, close fight with Fernando [Alonso] which was enjoyable, but overall it was an exciting Sprint for me.
"I had a bit of wheelspin at the start and I lost a few places, but after that my performance was strong. The car felt really good in terms of balance and we had good pace, so we should be in a strong position for tomorrow as well."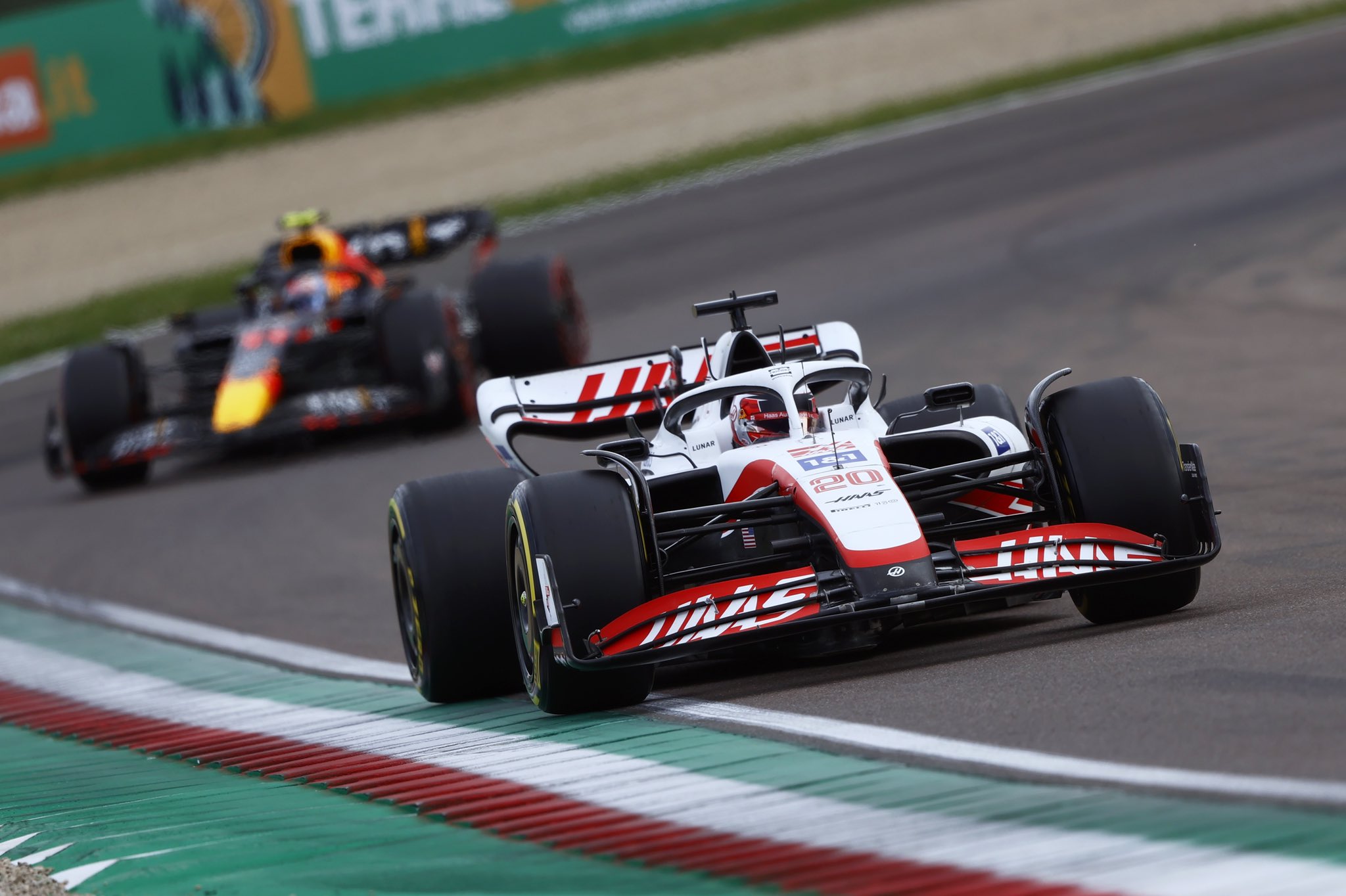 Magnussen: Everyone just seemed to pass me at the beginning of the race
8th. Kevin Magnussen (Haas): "We were super surprised to see everyone on softs for the Sprint, that's not what we wanted to see, but we judged that the softs would degrade too quickly so we went for the mediums.
"Everyone just seemed to pass me at the beginning of the race and then it kind of reset so we were on the same pace, at least with Ricciardo and Alonso. It's nice to get a point today and P8 – we would normally be happy with P8 in qualifying.
"So let's look at the positives. We're starting in the top 10 tomorrow for the main race and hopefully we'll be able to score some more points."
9th. Fernando Alonso (Alpine): "We weren't fast enough today, so it was a disappointing Sprint Qualifying for us. There was a lot of tyre degradation and our start was far from ideal, so we need to look into that tonight.
"We knew that it was going to be tough to keep Perez and Sainz behind with the pace they have, so we thought seventh was possibly a realistic position today. But, with the tyre graining, it was made harder to achieve this. We have tomorrow to recover and today is almost like a Q4!
"We will review our tyre selection and will see what the weather is going to do tomorrow, because it looks like there is a chance of rain. There's definitely more to play for."
10th. Mick Schumacher (Haas): "I think for us, we definitely chose the right tire. We had some good battles but unfortunately still not quite in the points, so hopefully for tomorrow, we will be in a position to do that.
"Obviously fighting with a lot of cars around us, one of them being Seb (Vettel) which was a great fight, was good fun. We'll have to wait to see how it is with higher fuel but everything we've learned from this morning was promising."
Riding onboard with both Leclerc and Verstappen for the race-winning overtake 🤯#ImolaGP #F1 pic.twitter.com/qrJLKeFZGD

— Formula 1 (@F1) April 23, 2022