Carlos Sainz admits to making a mistake during qualifying for the Sprint Race at Imola on Saturday, which is sure to have cost him a front or second row start at Ferrari's home track, which is part of this weekend's Emilia Romagna Grand Prix.
Ironically the shunt comes in the wake of Ferrari extending their deal with Sainz until the end of 2024, a true show of faith so with that as a background and the fact that they have a mega race-winning car in the F1-75,  quick in all conditions it is proving to be.
With Charles Leclerc extracting the most out of the package and already leading the 2022 Formula 1 championship standings by a handy margin ahead of Round 4 this weekend, Sainz has been overdriving as he chases his teammate. And with it come the errors.
Credit to Sainz for taking the mishap on the chin and not trying to deflect blame, an honesty that will endear him to his team: "Very frustrating. It is difficult for me to tell you because honestly, I made a mistake I wasn't expecting at all.
"It was a lap that I wasn't even pushing that hard, I just needed to put a banker in to react to the rain that was coming but it was not a lap that was on the limit at all. For some reason, I didn't have any warning that I was going to lose it and it just went."
Sainz: Tricky conditions for sure but not ideal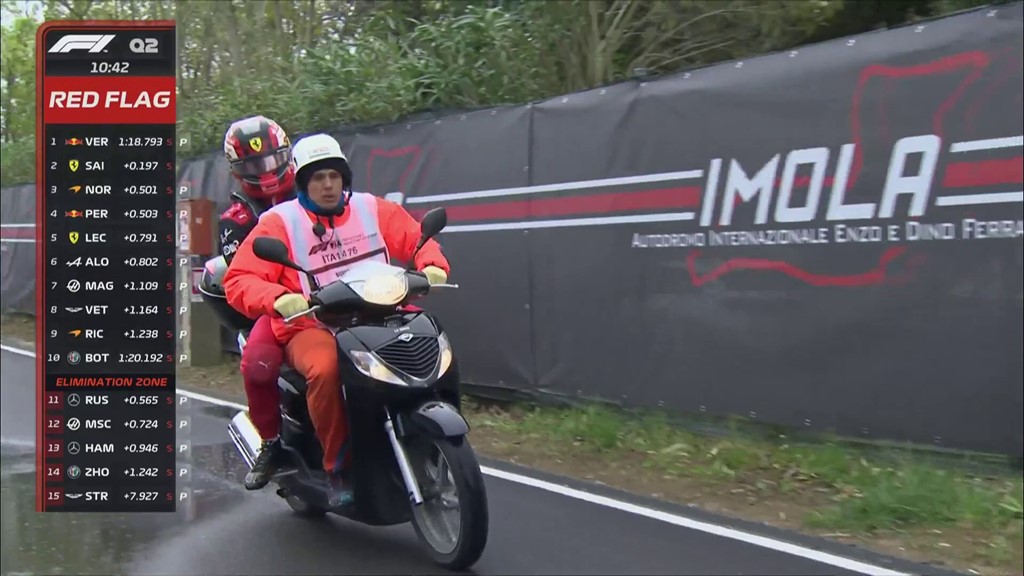 The #55 Ferrari driver added: I think I lost the rear entering the last corner. Maybe it was starting to rain, maybe it was the tyres were too hot after doing two consecutive push laps.
"I don't understand it because I don't think I was exposing myself to a mistake," explained Sainz to TV reporters after his curtailed session.
The train and stoppages did Ferrari few favours, apart from the Sainz incident, Leclerc was denied a proper shot at pole due to the flurry of red flags that marred the session at Autodromo Internazionale Enzo & Dino Ferrari today.
Last year's winner at Imola and Ferrari's surest rival for this year's F1 title, Max Verstappen will start the Sprint Race tomorrow from pole position, with Leclerc beside him and Sainz lining up tenth on the grid.
Thus the Spaniard has a whole lot of graft to do through a perilous midfield, thanks to the unforced error on the day, to set himself up for a good starting spot for Sunday's more important Grand Prix.
Agony for Sainz 😖#ImolaGP #F1 pic.twitter.com/6NtDKdsjdS

— Formula 1 (@F1) April 22, 2022