It has been nip and tuck so far this season between Ferrari duo Charles Leclerc and Carlos Sainz until the final moments of Q3 in Melbourne today, during qualifying for the 2022 Australian Grand Prix when the difference between the pair was the calm on one side of the garage, chaos on the other.
As the sun shone bright light through the dark long shadows engulfing Albert Park in the dying minutes of the 2022 Australian Grand Prix qualifying, Leclerc was mega.
The Ferrari driver and championship leader delivered a stonking lap to claim top spot start for Sunday's race; a spectacular effort from the Monegasque, over a quarter of a second up on his closest rival. Leclerc has yet to put a foot wrong this year.
By his own admission last year, with a less potent and winless package, he lost his way a little, allowing Sainz to get the upper hand by the end of 2021, and knew he had work to do in the offseason. And he did it, the results and performances show, and why he leads the championship. Again it was a five-star show by Charles on Saturday.
In stark contrast, Sainz who last year won many admirers as he settled in well and fast at Maranello. This year we expected a battle for supremacy within the team, we had it in the past two races and the Spaniard has been found wanting. His teammate leads the championship.
Leclerc reported after claiming his 11th F1 top spot start and second of the season: "It was a good lap. This time I took quite a bit of risk, especially in Turn 6 which was tricky. I wasn't really on it during qualifying in this corner, doing some mistakes.
"Then in the last Q3 lap I managed to make it right and, I think, I gained quite a bit on myself compared to the other laps. I'm very happy with the lap, and, especially on a track like this where I've always struggled in the past and also practice, even though we were competitive, it was very difficult to put a lap together.
"I made quite a few mistakes so I was working on consistency and managed to put that lap together in Q3. So, very, very happy, and it's good to be starting on pole. I've always struggled, even on the previous layout. I've always struggled with these types of corners that are not really 90 degrees, but it's just strange.
"And yes, always struggled with my driving style here, but I think it's also an overall thing for all the drivers; it's a very tricky track, very challenging track for us drivers, and it was even trickier with the sun. The sun in Q2, we just couldn't see anything; in Q3 it was a little bit better on the first run… the second run it wasn't. It was a very tricky session," added Leclerc.
Pole position #2 of 2022 for @Charles_Leclerc! ✌️#AusGP #F1 pic.twitter.com/rvhsAdaLoC

— Formula 1 (@F1) April 9, 2022
Sainz: Mattia knows I am angry because we shouldn't have these problems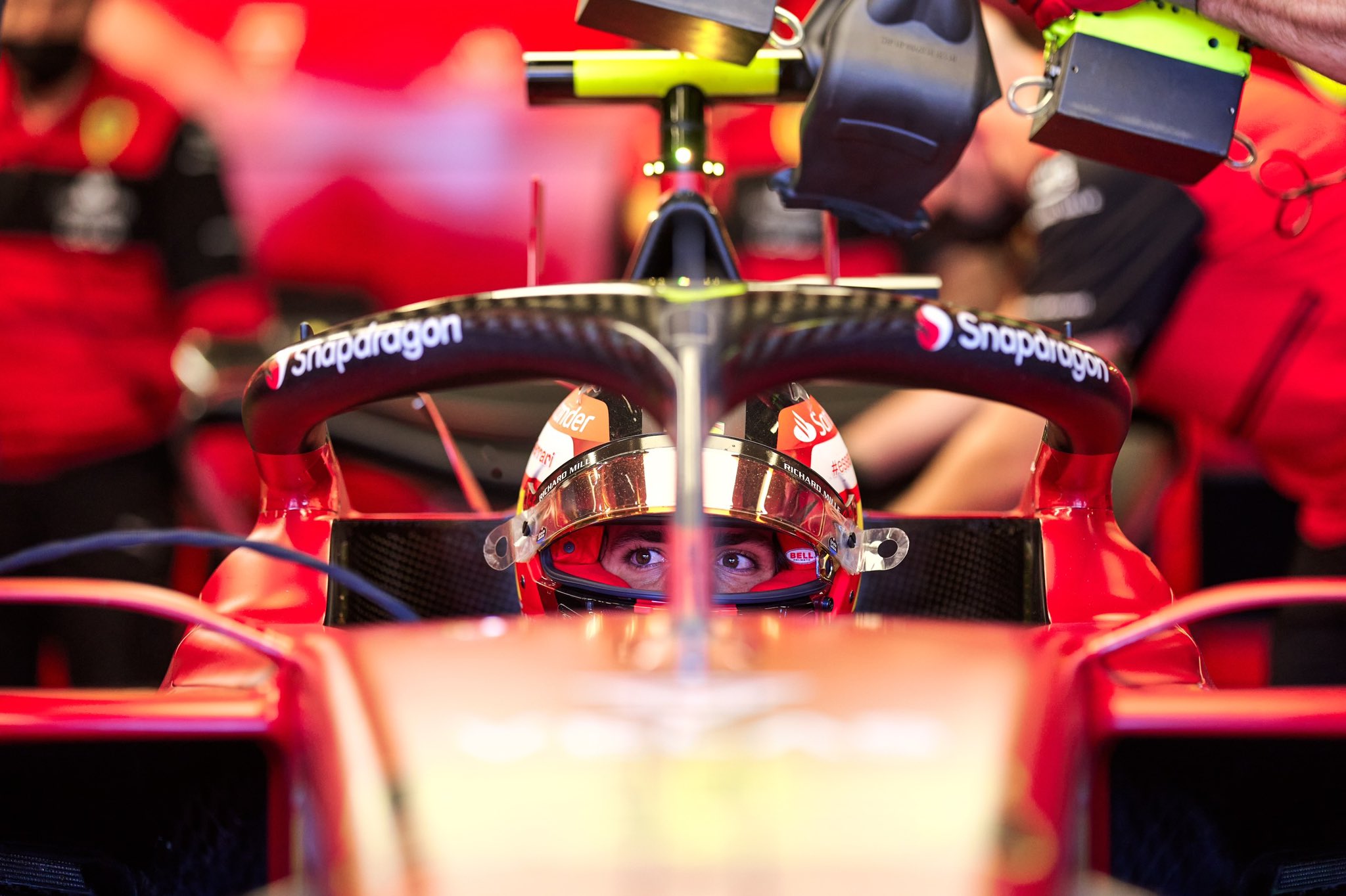 While Leclerc, like Max Verstappen and Lewis Hamilton, are in the elite Great Club of this generation, Sainz has been banging at the door but, even with it open, he has not walked into the room to join that marvellous trio. Days like this do him no favours.
The Spaniard's qualifying session unravelled Down Under; in Q1 there was a tenth in it with LEC edging SAI; then in Q2 it went SAI by a tenth and a bit over LEC with things looking good…
But when it really mattered on the final run, Sainz's side of the garage got it all wrong giving their charge little chance to challenge for pole position. Not helped by a mistake late on his final shot.
He paid the price, ninth on the timesheets when a front-row start was a certainty until it wasn't; of course, Sainz was livid: "The lap at the end, we had a problem with the starter, we couldn't start the car – we had to go out three minutes later to when we were planning to go out. I couldn't prepare the tyre, I couldn't warm up the tyre.
"Everything was rushed, and I had to do the lap on freezing tyres, and it was a horrible lap for us. Incredibly unlucky; everything that could have gone wrong in Q3 went wrong, especially because I was in the fight for pole position the whole quali."
Ferrari team boss Mattia Binotto comforted his driver because Carlos was not amused: "He knows I am angry because we shouldn't have these problems with the starter and it was just a disaster – and he knows today I was in the fight for pole, and everything that could have gone wrong for me went wrong.
"So, I am not going to be happy at all, even if anyone tells me to be happy, but tomorrow is another day and we will try and come back."
As for dealing with the setback, Sainz said: "A good night sleep and that's it," said Sainz. "I need to sleep. Until I go to sleep, I will be angry.
"I think we are going to try and recover as much as possible, but we are also honest with ourselves that without the fourth DRS zone, the circuit hasn't changed that much, and it will be tricky to overtake – but I will give it our best shot," declared Sainz.