With the 2022 Formula 1 season to begin on 20 March in Bahrain, Nigel Mansell is using the opportunity to sell a couple of his iconic F1 cars including the 'Senna-taxi' Williams and a Ferrari.
RM Sotheby's confirmed this week that British motorsport hero Nigel Mansell is selling five cars from his personal collection – including the 1991 Williams FW14 that became famous the world over for enabling one of the most enduring displays of sportsmanship in motor racing history.
The cars are being sold by Florida-based Mansell from his private museum on Jersey and will come under the hammer at RM Sotheby's May 14 Monaco sale, which will take place in the principality during the weekend of the historic grand prix.
The auction house says Mansell feels it is time for the prized cars, four of which he has owned for more than 30 years, to be given a new lease of life and has even offered to meet the respective buyers to advise on their future use.
The combined pre-sale estimates for the five cars range from a low of €4.1-million to a high of €8.2-million, the broad spread being accounted for by their unique combination of historic importance and 'motorsport royalty' provenance. 
And, on the basis that the FW14B 'Red Five' in which Mansell won five GPs during his 1992 championship-winning season fetched  €3.2-million (despite not belonging to the driver) the upper prediction is not unfeasible.
1991 Williams FW14-5
Chassis number 5, 'Red 5' and five wins – it's all in the number for FW14-5. Regarded as one of the most technically advanced F1 cars of its era, Adrian Newey's brilliant opening design for Williams featured advanced aerodynamics, innovative active suspension and the first sequential, semi-automatic gearbox ever used by the team.
Although it carried over the 3.5-litre V10 engine from the previous year's FW13B, the combination of Newey's genius and Mansell's rugged driving style proved difficult to beat, with the result that 'Il Leone' (as the Italians called him) achieved a remarkable five wins in this particular car during the 1991 season. 
He first took the chequered flag in it at Magny Cours on 1 July, following up a week later with a home win at the British Grand Prix where he crossed the line a staggering 42.293 seconds ahead of second-placed Gerhard Berger.
The winning streak in FW14-5 continued in Germany, Italy and Spain – where, on a damp and slippery Catalunya circuit, Mansell and Senna staged an epic wheel-to-wheel battle in which the sparks literally flew.
But it was back at the British Grand Prix where the everlasting image of FW14-5 was formed – when Mansell pulled over during his victory lap to give a 'taxi ride' to the beleaguered Senna, whose McLaren had run out of fuel on the 58th lap.
The setback didn't prevent Senna from winning his third world championship that year, but in recognition of Mansell's impressive second-place, Williams gifted him FW14-5 – albeit without its engine which had to be returned to Renault. The car is estimated to fetch 1.5 – 3m euros.
1989 Ferrari 640, chassis 109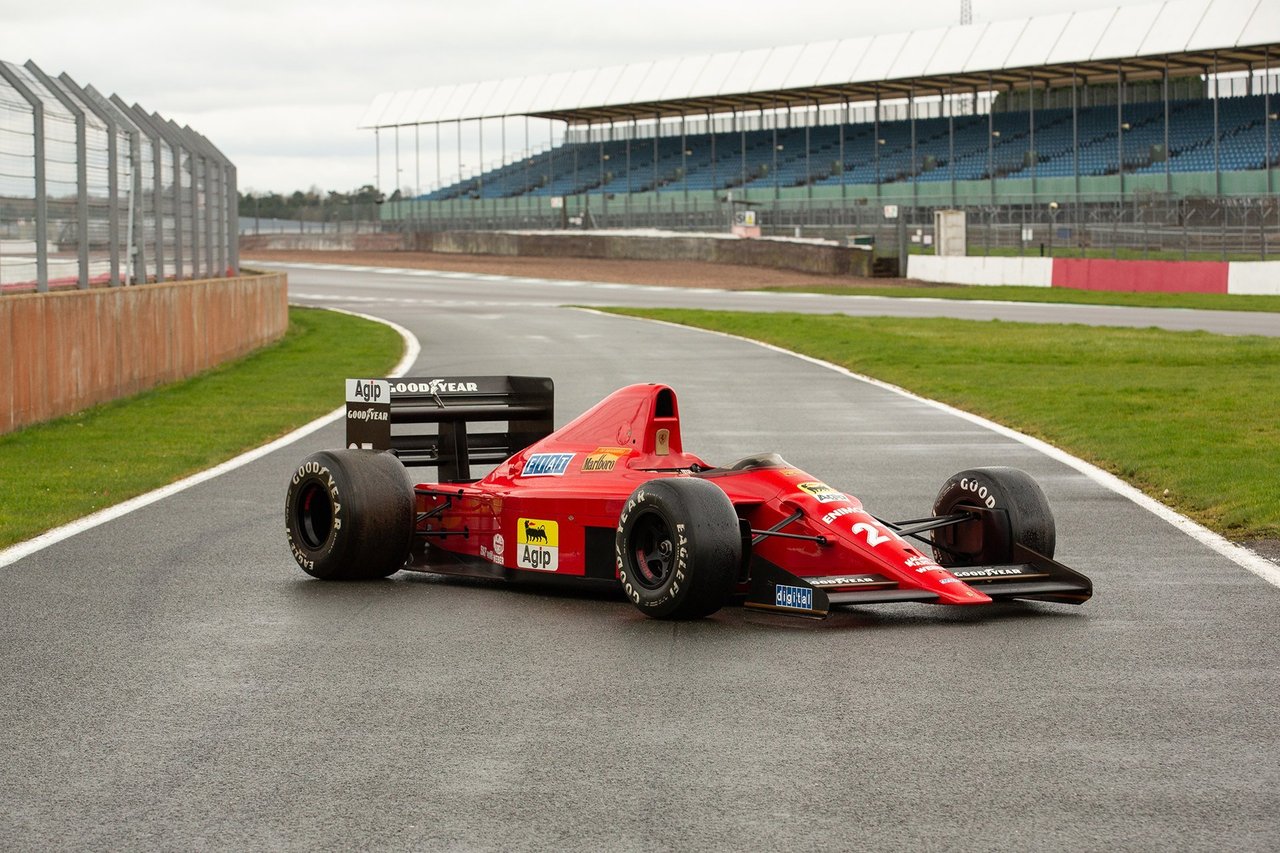 Described by RM Sotheby's as 'exactly as it was when driven by Mansell in the Australian GP at Adelaide in 1989', this Ferrari 640 was raced to victory by Mansell at both the Brazilian and Hungarian rounds, helping him to end the season in fourth place and earning the Scuderia third in the constructor's championship.
Having moved to Ferrari in 1988 to replace Michele Alboreto after his first, three-year stint with Williams, Mansell proved to be the very last team member to have been personally recruited by Enzo Ferrari himself – an occasion that Il Commendatore marked by presenting the British driver with an F40 as a 'welcome gift'.
The Tifosi embraced Mansell wholeheartedly and dubbed him 'Il Leone' as a result of his courageous approach to driving the V-12 engined 640, which was the first Ferrari F1 car to be equipped with the game-changing, soon-to-be-ubiquitous paddle shift, semi-automatic gearbox.
Mansell quickly got to grips with the new 640, setting a new record at the Fiorano circuit in a January practice session prior to chassis 109 becoming the first Ferrari team car to be unveiled to the press without Enzo Ferrari being present – he had died six months earlier.
Chassis 109 proved to be a key element of what was a tumultuous F1 season for Mansell, with the manufacturer presenting it to him directly after the final race in Adelaide, from where it was shipped to his personal collection (then located in England).
The car is not believed to have run for 32 years but is 100 per cent complete and ready to be preserved in its 'last race' state – or recommissioned for the track. The Ferrari is estimated to sell for anything between $2.5-million to $5-million euros.
Other Mansell owned cars up for sale are: a 2005 GP Masters Reynard 2KI, a 1991 Birkin 7 Sprint, and a 1992 iC Modulo.