The final curtain raiser is upon us as Bahrain International Circuit hosts the final three days of 2021 Formula 1 preseason testing from Thursday to Saturday, before the season-opening Grand Prix at the same venue a week later, on 20 March.
Barcelona can be filed away as a three-day countdown as teams now start to unleash the serious weaponry in the build-up to Bahrain Grand Prix qualifying in just over a week.
Thankfully, unlike Barcelona last month, for Bahrain F1 confirmed there will be extensive live coverage, live timing, reaction and analysis from all three days in Bahrain. F1 TV subscribers can watch the sessions live – along with reactions and features – on the streaming platform.
The three-day timetable is as follows:
| Date | Session | Time (GMT) |
| --- | --- | --- |
| Thursday 10 March | Day 1 – Morning session | 07:00-11:00 |
| Thursday 10 March | Day 1 – Afternoon session | 12:00-16:00 |
| Friday 11 March | Day 2 – Morning session | 07:00-11:00 |
| Friday 11 March | Day 2 – Afternoon session | 12:00-16:00 |
| Saturday 12 March | Day 3 – Morning session | 07:00-11:00 |
| Saturday 12 March | Day 3 – Afternoon session | 12:00-16:00 |
Bahrain F1 Testing Drivers' Schedule:
On the eve of F1 testing in Bahrain, most teams have yet to confirm their drivers' schedules.
(The schedule below will be updated as information becomes available.)
Team
10 March
11 March
12 March
Mercedes
TBC
TBC
TBC
Red Bull
Sergio Perez
Max Verstappen
Sergio Perez (AM)
Max Verstappen (PM)
Ferrari
TBC
TBC
TBC
McLaren
TBC
TBC
TBC
Alpine
TBC
TBC
TBC
AlphaTauri
TBC
TBC
TBC
Aston Martin
Sebastian Vettel (AM)
Lance Stroll (PM)
Sebastian Vettel (AM)
Lance Stroll (PM)
Lance Stroll (AM)
Sebastian Vettel (PM)
Williams
Alexander Albon
Nicholas Latifi
Nicholas Latifi (AM)
Alexander Albon (PM)
Alfa Romeo
Zhou Guanyu (AM)
Valtteri Bottas (PM)
Valtteri Bottas (AM)
Zhou Guanyu (PM)
Zhou Guanyu (AM)
Valtteri Bottas (PM)
Haas
Pietro Fittipaldi (PM)
Mick Schumacher (AM)
Kevin Magnussen (PM)
Kevin Magnussen (AM)
Mick Schumacher (PM)
What can we expect in the Bahrain F1 Testing this week?
As mentioned, this is the last chance for teams to test their firepower, hone reliability with an eye firmly on the opening race on 20 March.
Mercedes have tongues wadding with a reported radical 'no sidepods' car that will no doubt have just about every camera focussed on it with Lewis Hamilton and George Russell putting the W13 through its paces over the three days.
With every box ticked in Spain, the pair ending the test first and second, the World Champs are already tipped as favourites, even with the barrage of new rules for this season and beyond.
In the other corner, Red Bull's World Champion Max Verstappen told all that the RB18 seen in Barcelona will be very different to what Adrian Newey's tech team will unleash during the test with Sergio Perez on duty for the first day, Verstappen on day two and the pair sharing duties on the final day.
Talk from Ferrari has been bullish, the Reds confident their two years in making package will propel them to bigger things in 2022. But talk has always been cheap at Maranello around this time of the year.
Having said that, it is high time Ferrari positively surprised the Tifosi and this year may well be the one for their drivers Charles Leclerc and Carlos Sainz to shine bright. F1 so badly needs them to really pop up with a good car in Bahrain and keep it that way until the flag falls at the end of the year.
Have McLaren and Ferrari closed the gap to Mercedes and Red Bull?
Keen to stop Ferrari in their tracks will be their nemesis, McLaren, behind the Scuderia the second most successful team in Formula 1. But pedigree counts for zilch when you are not winning which they had not done for almost a decade until the Daniel Ricciardo and Lando Norris one-two on that famous day at Monza last year.
McLaren needs more of that Monza Magic this year, to bring their A-Game every weekend. This final F1 Test will provide some indication of a big question; Can a customer team like McLaren actually go toe-to-toe with a factory team, in this case, Mercedes, and beat them? Time will tell.
Beyond the top four teams, Alpine and Aston Martin will be looking to be better than they were in Spain.
Fernando Alonso says all is well with the 2022 package and the wholesale new management that has greeted him this year at the immensely revamped French team.
Again time will tell if indeed they have a good piece of kit for the Spaniard or another "Formula 2 engine" with the last day blowout in Barcelona sure to be a concern.
Aston Martin need a good second season in the top flight, last year was underwhelming for them to say the least and if the car is another lemon maybe Sebastian Vettel walks.
Watch the German's body language in Bahrain this week, also teammate Lance Stoll – they tend to wear their hearts on their sleeves.
Others to watch this week in Bahrain F1 Testing are the AlphaTauri lads
Pierre Gasly was content with the first edition of the AT03 and Yuki Tsunoda is looking to capitalise on his F1 experience using the new 18-inch tyres. Also, as the baby Bulls, watch out for crossover…
Alfa Romeo's all-new line-up of Valtteri Bottas and Guanyu Zhou did not do as much running as they would have wanted in Spain during the last test, they will be hoping for more mileage these next three days.
Alex Albon has slotted in nicely alongside Nicolas Latifi at Williams who seem to have a better car than they had last year, but again only time will tell if this is indeed the case.
Finally Haas… one can only pity the beleaguered backmarkers who have had a torrid week amid the Nikita Mazepin and Uralkali saga which has severely destabilised the start of their season. They are set to miss day one in Bahrain before reserve (and Mazepin replacement for now) Pietro Fittipaldi and Mick Schumacher put the VF22 through its paces with newly announced teammate Kevin Magnussen returning.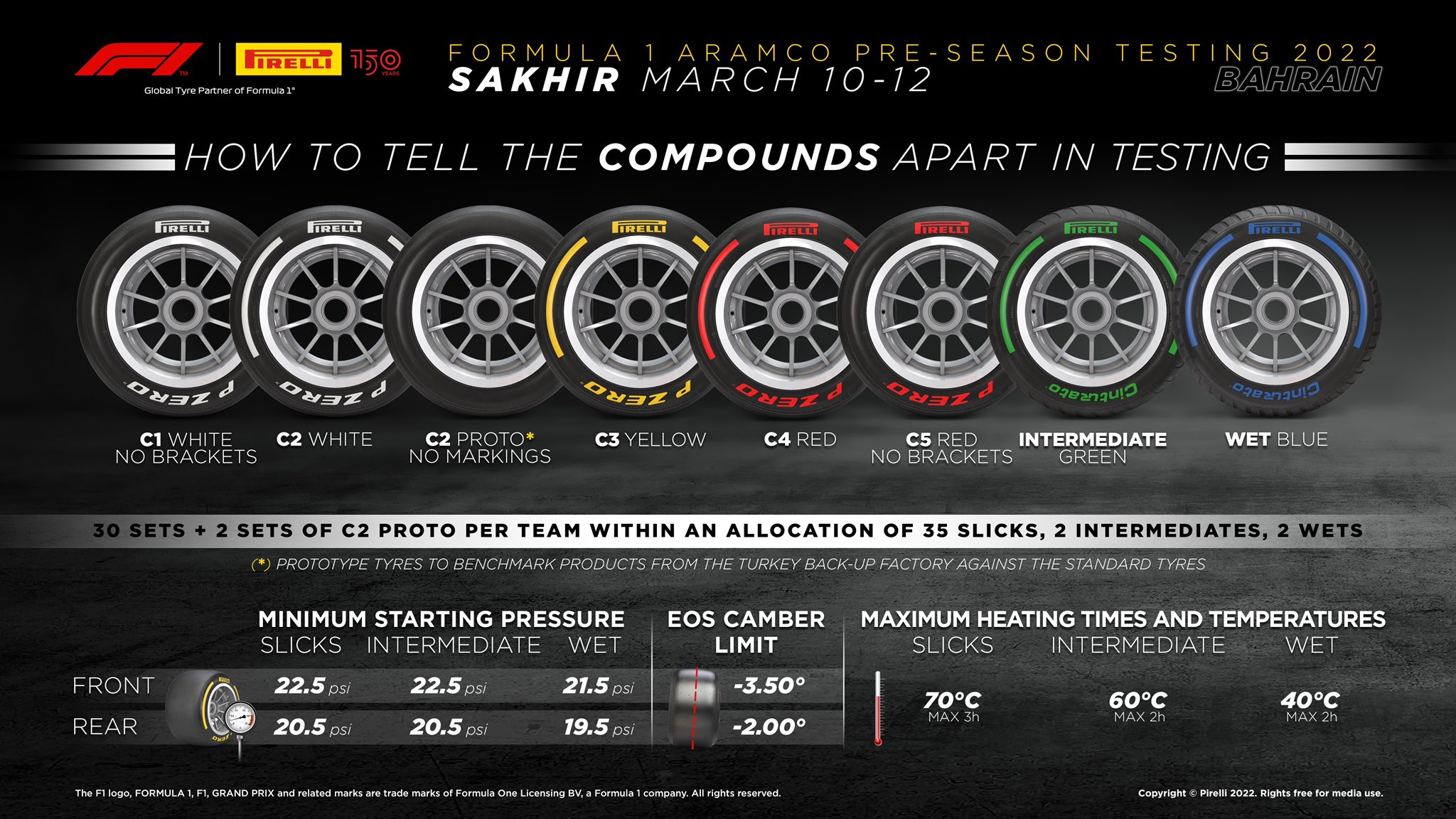 2021 Bahrain F1 Testing Times