Max Verstappen and Lewis Hamilton will start the United States Grand Prix from the front row with the Red Bull snatching pole from the Mercedes driver in their last shot in qualifying Q3.
Thus the stage is set for an enthralling Round 17 of the 2021 Formula 1 World Championship, at Circuit of the Americas (COTA) in Austin, Texas tomorrow with the two title rivals sharing the front row and the prospect of an 'anything can happen' shootout into Turn 1.
Today, Verstappen stole it from his teammate Sergio Perez who has set the pace until when it matters. In their final runs, Hamilton went top of the timing screens first before Verstappen toppled him to claim top spot start for the race on Sunday. Perez had to settle for third.
Notably, a huge and enthusiastic crowd at COTA cheered every leaderboard change as the drivers crossed the line in what might be the race that really wins the hearts of American motorsport fans. No surprise if tomorrow's race is the most-watched Grand Prix in the country's history of following the sport.
The interest has been immense Stateside and F1 did not disappoint with an entertaining qualifying session, eventually 'owned' by championship leader Verstappen as Red Bull gradually found pace as the weekend progressed.
It's @Max33Verstappen's ninth pole of 2021!#USGP 🇺🇸 #F1 pic.twitter.com/gp7RIlrOaf

— Formula 1 (@F1) October 23, 2021
Verstappen was pleased after his 12th pole in F1: "It started drizzling at the end of my lap and I wasn't sure I was going to hang on to it but it's great to get pole. To be P1 and P3 as a team I think was a very strong performance. We just hope to have a good start and then work together as a team to get the best possible result."
Hamilton was a couple of tenths shy on a day Mercedes was expected to have more firepower on the evidence of what they unleashed in FP1 on Friday. However, COTA is a venue where overtaking can happen, but the attrition will be high.
Also, how Max and Lewis handle the tricky uphill Turn 1 left-hander could determine the outcome of the race. The pair have not been shy to rub wheels and even crash into each other. Watch this space!
Seeking his sixth victory at COTA, Hamilton summed up his session: "I gave it everything today – it was a bit of a struggle through qualifying. I think from P1 onwards we kind of fell back a little bit and those guys [Red Bull] were incredibly quick.
"I was happy with my last lap, of course, there's always areas we can improve but I think that was pretty much everything we had. We'll just work as hard as we can tomorrow. My mindset is to win the race," declared the seven-time F1 World Champion.
Third-placed Perez came close to his first pole position and summed up: "We were really close on that lap. I think we did a great job as a team. Unfortunately, my final lap wasn't as good throughout the lap. I was good in the first sector but I wasn't able to keep it up. I think the rain hit me a bit too hard in the final sector.
"There were spots of rain and I lost a bit of grip in two corners and I could see my delta dropping off. Tomorrow is a very long race, that's why qualifying doesn't really matter. There will be a lot of degradation on the tyres but looking forward to it," added the Mexican veteran.
Valtteri Bottas in the other Mercedes was fourth fastest but will drop five places due to engine penalties.
Best of the Rest, and over six tenths down on the top time were the Ferrari duo, with Charles Leclerc edging teammate Carlos Sainz, the pair fifth and sixth respectively.
The Reds just ahead of third-place F1 constructors' championship rivals McLaren, whose Daniel Ricciardo was seventh and Lando Norris eighth.
In ninth and tenth, AlphaTauri's Pierre Gasly and Yuki Tsunoda made it all four Honda-powered cars in the top ten.
Drivers with penalties:
Bottas, Mercedes – 5 place penalty
Vettel, Aston Martin – Back of the grid
Alonso, Alpine – Back of the grid
Russell, Williams – Back of the grid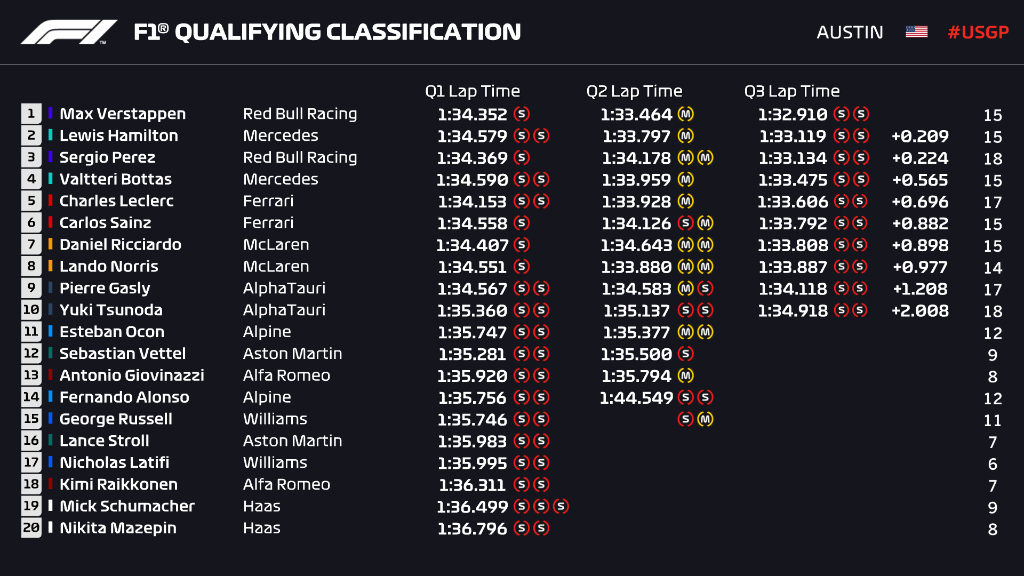 Austin Qualifying Q2
Both Alpines knocked out along with Vettel, Giovinazzi and Russell, the Williams driver not bothering to do a lap as he is destined for a back of the grid start due to engine penalties. Same for Vettel.
❌ Out of Q2 ❌
11 – Ocon
12 – Vettel (📸)
13 – Giovinazzi
14 – Alonso
15 – Russell#USGP 🇺🇸 #F1 pic.twitter.com/C8XE0tU9j4
— Formula 1 (@F1) October 23, 2021
Austin Qualifying Q1
The Haas rookies were anchored to the bottom of the timing screens, as was veteran Kimi Raikkonen and Nicholas Latifi. The biggest scalp was Lance Stroll who never found the sweetspot in the session.
❌ OUT OF Q1 ❌
16 – Stroll
17 – Latifi
18 – Raikkonen
19 – Schumacher (📸)
20 – Mazepin#USGP 🇺🇸 #F1 pic.twitter.com/rP4d4G0H5E
— Formula 1 (@F1) October 23, 2021