Spa-Francorchamps is perilous on any given race day but, in the wet, it is arguably one of the most challenging venues on the Formula 1 calendar, on Saturday morning Max Verstappen was comfortably fastest in the tricky conditions.
Teammate Sergio Perez was next best in FP3 for the 2021 Belgian Grand Prix, suggesting the RB16B is very handy in the conditions which are expected to last the entire day, meaning a wet or damp qualifying later this afternoon.
The session started with the Pirelli wets required. The early lap times were just under two minutes with Max Verstappen fastest of all by nearly a second at the halfway mark, followed by Lewis Hamilton and Sergio Perez as the track dried briefly before drizzle fell for the remaining of the hour session.
Verstappen's effort of 1:56.924s remained the top time with teammate Perez 0.947s adrift and Hamilton a full second down on his title rival. All setting their best laps around the same time early on.
Lando Norris was fourth fastest in the McLaren, a second and a half down on the top time but a massive two seconds up on Daniel Ricciardo down in 13th, his woes continue.
Hungarian Grand Prix winner Esteban Ocon was fifth fastest in the Alpine, with Hungaroring loser Lance Stroll sixth for Aston Martin. Teammate Sebastian Vettel was eighth.
The green cars were split on the timesheets by AlphaTauri's Pierre Gasly in seventh. Rookie teammate Yuki Tsunoda was lacking two seconds or so and ended 17th, still finding his way around the venue in not ideal conditions.
George Russell again showed his class by ending ninth, faster than Valtteri Bottas (11th and 1.8s down on HAM) and half a second quicker than his Williams teammate Nicholas Latifi in 12th.
Fernando Alonso was a star of the show with his helmet cam delivering astounding images as he powered the Alpine fearlessly around Spa – for fans it cannot get more immersive than that! The Spaniard ended the session 10th, seven-tenths shy of teammate Ocon.
Ferrari were absolutely nowhere with Carlos Sainz and Charles Leclerc in 14th and 16th respectively, the finicky SF21 which no one understands is clearly not a friend of the wet.
On a positive note for the Reds, their young ace Mick Schumacher – enjoying a milestone packed and emotional weekend at Spa, his first as an F1 driver – was 15th in the Haas, half a second up on teammate Nikita Mazepin.
Most teams are predicting rain will persist throughout Sunday too, but guessing the moody Ardennes weather is always a gamble…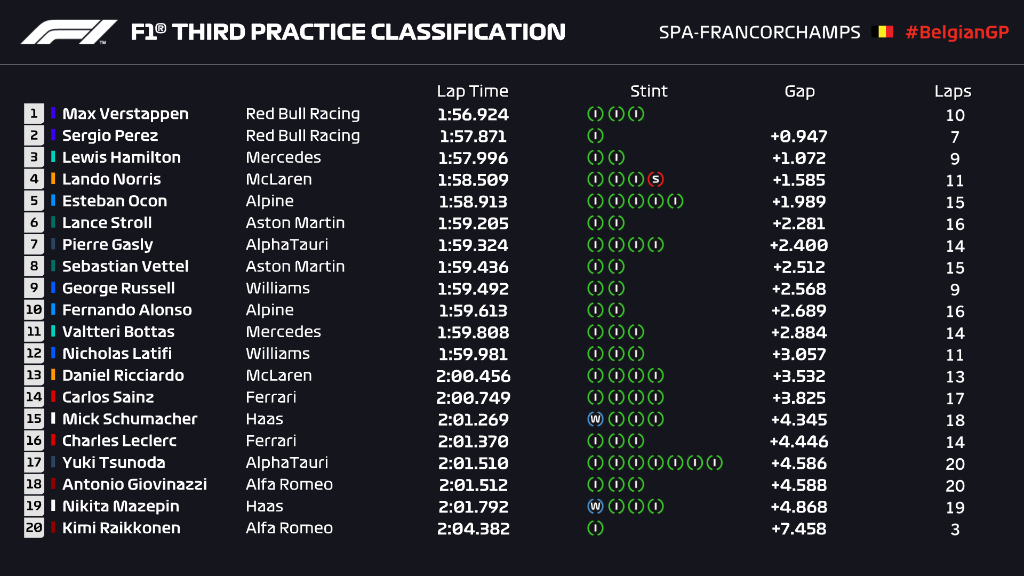 Qualifying timezones: