Summer break ends as Formula 1 kicks into high gear with the first race of a triple-header this weekend at Spa-Francorchamps kicking off the second phase of the tightly contested season.
Here's what's happening heading to the Belgian Grand Prix, Round 12 of the 2021 F1 world championship.
Race Information
2021 Belgian Grand Prix, The Circuit de Spa-Francorchamps
Date: 27 – 29 August 2021
Circuit Length: 7.004km
Race Distance: 308.052km
Number of laps: 44
Official Lap Record: 1:46.286 | Valtteri Bottas | Mercedes | 2018
Turns: 19 (10 left, 9 right)
DRS Zones: 2
Tyre Compounds: C2-Hard | C3-Medium | C4-Soft [Mid-Range]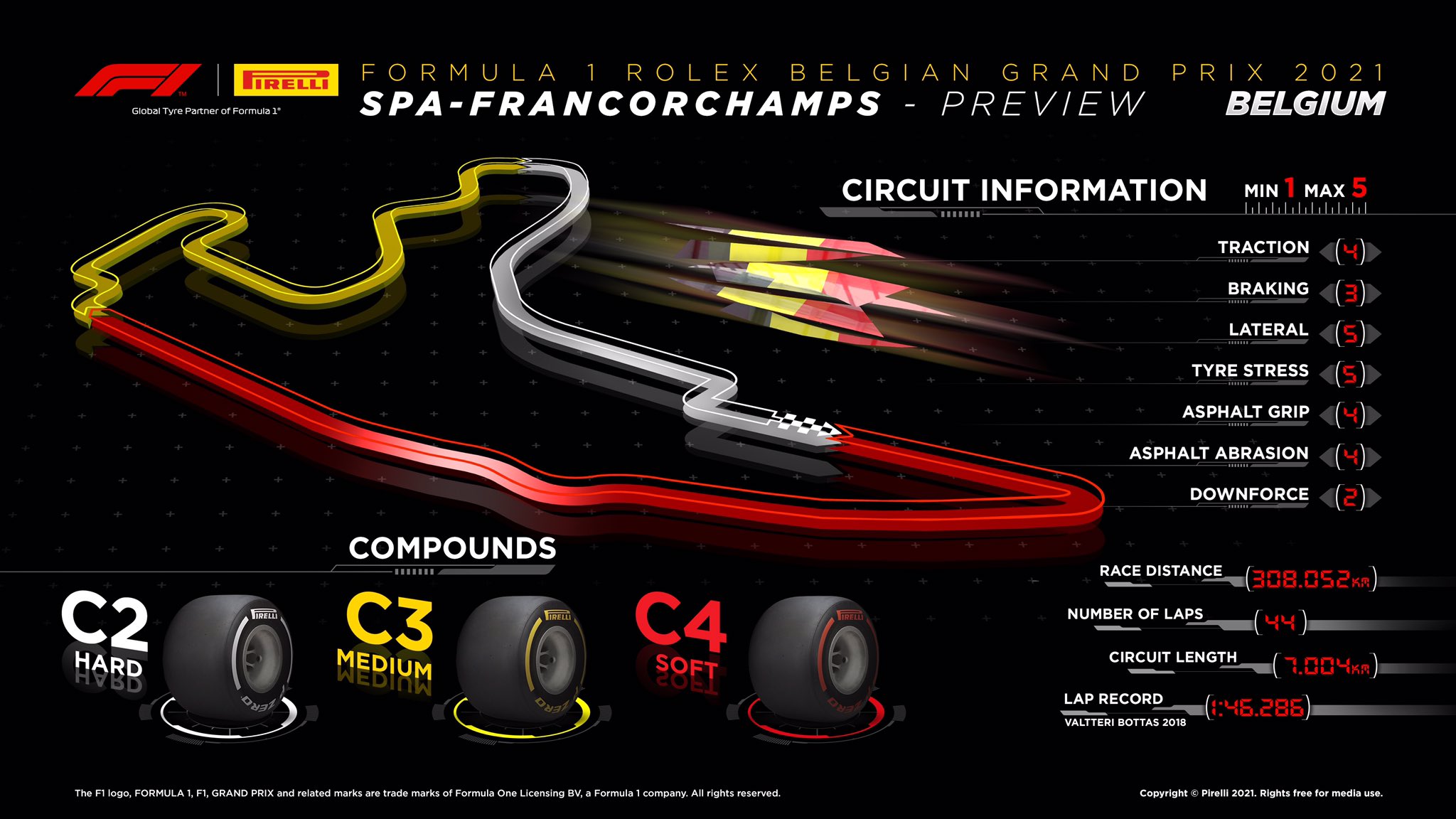 Top Stories
Low ambient temperature and showers. An interesting weekend ahead in Belgium.
IndyCar journalist Robin Miller dies at age 71.
Alpine Confirm Fernando Alonso for 2022.
Richard Cregan appointed as CEO of the Miami Grand Prix
A "Covid Safe Ticket" mandatory for the Belgian GP attendance (not required for children under 12 years old). Travelers outside of the EU, Switzerland, and the UK to be analyzed on their individual situation.
Toyota claims fourth consecutive victory at the 24 Hours of Le Mans.
Mercedes join Audi and BMW in Formula E exit.
Ricciardo starting his 200th GP this weekend in Belgium
Japanese GP cancelled joining Canada, Australia and Singapore.
Rumors swirling of Qatar's Losail Circuit joining this years' F1 calendar.
Ex-F1 driver Alexander Albon claims maiden win in DTM.
Top Quotes
Valtteri Bottas [Mercedes] "Lewis has told me that he wants me to remain his teammate. We get on well. The fact is that drivers have little influence on it. Another, larger party will eventually make a decision."
Toto Wolff [Mercedes] "We have to choose between the stability of Valtteri and the talent of George, where the future lies. I want the topic settled in September so both of them can position themselves properly for the coming season."
Max Verstappen [Red Bull] "It was nice to have a few weeks off to rest a bit and of course it was cool to spend some time on the jet skis, it's really nice to be on the water! It's a lot of races in a row but it's the same for everyone and there are a lot of nice tracks coming up to look forward to."
Lewis Hamilton [Mercedes] "I am devastated by what is happening in the world. I've been away from my phone and the world in general for a few days to regenerate, I'm really upset."
[Honda] "The 2021 season is now heading for an exciting climax and we will be giving our all, fighting hard all the way to achieve our goal of winning the championships as this Honda Formula 1 project comes to an end and we hope our fans will continue to support us."
Good morning everyone ! Lets get this #BelgianGP #f1 started ! pic.twitter.com/CiJx9RScc1

— Spa-Francorchamps (@circuitspa) August 27, 2021
Memorable Hungarian Grand Prix Moments
Mark Webber Shoey | 2016
Nico Rosberg v. Lewis Hamilton | 2014
Mark Webber forces Fernando Alonso to yield at Eau Rouge | 2012
Romain Grosjean gets a one-race ban | 2012
Lewis Hamilton v. Kamui Kobayashi 2011
Giancarlo Fisichella earns Force India's one and only pole position and best finish of second position | 2009
"Gaining an advantage" | 2008
Michael Schumacher dumped by Takumo Sato | 2005
Jenson Button's massive right rear Michelin tyre failure at the end of the Kemmel Straight | 2004
Martin Brundle – "This Bizarre thing going on at the front of the grid, Ralf Schumacher is still up on jacks" | 2001
Mika Hakkinen supreme pass on Michael Schumacher | 2000
BAR's $6 million dollar all-nighter | 1999
Biggest crash in F1 history | 1998
Damon Hill leads a Jordon one-two home in the wet | 1998
Ayrton Senna v. Gerhard Berger Birthday Shenanigans | 1993
Ayrton Senna saves Erik Comas | 1992
Michael Schumacher joins the F1 grid | 1991
Race Stewards
Garry Connolley | Chairman of Australian institute of motor sport safety
Felix Holter | FIA international stewards panel member
Derek Warwick | Former F1 Driver, Vice-President of the FIA drivers' commission
Yves Bacquelaine | Permanent international WEC steward
2020 Belgian Grand Prix Results
Lewis Hamilton | Mercedes | 1:24:08.761
Valtteri Bottas | Mercedes | +8.448
Max Verstappen | Red Bull Racing Honda | +15.455
Daniel Ricciardo | Renault | +18.877
Esteban Ocon | Renault | +40.650
Alexander Albon | Red Bull Racing Honda | +42.712
Lando Norris | McLaren Renault | +43.774
Pierre Gasly | AlphaTauri Honda | +47.371
Lance Stroll | Racing Point Mercedes | +52.603
Sergio Perez | Racing Point Mercedes | +53.179
Daniil Kvyat | AlphaTauri Honda | +70.200
Kimi Raikkonen | Alfa Romeo Ferrari | +71.504
Sebastian Vettel | Ferrari | +72.894
Charles Leclerc | Ferrari | +74.920
Romain Grosjean | Haas Ferrari | +76.793
Nicholas Latifi | Williams Mercedes | +77.795
Kevin Magnussen | Haas Ferrari | +85.540
Antonio Giovinazzi | Alfa Romeo Ferrari | DNF
George Russell | Williams Mercedes | DNF
Carlos Sainz | McLaren Renault | DNF
Belgian Grand Prix Previous Five Winners
2020 Lewis Hamilton | Mercedes
2019 Charles Leclerc | Ferrari
2018 Sebastian Vettel | Ferrari
2017 Lewis Hamilton | Mercedes
2016 Nico Rosberg | Mercedes
Previously in F1: 2021 Hungarian Grand Prix
Top Five
Esteban Ocon | Alpine | 2:04:43.199
Lewis Hamilton | Mercedes | +2.736
Carlos Sainz | Ferrari | +15.018
Fernanado Alonso | Alpine | +15.651
Pierre Gasly | AlphaTauri Honda | +63.614
Best Driver
Best Team
"UH-OH"s
Valtteri Bottas
Lewis Hamilton
Lance Stroll
"Way To Go"s
Esteban Ocon
Fernando Alonso
Carlos Sainz
2021 Drivers' Championship Standings
195 | Lewis Hamilton
187 | Max Verstappen | -8
113 | Lando Norris | -82
108 | Valtteri Bottas | -87
104 | Sergio Perez | -91
83 | Carlos Sainz | -112
80 | Charles Leclerc | -115
50 | Pierre Gasly | -145
50 | Daniel Ricciardo | -145
39 | Esteban Ocon | -156
38 | Fernando Alonso | -157
30 | Sebastian Vettel | -165
18 | Yuki Tsunoda | -177
18 | Lance Stroll | -177
6 | Nicholas Latifi | -189
4 | George Russell | -191
2 | Kimi Raikkonen | -193
1 | Antonio Giovinazzi | -195
0 | Mick Schumacher  | -195
0 | Nikita Mazepin | -195
2021 Constructors' Championship Standings
303 | Mercedes
291 | Red Bull Honda | -12
163 | Ferrari | -140
163 | McLaren Mercedes | -140
77 | Alpine | -226
68 | AlphaTauri Honda | -235
 48 | Aston Martin Mercedes | -255
 10 | Williams Mercedes | -293
3  | Alfa Romeo Ferrari | -300
0  | Haas Ferrari | -303
Car 2⃣2⃣ prep 🧑‍🔧@yukitsunoda07 #PoweredByHonda pic.twitter.com/KsH1E8xKAK

— Honda Racing F1 (@HondaRacingF1) August 26, 2021