Lewis Hamilton powered from pole position to claim a lights to take victory at the 2020 Spanish Grand Prix, registering yet another dominant victory to increase his championship points standings after six rounds.
The Briton was hardly challenged as he controlled the 66-lap race at Circuit de Barcelona-Catalunya to take his 88th grand prix victory by 24 seconds.
With nothing to lose Mercedes bolted on fresh rubber for Bottas who proceeded to set the fastest lap and claim the point for his efforts.
But the day belonged to his teammate and with it came F1 win number 88 and extends his 2020 world championship lead from 30 before the race to 37 this afternoon.
Hamilton said in parc ferme, "I was in a daze out there. It felt really good. It was a fantastic effort from the team. It was a surprise because we had that problem with the tyres last weekend, but we seem to have understood it. I didn't even know it was the last lap I was so zoned in. I thought for a little bit about going for a one-stop strategy."
Red Bull's Max Verstappen, who reverted to a previous PU Package before the race, chased gamely all afternoon after blitzing into second off the line and tucking in behind Hamilton, and that's the way it remained.
The Dutchman was vocally opposed to his team's strategy to focus on Mercedes which appeared to frustrate him, and he made it known as he tends to do.
He said afterwards, "It was good to split the two Mercedes. I didn't have the pace like Lewis but I'm happy with second. The start was crucial to get ahead of Valtteri, then I was just trying to go at my own pace.
"I expect more. After the second stint, I was happy with my tyres and Valtteri wasn't catching, so I felt comfortable. We keep trying to improve but [Mercedes] keep pushing, so we'll see," added the Red Bull driver.
Bottas fluffed his lines at the start and compromised what should have been a Mercedes one-two. Incredibly Hamilton lapped everyone barring second place and third place, such was his dominance. The Finn recovered to finish third.
He summed up his afternoon, "The start was the key point, I lost a position and then had to push hard to make ground and suffered the tyre condition. In stint two I was behind Max and everyone knows how hard that it. Off the start, Lewis got away and I did not have a tow like those behind."
Racing Point were Best of the Rest all weekend, they carried their qualifying form into the race with Sergio Perez crossing the line fourth and Lance Stroll in fifth. Incredibly, the Mexican managed to do the race with one pit stop. The five seconds penalty meant the pair swapped positions in the final standings.
Carlos Sainz did a top job for McLaren, clearly inspired by his new chassis, the Spaniard slogged hard to finish sixth. Teammate Lando Norris endured one of his toughest races, but did well to salvage the final point with tenth place.
The misery continued for Ferrari, this time around Charles Leclerc had a DNF when his car snapped on him late in the race, it was a surprise moment and he sounded bewildered when he reported he would park the car on the next lap.
It was left to Sebastian Vettel to fly the flag, and the German moaned a few time on his way to sixth place, also making the one-stop strategy work; apart from Perez no one else scored points on the one-stopper. The German was voted 'Driver of the Day' by fans.
Alex Albon's struggles continued, the Red Bull driver again sadly lacking sorely relative to his teammate, with seventh the best he could do. The Thai driver toiling at the wrong end of the midpack and unable to extract what Max can in the sister car. He is out at sea with no lifebuoy on the horizon.
In contrast, Pierre Gasly was virtually faultless in the AlphaTauri again shone to take ninth place and provide the Red Bull management with another excuse to give him a shot in the senior team again. Daniil Kvyat was 12th.
Notably, it was a disappointing day for Renault, while their customers bagged a double-points finish, Daniel Ricciardo and Esteban Ocon trundling home in 11th and 13th respectively, both on a one-stop strategy.
Final word to Hamilton's boss Toto Wolff, "Lewis was totally under control. The weakness for Valtteri today was the start, he caught up to Max Verstappen but he couldn't overtake as the soft tyres didn't work as expected."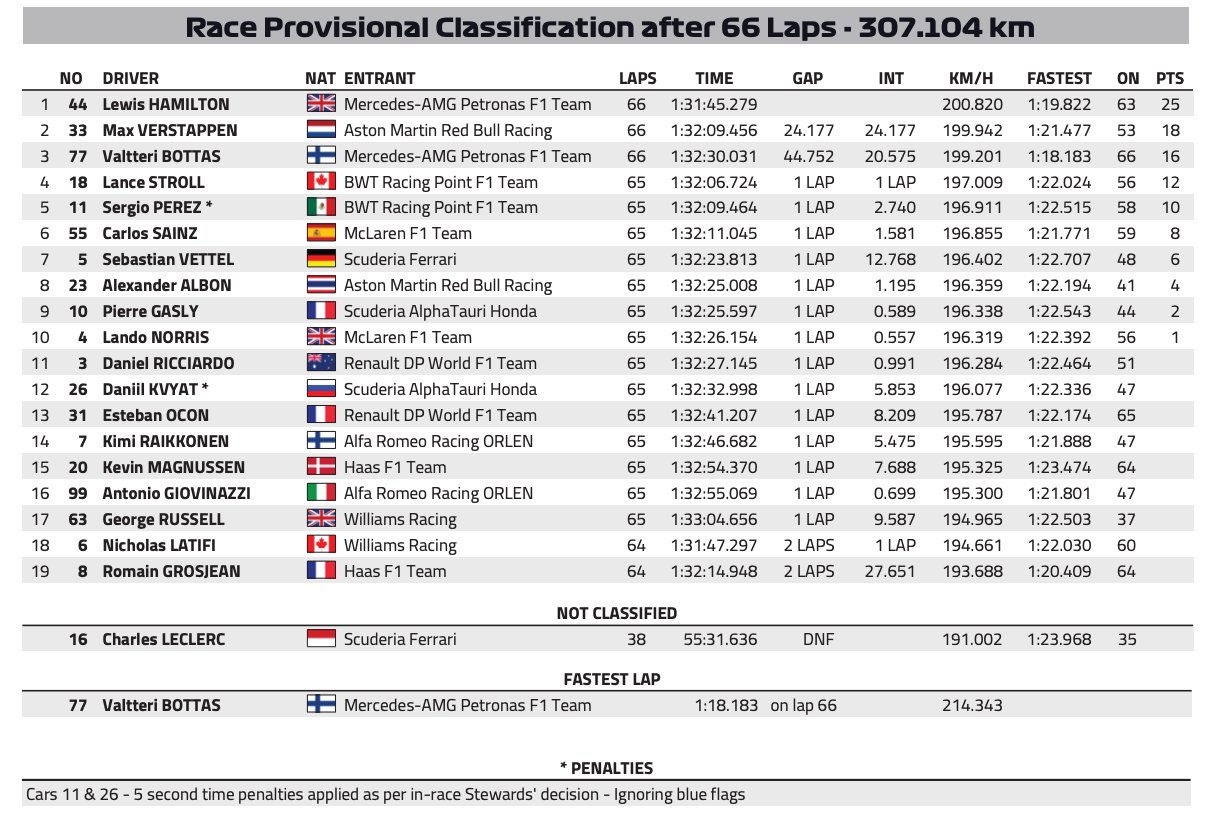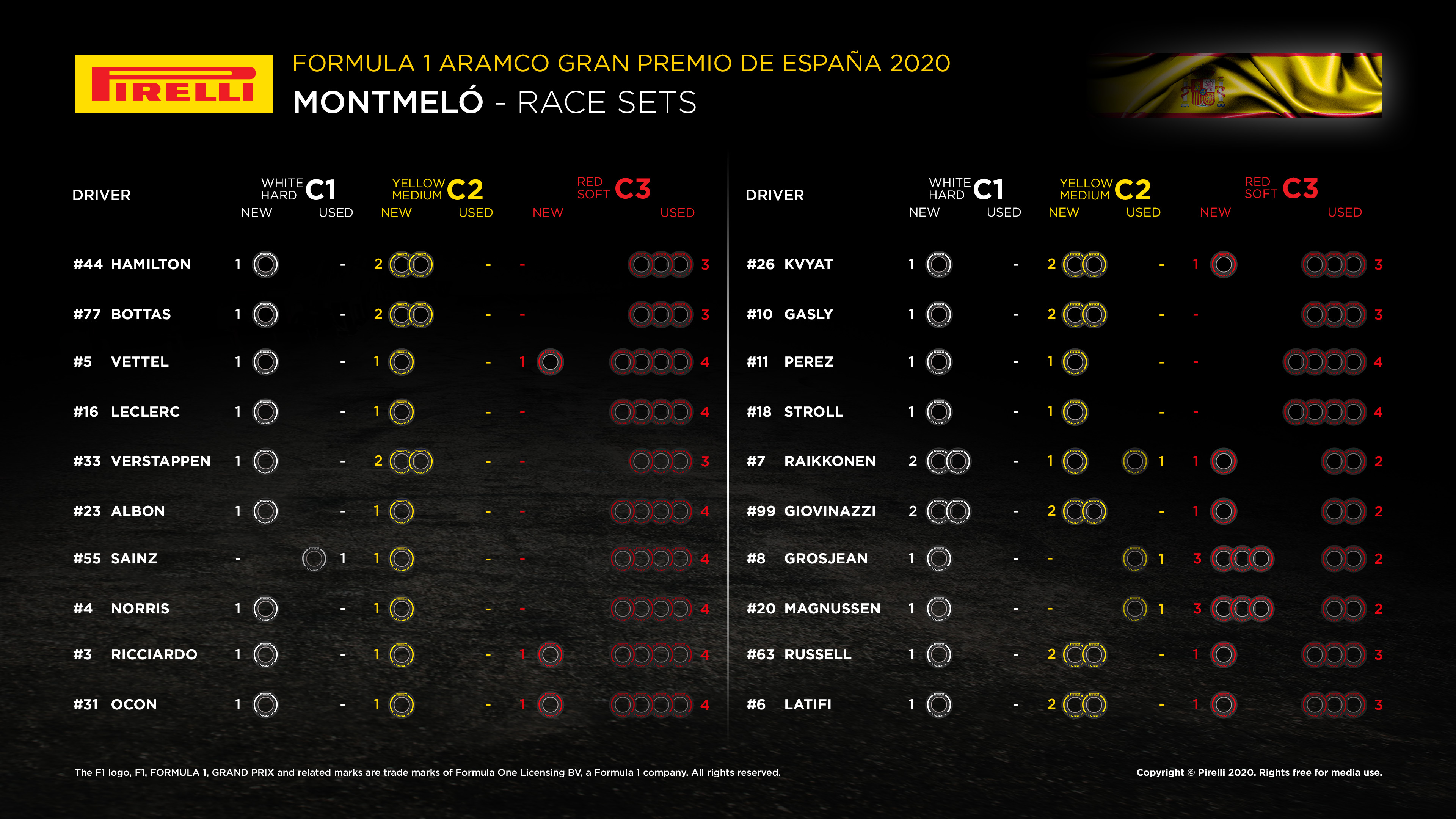 Report in progress…