Race 21 – 55 Laps – 5.554km per lap – 305.355km race distance – low tyre wear
Abu Dhabi GP F1 Strategy Report Podcast – our host Michael Lamonato is joined by Nathan Harper from Beermogul Games (Apex Race Manager).
The 2016 Formula 1 season came to a close in tense style at the Abu Dhabi Grand Prix, with Lewis Hamilton winning the race in controversial style after employing tactics to try and snatch the title away from Nico Rosberg.
But second place for Rosberg was enough to take the championship, holding off Sebastian Vettel in the closing stages to become a first-time title winner. The 2016 finale threw up plenty of interesting strategy stories, here are the main headlines:
Verstappen bounces back
Facing the wrong way at the exit of Turn 1 on the opening lap isn't the ideal situation, but few drivers could go from 22nd to fourth like Max Verstappen did – at the Yas Marina Circuit of all places, too.
Having clashed with Nico Hulkenberg and dropped to last place, Verstappen put his super-soft tyres (which clearly weren't badly damaged after his spin) to good use and quickly advanced up the order through the midfield runners, proving how strong the Red Bull car was compared to those further down the grid.
Running long on the super-soft tyre ended up putting Verstappen back into contention, as he was able to lap for longer at a fast pace. It brought him into the play and ahead of Daniel Ricciardo, but Vettel's charge meant he lost out on a possible third place – in part due to Verstappen's soft tyres fading, as he was one of only two drivers on a one-stop strategy.
Employing the undercut
There were a few interesting strategy points from the first round of stops, in particular the tactics of Ferrari and Red Bull with Kimi Raikkonen and Ricciardo. On ultra-softs, Ferrari pitted Raikkonen on lap seven, giving him two extra laps on fresh Pirelli rubber before Ricciardo stopped.
The two had been close on the track before the stops and Red Bull seemingly pitted Ricciardo on lap nine to not lose too much time against Raikkonen, which proved to be right because he came out just behind the Ferrari. The overcut (if you can call it that) almost worked for Ricciardo.
But he eventually got the jump when Red Bull stopped Ricciardo first on lap 24, going from old softs to new softs. Ferrari reacted but it wasn't enough and the Red Bull was through.
It all works out for Vettel
After the first round of stops, it wasn't looking all that great for Vettel. He was running in sixth place, a little way off those ahead of him. But Ferrari actually got their strategy right in the end, despite some feeling a long second stint on softs was a mistake.
In the end, the softs ended up working well for a long stint, helped by the cooler conditions in the night. Vettel briefly held the lead when he stayed out and then pitted later on, for super-softs. This put him on the attack for the final part of the race and he put the tyre advantage to good use from the get-go.
He was quickly able to pass Raikkonen, Ricciardo and Verstappen, moving into third place. But one step higher on the podium wasn't possible due to Rosberg's strong top speed, while Vettel's tyres also went off towards the end. Surprisingly, considering it wasn't expected to be a good race tyre, the super-softs held up well in the end.
Hamilton does his own thing
This was the main event. Rosberg vs Hamilton for the title and after the first stops, it was Hamilton leading from Rosberg. The title was Rosberg's at that point and Hamilton knew he had to do something if he wanted to swing it in his favour. But he had few options at his disposal.
The route he chose to take didn't go down well with Mercedes. He tried to back Rosberg into the chasing pack in the final part of the race, helping Vettel and the Red Bulls to catch up. Mercedes told him several times to speed up but he continued to run at his own pace, which has caused a huge debate.
In the end, Hamilton won from Rosberg, so the plan didn't quite work. But it was fascinating to see Hamilton putting his own strategy call into play. He spiced up and added a splash of tension into the race, which was welcome from a viewing point of view, but obviously it put Mercedes in a tricky situation. It'll surely be talked about for quite some time…
Super-soft saves it
Many thought the super-soft tyre should've been avoided all weekend but in the race, it actually worked very well. Verstappen used it on his long first stint, with Ricciardo also running it early on as Red Bull gambled in its qualifying strategy. Vettel also put on the super-softs to end the race.
Quite a few drivers also went onto the super-soft tyre for the final stint, seemingly mimicking Vettel. It put them in a stronger position for the run to the flag, but it didn't have quite the same impact for the likes of Esteban Ocon and Romain Grosjean.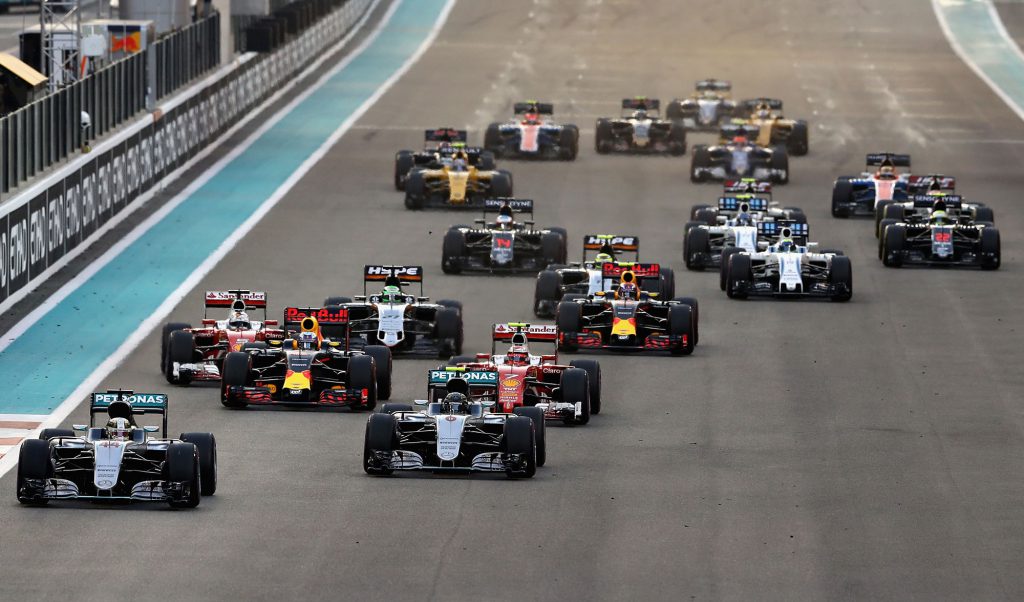 Going long
One driver who did something VERY different was Marcus Ericsson. Because, what did he have to lose? Sauber put him on a ridiculously long first stint on the softs, going all the way to lap 38. By that time he was struggling a lot and fell down the field, but a super-soft stint to end the race helped him make up a bit of ground.
Jack Leslie @JackLeslieF1
Longest Stints
Ultrasoft: Perez (9 laps)
Supersoft: Verstappen (21 laps)
Soft: Ericsson (38 laps)
All the Data
Thanks to Pirelli Motorsport for the detailed infographics
Stints by Driver
Safety Car

n/a

3. Ricciardo

Start P3
Used Supersoft
9 laps
Pit 22.084
Soft
15 laps
Pit 21.768
Soft
31 laps
–
Finished P5 (-2)

5. Vettel

Start P5
Used Ultrasoft
8 laps
Pit 21.711
Soft
29 laps
Pit 21.872
Supersoft
18 laps
–
Finished P3 (+2)

6. Rosberg

Start P2
Used Ultrasoft
8 laps
Pit 23.753
Soft
21 laps
Pit 21.218
Soft
26 laps
–
Finished P2 (+0)

7. Raikkonen

Start P4
Used Ultrasoft
7 laps
Pit 21.959
Soft
18 laps
Pit 22.087
Soft
30 laps
–
Finished P6 (-2)

8. Grosjean

Start P14
Soft
20 laps
Pit 22.838
Soft
18 laps
Pit 22.527
Supersoft
17 laps
–
Finished P11 (+3)

9. Ericsson

Start P22
Soft
38 laps
Pit 22.991
Supersoft
16 laps
–
Finished P15 (+7)

11. Perez

Start P8
Used Ultrasoft
9 laps
Pit 21.308
Soft
18 laps
Pit 22.012
Soft
28 laps
–
Finished P8 (+0)

12. Nasr

Start P19
Supersoft
7 laps
Pit 23.272
Soft
29 laps
Pit 29.933
Soft
18 laps
–
Finished P16 (+3)

14. Alonso

Start P9
Used Ultrasoft
7 laps
Pit 22.428
Soft
31 laps
Pit 22.248
Supersoft
17 laps
–
Finished P10 (-1)

19. Massa

Start P10
Used Ultrasoft
8 laps
Pit 21.775
Soft
22 laps
Pit 21.539
Soft
25 laps
–
Finished P9 (+1)

20. Magnussen

Start P18
Soft
1 laps
Pit 27.068
Soft
4 laps
–
Retired L5 (DNF)

21. Guttierrez

Start P13
Supersoft
8 laps
Pit 22.032
Soft
20 laps
Pit 22.102
Soft
27 laps
–
Finished P12 (+1)

22. Button

Start P12
Soft
12 laps
–
Retired L12 (DNF)

26. Kvyat

Start P17
Supersoft
8 laps
Pit 21.896
Soft
6 laps
–
Retired L14 (DNF)

27. Hulkenberg

Start P7
Used Ultrasoft
8 laps
Pit 21.834
Soft
18 laps
Pit 21.482
Soft
29 laps
–
Finished P7 (+0)

30. Palmer

Start P15
Ultrasoft
7 laps
Pit 24.781
Soft
14 laps
Pit 22.145
Soft
20 laps
Pit 22.588
Supersoft
13 laps
–
Finished P17 (-2)

33. Verstappen

Start P6
Used Supersoft
21 laps
Pit 21.221
Soft
34 laps
–
Finished P4 (+2)

44. Hamilton

Start P1
Used Ultrasoft
7 laps
Pit 22.6
Soft
21 laps
Pit 21.355
Soft
27 laps
–
Finished P1 (+0)

55. Sainz

Start P21
Supersoft
6 laps
Pit 21.761
Soft
22 laps
Pit 21.935
Soft
13 laps
–
Retired L41 (DNF)

77. Bottas

Start P11
6 laps
–
Retired L6 (DNF)

31. Ocon

Start P20
Soft
22 laps
Pit 24.035
Soft
14 laps
Pit 23.026
Supersoft
18 laps
–
Finished P13 (+7)

94. Wehrlein

Start P16
Ultrasoft
6 laps
Pit 33.395
Soft
18 laps
Pit 22.949
Soft
30 laps
–
Finished P14 (+2)